Posted on
Sun, Sep 16, 2012 : 5:58 a.m.
Q&A with Steve Powers: Ann Arbor's city administrator talks about first year on the job
By Ryan J. Stanton
Ryan J. Stanton | AnnArbor.com
City Administrator
Steve Powers
started on the job almost exactly a year ago,
arriving in Ann Arbor
by way of Marquette County where he served as county administrator for 15 years.
Now that he has a full year under his belt, Powers, an Illinois native, sat down with AnnArbor.com on Thursday to talk about his first year's experience.
"In some ways, I felt like a college freshman, wandering the campus, not knowing where to go, having a map but not really knowing where the buildings were," he admits of his early days in Ann Arbor last fall. "I'm beyond that. I don't get lost on campus any longer."
When he first moved here, he came without his family, except for his mother who now lives at the Glacier Hills retirement community. But his wife, an elementary school teacher, stayed behind in Marquette for nine months to finish the school year. She finally moved here in June.
"Our youngest daughter came down as well when my wife moved down," Powers said. "Now she's going to school back up in Marquette, ironically, at Northern Michigan University. Then our oldest daughter is at Central Michigan and our son is at the University of Minnesota Duluth."
Without some of the usual day-to-day family responsibilities to worry about, Powers said he was able to heavily immerse himself in the community and quickly get up to speed.
"It really allowed me to spend what time I needed to get to know the community, spend evenings at neighborhood meetings, spend time here in the office," he said.
AnnArbor.com: What's a typical day like for you now?
Powers: I'm living close enough to city hall that I can bicycle to work, so I hop on my bike and I'm usually here by about 7:30 a.m. I have coffee-making duty, so I make coffee and then start going through emails and checking out what happened the previous night in Ann Arbor. And then starting at 9 a.m., most days are pretty full with meetings. Meetings with staff, meetings with council members, meetings with organizations in the community. Evenings have been more community meetings, meeting with neighborhood associations. Certainly the council meetings on Monday night.
AnnArbor.com: What have you learned about Ann Arbor that you didn't already know before you came here a year ago? What has surprised you?
Powers: What surprised me, and it's a pleasant surprise, is the intensity of people's interest in the community in what's happening in the city. I had been told that Ann Arbor values process, that there is an active citizenry, but I guess what surprised me was the level and intensity of that interest.
AnnArbor.com: What are the biggest challenges you've had to confront since becoming city administrator and how did you handle those challenges?
Powers: I'm very fortunate to be here in Ann Arbor at this time. My predecessor, City Council, the managers, the employees have done a considerable amount of work to help sustain Ann Arbor through the very difficult economic times that Michigan has gone through. In comparison to so many communities in the country — really Ann Arbor does have challenges — but the challenges are good challenges. There are challenges around growth and development. There are challenges about adding to our service levels and how to do that in an intelligent and sustainable way.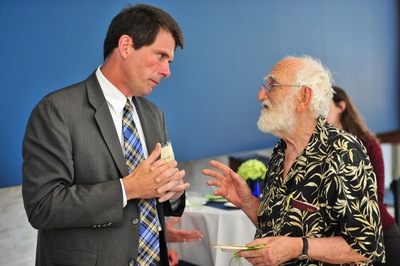 Ryan J. Stanton | AnnArbor.com
The challenges in the first year were really getting to know the community, getting to know the organization, getting to know the neighborhoods, and so I spent a lot of time listening, a lot of time meeting with people. I met with each of our public services unit divisions starting at 6 a.m. I met with the guys that go out on the solid waste trucks. I met with I think nine neighborhood associations and business associations, many neighborhood meetings. I really spent a lot of time trying to get to know the city, meeting with the university, the county, the school district. I'm certainly much more comfortable with my knowledge level than I was a year ago.
AnnArbor.com: The city has a lot on its plate right now. Several initiatives related to transportation are under way, including a train station project and efforts to morph the city's transit authority into a countywide system. In your opinion, what are the biggest issues facing the city?
Powers: The biggest issue that I see is that balance between continuing to deliver the services that the community expects and looking ahead and making sure the long-term and communitywide needs and opportunities of the city are being considered. The immediate, every-council-meeting type of issues and then the longer-term issues such as a train station that will take years to develop.
So I think that's Ann Arbor's challenge. Certainly we have day-to-day immediate challenges. Crime is always going to be an area that always needs attention.
AnnArbor.com: You passed on holding what traditionally had been an annual city budget retreat shortly after you started last year. I know the budget process for fiscal year 2013-14 and beyond starts soon. Can you offer a look ahead at what to expect?
Powers: Council has indicated an interest in having a retreat. The council's budget committee is developing the framework for that. So sometime later this fall there will be a planning session. I expect the council members will want to talk about the priorities for the next two years. And I expect there will be discussion regarding safety services, discussion regarding capital improvements, discussion about what is important. And as part of that, we'll have some updated financial projections.
AnnArbor.com: Is the city in good shape financially? Are there any services that might be on the chopping block? Are there any services you expect to see enhanced?
Powers: I'm not anticipating any need to cut services because of the budget, and I'm not able this morning to share where there might be add-backs.
AnnArbor.com: Your budget this past year held the line on further cuts in police and fire. Some people still would like to see more police officers and firefighters hired in the next budget. Is the city appropriately staffed right now in terms of public safety?
Powers: If the definition of appropriate is to be at staffing levels that were in place years ago, no. If appropriate means are we staffed to provide services to protect the community, yes. We have more police officers on the road than we did a year ago. Fire is able to respond to calls for service. One of the areas that I plan on looking at in the next 12 months is what level of resources, what level of staffing, what budgets are appropriate for police, fire and really any city department.
AnnArbor.com: There's a series of public meetings coming up on the fire department reorganization proposal. You previously endorsed the fire chief's plan to close stations. What are the latest discussions around that and how likely is it those changes will be implemented?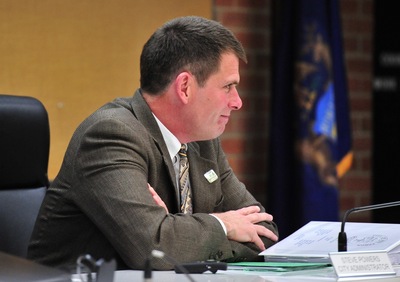 Ryan J. Stanton | AnnArbor.com
Powers:
Chief Hubbard believes that with the resources that have been allocated to fire, consolidating the firefighters in fewer stations is a better way than our current operational structure. I think the proposal has merit or else I wouldn't have brought it forward. Council said we need more community input, so that's what we're continuing to do. And we sincerely are going out to listen. It's too early for me to say what the outcome might be because we do need to listen.
AnnArbor.com: One hope when you were hired was that you could help restore the relationship between the city's administration and the labor unions. What progress has been made on that front?
Powers: One of the priorities for me was to get out and meet with employees. I've met with most of the union leadership. I made a point to go out and meet with each of the public service units. I've done police ride-alongs, fire ride-alongs. I certainly made a point to sit down with the fire union president and the police union president. I've very much had an open, accessible style. Employees have, I think, felt comfortable to stop by and talk. It's something that needs to continue.
AnnArbor.com: Many people are interested in what happens with the North Main corridor, which is being studied by a city task force right now. The city owns 721 N. Main where there are plans for a greenway anchor park. The city also has set up a blight fund to help address other properties along that stretch. What do you see coming out of those efforts?
Powers: One of the things I'm proud of is that I helped bring forward the dangerous/blighted building process and the funding for demolition. One of our challenges as a community is continuing to reinvest to make our community strong and the city's role in helping put the markings on the playing field to help with that reinvestment, whether it's clearing off dangerous buildings, whether it's selling five downtown parcels. I certainly can't take for granted that Ann Arbor will always be a community of choice. We're fortunate that we are a community of choice for people to move to and work in, and we need to continue to improve upon that. I think the city's work with the dangerous buildings is a small but important example of that for the neighborhoods, and the five parcels is an important part of the playing field for the downtown, as are the planning initiatives we have under way.
AnnArbor.com: There is a lot of concern about the flooding issues on the southwest side of the city in and around the Lansdowne neighborhood. I know the city is looking into that. What do you see as the likely outcome? Are we going to solve the city's flooding problems once and for all?
Powers: No. Stormwater really requires a systems response, and the system has many pieces. Each piece needs to be evaluated and each piece needs to be planned carefully so we're not making the flooding situation or basement backup problems worse. There is always a bigger storm, which is really why I said we're not going to solve the problem. I think we can make improvements, but will there never be flooding in Ann Arbor? No, I can't say that. We have some challenging topography.
Development decisions of the past, development decisions made by previous generations of city councils or planning commissions, have added to the topography challenges. Building has occurred in floodways, stream beds, so it really requires a systems approach and our goal is to reduce the frequency and severity of flooding. But can we prevent flooding? No.
AnnArbor.com: Our last city administrator, Roger Fraser, stayed on the job close to a decade. Could you see yourself staying here that long?
Powers: Potentially. I'll stay as long as I'm adding value — as long as I'm contributing something positive to the organization and to the community, and as long as City Council will have me. If they think I'm doing a good job, and if I think I'm doing a good job, that's what's important.
Ryan J. Stanton covers government and politics for AnnArbor.com. Reach him at ryanstanton@annarbor.com or 734-623-2529. You also can follow him on Twitter or subscribe to AnnArbor.com's email newsletters.