Posted on
Tue, Jan 17, 2012 : 10:33 p.m.
3 in a row: Michigan basketball hangs on for 60-59 win over Michigan State
By Nick Baumgardner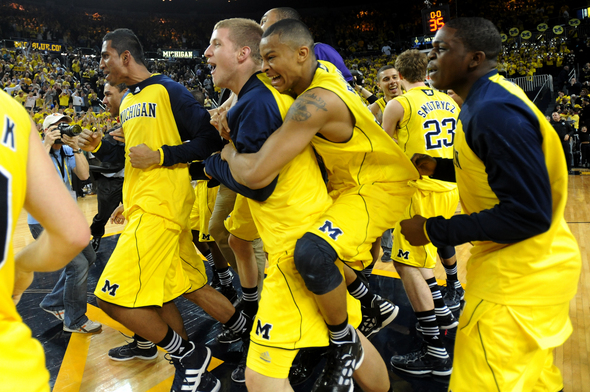 Melanie Maxwell | AnnArbor.com
This story has been updated.
For more than a decade, Michigan State controlled the local college basketball landscape.
But for now, anyway, it appears to be all Wolverines.
The 20th-ranked Michigan basketball team got a layup from Stu Douglass with 36.5 seconds to play Tuesday and a full-on defensive stop at the horn to secure its third straight victory over No. 9 Michigan State, 60-59, Tuesday at the Crisler Center.
"If you look in the past 10 or 12 years, it hasn't been much of a rivalry, they've been beating us pretty well," Michigan coach John Beilein said. "We're trying to win a Big Ten championship. And Michigan State is so good, and I admire them so much.
"But you've got to beat places you admire, you've got to do that to win a Big Ten championship."
MICHIGAN 60, MICHIGAN STATE 59

Nick Baumgardner's recap:
AND ONE MAKES THREE
For the first time since 1998, the Michigan basketball team has a three-game winning streak over rival Michigan State.
Trey Burke
was dazzling again, dropping in a game-high 20 points and handing out a last-minute assist to senior
Stu Douglass
for the game-winning basket. In the first meeting between the two schools as ranked clubs since 1998, Michigan had the final laugh. And the rivalry between the two? It appears to be back at full strength.
BURKE WINS THE DAY
One of the bigger pre-game matchups was Burke against MSU sophomore point guard
Keith Appling
. It was a matchup completely dominated by the Wolverine freshman. Burke led all scorers, made the game's biggest pass and played 37 minutes. Appling scored 10 points, but had four turnovers and four fouls, and according to MSU coach
Tom Izzo
, was exhausted after his 31-minute effort.
NO INTERIOR DAMAGE
Michigan was out-rebounded 31-18, but was only out-scored 30-28 in the paint. MSU senior
Draymond Green
, who struggled in both Spartan losses to Michigan a year ago, finished the game with seven points and 11 rebounds, but committed five turnovers in 37 minutes.
QUOTE
"If you look in the past 10 or 12 years, it hasn't been much of a rivalry, they've been beating us pretty well. We're trying to win a Big Ten championship. And Michigan State is so good, and I admire them so much. But you've got to beat places you admire, you've got to do that to win a Big Ten championship."
— Michigan coach John Beilein
RELATED CONTENT
Photo gallery
Michigan topples Michigan State thanks to its rising star, Trey Burke
Notebook: Back in the starting lineup, Stu Douglass hits another game winner and more notes
Post-game video: John Beilein and Tom Izzo
MLive.com: MSU's Keith Appling 'had nothing left' down stretch
Boxscore
|
Top 25 scores
|
Big Ten scores
Want to talk more about the game?
Stop by Nick Baumgardner's lunchtime basketball chat, which fires up at noon on Wednesday on AnnArbor.com. He'll discuss the victory, what it means in the Big Ten race and anything else you want to talk about.
The Wolverines' three-game winning streak in the series is their first since Michigan handed MSU five straight losses from 1996-98.
And as they've done for most of the season, the Wolverines relied heavily on their freshman point guard.
Trey Burke, who handed out the final assist to Douglass, led all scorers with 20 points, four rebounds and three assists to pace a Michigan (15-4, 5-2 Big Ten) team that was 23-for-45 shooting.
He played 37 minutes, won the head-up matchup with Michigan State sophomore Keith Appling and appeared, for most of the night, to be the best player on the floor.
"I knew I had to make big plays," Burke said. "One of my jobs was to just make big plays tonight and to get the team where we wanted every time down on offense.
"I can't say I was the best player out there, there were just times out there I knew I had to make big plays for my team."
Senior captain Zack Novak finished with 10 points, while Tim Hardaway Jr. added 10 on 3-of-9 shooting.
Michigan State was paced by Derrick Nix's 13 points. Appling finished with 10 points, five assists and four turnovers.
"I had to play Keith Appling so many minutes that by the end he was just walking on his knees," Michigan State coach Tom Izzo said. "I thought Michigan did some good things, they came out with a different lineup, and that helped them get off to a good start.
"When you're on the road, at your rival, come all the way back (to take a lead), have a chance to win the damn thing and don't do it at the end — that was really disappointing."
After playing one of its more efficient opening halves of the season, Michigan found itself up seven at the break and appeared to take control of the game early in the second.
Hardaway opened the half with a driving slam before Burke capped a 7-0 Michigan burst with a 3-pointer, making it 47-36 Wolverines and sending the sellout Crisler Center crowd into a frenzy with 12:17 to go in the game.
The Spartans, though, were far from dead.
Michigan State ripped off an 8-0 answer, moving within three after a Brandon Wood triple three minutes later.
The Wolverines answered with a jumper from Novak, but couldn't stop the bleeding, as Michigan State got a three-point play from Nix and a quick triple from Brandan Kearney, giving the Spartans their first lead of the game at 50-49 with 6:44 to play.
Michigan State, which ran its run as high as 16-2, eventually led by as many as four after another inside bucket from Nix made it 57-53.
The Wolverines made their final charge from there, though, getting a driving layup from Hardaway to make it a one-point game with 2:19 to play.
And after Burke collected an Appling miss with less than a minute to play, the freshman point guard raced toward the other end of the floor, finding Douglass underneath for an uncontested layup, making it 60-59 Michigan with 36.5 to go.
The Spartans had one final chance, but Michigan was able to defend for the full length of the shot clock, eventually forcing a missed runner from Green at the horn and sending the Wolverines into a mob-style celebration at midcourt.
"I had no idea (what happened)," Douglass said. "I thought (the shot clock buzzer went off), Zack started running toward the middle and everybody was screaming, I was like 'what are you guys doing, grab the ball.'
"But the game was over. It feels good."
Douglass, who started for the first time since Michigan's season opener, finished with nine points.
Michigan State out-rebounded Michigan, 31-18, but the Wolverines forced 14 Spartan turnovers.
Entering Tuesday's game, Izzo made headlines by declaring he had great respect for Michigan, but liked nothing about the school in Ann Arbor.
Beilein, meanwhile, was far less vocal, explaining how beating Michigan State was simply something his club needed to do.
But that doesn't mean the rivalry means anything less to him and his program.
On the contrary.
"This is simple," Beilein said. "If it means so much, to so many people, then it means a lot to me."
Nick Baumgardner covers Michigan basketball for AnnArbor.com. He can be reached at 734-623-2514, by email at nickbaumgardner@annarbor.com and followed on Twitter @nickbaumgardner.
Want to stay connected to Wolverine basketball in your Facebook newsfeed? "Like" AnnArbor.com's Michigan Basketball News & Views.