Posted on
Mon, Mar 29, 2010 : 3 p.m.
Michigan guard Manny Harris leaving for the NBA
By Michael Rothstein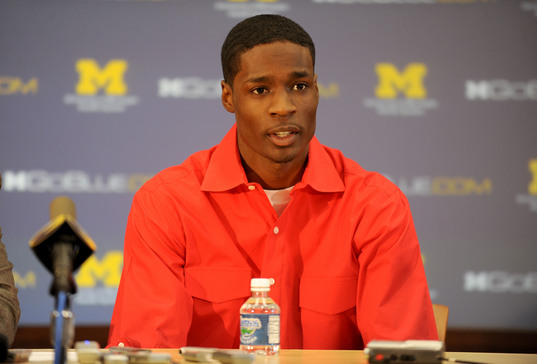 He called it a dream, and playing professional basketball was part of the first discussion Manny Harris and Michigan coach John Beilein had when the junior stepped on campus three years ago.
Leaving early to turn pro was also part of the last chat the two had with Harris as an official part of the Michigan basketball program.
The junior guard, who has led Michigan in scoring all three of his years in Ann Arbor, decided to pass up a fourth. Harris declared for the NBA Draft on Monday and announced he will eventually hire an agent, which officially ended his amateur status.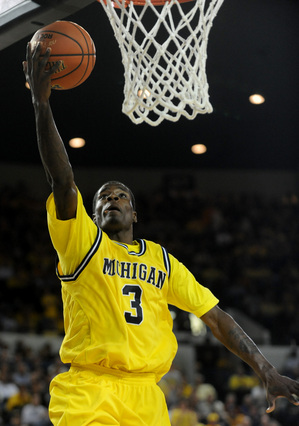 "I just feel the time is now for me to leave," Harris said. "To come back next year, yeah, we could make the tournament and all that kind of stuff. But me, personally, I'm ready for that challenge.
"It's been a dream of mine and I'm ready for that challenge."
(Click here for links to audio footage of the press conference).
Harris contemplated leaving after his sophomore year. That his closest friend at Michigan, DeShawn Sims, is out of eligibility and also leaving likely pushed that along, too.
Harris averaged 17 points, 5.7 rebounds and 3.7 assists during his three-year career. He was picked to be on this season's preseason All-Big Ten team.
A disappointing season for Michigan and Harris followed. The Wolverines plummeted to a 15-17 record and Harris, while averaging 18.1 points a game, struggled with a lingering hamstring injury and was also suspended for a game after a practice incident the day before the Purdue game.
Yet Harris always displayed the ability to dominate games if he wanted to, including making two clutch shots against Ohio State in the quarterfinals of the Big Ten tournament. His fadeaway with 2.2 seconds left looked like it might give the Wolverines an upset.
But Ohio State junior Evan Turner, a player Harris was compared to before the season, made a 37-foot three-pointer at the buzzer to end Harris' season and college career.
"That's another thing that made the decision very difficult," Harris said. "I'm a player that likes to win and to leave on the note I'm leaving on is very hard to do. But at the end of the day you've got to make the decision."
Harris said he spoke with his high school coach, AAU coach, Beilein and his family before making his decision. He also spoke with Sims, who was at his press conference.
The two - linked since the day Harris arrived at Michigan - will go through this process together again. Harris and Sims, for now, said they will remain in Ann Arbor to work out and prepare for the two-round June 24 draft.
"It's like recruiting all over again," Sims said. "The decisions you make could be critical. But I'm advising him as much as I can."
Beilein also doesn't have a strong history of placing players in the NBA. Just one current NBA player - Joe Alexander - spent the majority of his career under Beilein. And Alexander flourished as a junior after Bob Huggins replaced Beilein in Morgantown. And he has had just two players he coached for the majority of their careers drafted in the current two-round format - Alexander and former West Virginia forward Kevin Pittsnogle.
Pittsnogle was picked in the second round by Boston but waived before the start of his rookie season.
Harris is projected as a second round pick by mock draft sites Draft Express and NBADraft.net. At 6-foot-5, Harris likely projects to play off-guard or small forward professionally.
Where Harris ends up going, though, is up for debate. Harris said he's willing to go anywhere to make his final goal happen, to reach the NBA, including Europe or the D-League.
"If that came up and I have to do it, definitely, because I love playing basketball," Harris said. "Whatever route I have to take to get there, that's my final destination, to be in the NBA.
"Whatever route it is."
Michael Rothstein covers University of Michigan basketball for AnnArbor.com. He can be reached at (734) 623-2558, by e-mail at michaelrothstein@annarbor.com or follow along on Twitter @mikerothstein.