Posted on
Mon, Jan 30, 2012 : 9:58 a.m.
Michigan basketball team says it will bounce back from loss at Ohio State, like it has all season
By Nick Baumgardner
COLUMBUS, Ohio -- Roughly 30 minutes after the Michigan basketball team's loss at Ohio State on Sunday, the Wolverines' locker room was, as expected, rather somber.
Faces were long, voices were quiet and outside of the rushed work of the equipment staff, there wasn't too much sudden movement.
It was a scene befitting of a squad that had just put up its lowest scoring output of the season in a lopsided 64-49 loss at one of its bigger rivals.
But through it all, one voice rose louder than the clutter of mindless noise.
"We'll bounce back," Michigan senior co-captain Stu Douglass shouted, to no one in particular. "We always do."
An optimistic outlook for sure. And so far this season, a truthful one as well.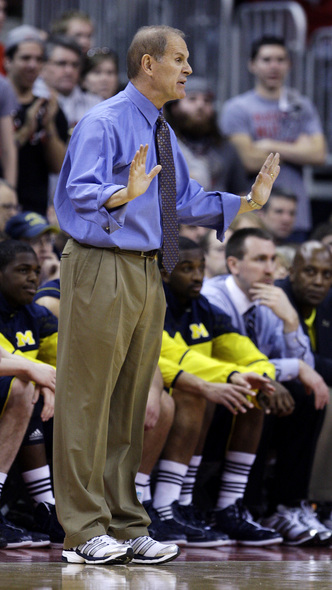 AP Photo
Because every time Michigan (16-6, 6-3) has been knocked down this season, the Wolverines have found a way to brush themselves off.
Immediately.
After falling to Duke on Maui, Michigan bounced back the next day with a 16-point win over UCLA. When the Wolverines were humbled on the road at Virginia in late November, they responded the following weekend with a 10-point win over an Iowa State team that just knocked off Kansas.
The loss at Indiana was followed by a thumping of Wisconsin, the Iowa embarrassment preceded a signature win over Michigan State and the close defeat at Arkansas led Michigan to into its first road win of the year at Purdue.
To date, Michigan has yet to suffer a losing streak.
And though the Ohio State loss was ugly, at times, the Wolverines will certainly keep their previous bounce-back ability fresh in their collective mind when it welcomes Indiana to the Crisler Center on Wednesday (6:30 p.m., BTN).
"Every day we're trying to get better, every practice, every study hall, every game," Michigan coach John Beilein said. "Every day, we're working to be at our best."
There's plenty of 'on the bright side' to be had for the Wolverines, but there's also plenty of work to do.
Despite shooting poorly for the first 20 minutes against the Buckeyes, Michigan's defense allowed the Wolverines to stay within three at the half.
But a lack of sustained interior beef ultimately caught up with Michigan, and fast.
Against a heftier Michigan State squad earlier this season, the Wolverines were battered in the rebounding number category (31-18), but it didn't hurt on the scoreboard. Michigan kept the Spartans off the offensive glass, and when they did yield a second chance, their defense was stout.
Against the Buckeyes, that didn't happen. Michigan was routinely beaten to the weakside glass, and time after time OSU was rewarded with a putback or two foul shots.
"You think you're doing a lot, and then they out-tough you and out-jump you," Douglass said. "It's tough."
The inability to keep Ohio State off the glass wasn't the only problem, though.
Evan Smotrycz continued to struggle, going just 1-for-6 from the floor. Trey Burke finished with a solid stat line (13 points, five assists), but had an uncharacteristically high turnover number (five).
And, perhaps strangest of all, Michigan got an unexpected goose egg from senior Zack Novak, his first scoreless game of the season, and seemed to battle uphill with foul trouble for most of the afternoon.
But like his fellow captain, Douglass, Novak was in no way ready to hit the panic button afterward.
"We gave them easy ones, and that changes things," Novak said. "We've got (Indiana at home Wednesday) and one of our goals is to win every home game.
"We'll learn and get better."
For Michigan, the loss was humbling, frustrating and it knocked the club from a first-place tie into a tie for third place.
But it came against a team with a 38-game home winning streak, and it was far from the end of the world.
"It's nothing we can't control," Michigan sophomore Tim Hardaway Jr. said.
He's right.
The most difficult six-game stretch of the Wolverines' 2011-12 season is two games from completion, continuing with the Hoosiers at home and ending with Michigan State on Sunday.
And despite being beaten by 15 in Columbus, Michigan is only one game out of first place in the Big Ten, and still has a chance to end the aforementioned six-game span with a 4-2 mark.
The Wolverines were knocked down again Sunday.
But not all is lost.
And, if Douglass' words ring true again, it'll only be a matter of time before the club dusts itself back off.
Nick Baumgardner covers Michigan basketball for AnnArbor.com. He can be reached at 734-623-2514, by email at nickbaumgardner@annarbor.com and followed on Twitter @nickbaumgardner.
Want to stay connected to Wolverine basketball in your Facebook newsfeed? "Like" AnnArbor.com's Michigan Basketball News & Views.