Posted on
Sun, Oct 9, 2011 : 2:08 a.m.
Michigan 42, Northwestern 24: Your comprehensive guide to our coverage
By Rich Rezler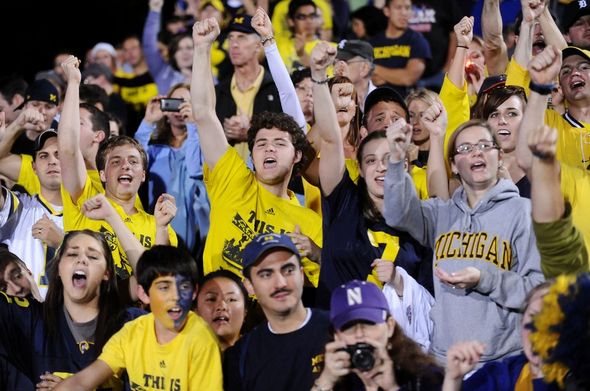 Melanie Maxwell | AnnArbor.com
Recap a 42-24 win at Northwestern? Sure, we can do that. Extensively. But ... later.
How can you not peek ahead first? Remember the hype that built up before No. 17 Michigan State came to Michigan Stadium last season to face an unbeaten and No. 18-ranked Michigan team?
It was the day the Michigan football program was going to show it had turned things around and snap a two-game losing streak to its in-state rival.
It didn't quite work out that way. Michigan State rolled, 34-17, and Michigan collapsed, losing six of its last eight games. Rich Rodriguez was fired, Brady Hoke was hired, Michigan has started 6-0 and ... suddenly the day the Michigan football program can show it has turned things around looms large once again.
Even though the Spartans have agreed to allow Nike to dress them South Florida's uniforms, they're still the same kind of smash-mouth Big Ten football team that Michigan has buckled beneath for the past three seasons.
And that first road game Saturday night at Ryan Field, which was 40 percent maize-and-blue according to one estimate? That did nothing to prepare the Wolverines for a game at Spartan Stadium.
Let the hype begin. This should be a fun week.
But while we're talking about Ryan Field, let's bring the focus back to Michigan's 42-24 win there on Saturday night. AnnArbor.com had things covered from pre-game to post-game. Here is a compilation of everything you'll find on our site:

Post-Game Coverage
• Boxscore | Big Ten standings
• Kyle Meinke column: Michigan answers assortment of questions with resounding answers against Northwestern.
• Game story: Michigan stays unbeaten with second-half surge at Northwestern.
• So goes Shoelace, so goes Michigan: Denard Robinson's halftime adjustments make the difference.
• The long ball brigade: Michigan receivers make the most of their opportunities.
• Notebook: From questionable to impenetrable, Michigan defense pitches second-half shutout (and more notes).
• Associated Press: Northwestern reeling after third straight loss.
• Photo gallery: Staff photographer Melanie Maxwell's favorite images from the game.
Video: Post-game comments from Brady Hoke, Denard Robinson and Jordan Kovacs.
• Grade the Wolverines: Your chance to rate Michigan's performance on offense, defense, special teams, coaching and overall.
• Game balls: The Michigan coaching staff got top honors, with the defense and Denard Robinson not far behind.

In-Game Coverage
• Jim Knight strung together live updates throughout the game. Read them here.
• Check out the transcript from our live chat.
• We asked you to predict the outcome of the game. Ninety-four percent voted for Michigan, but most (46 percent) thought the Wolverines would win by 8-14 points.

Pre-Game Coverage
• Ricky Barnum and Brandon Herron were among six notable players left off the Michigan travel squad.

More Scores
• Toledo 54, Eastern Michigan 16 (AnnArbor.com story & photo gallery)