Posted on
Mon, Mar 12, 2012 : 9:23 a.m.
Spring preview: With stability in Fitz Toussaint, Michigan looks to add to rushing attack
By Kyle Meinke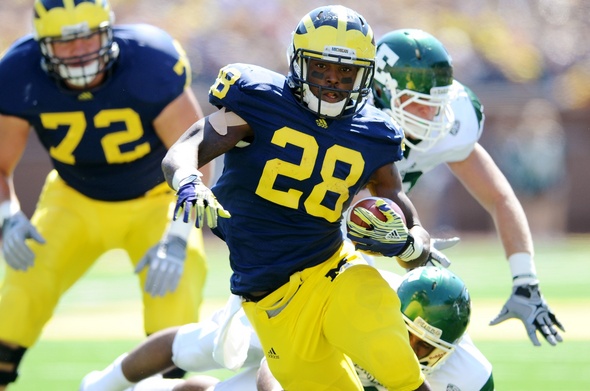 Melanie Maxwell | AnnArbor.com
Fitz Toussaint was the Big Ten's biggest surprises at tailback last season after boosting his production by 954 yards, and finishing with more than 1,000 overall. That was the largest bump in the league among tailbacks.
It also proved to be a key component of coordinator Al Borges' offense. He said from the start he wanted to feature a guy, and as Toussaint became that player midseason, the offense began to hit its stride.
Borges credited Toussaint's vision.
"If there's one part of his game that has made a quantum leap from when we got here in the spring, it's that," Borges said last season. "That's playing. That's knowing where your help is coming on all the blocking, showing the patience to let things develop, then re-accelerating to bust into the open field, running through there 80 percent to see if it's there, then accelerating back up to 100 percent.
"When we first got here, the running game was different, just like the passing game was different for Denard (Robinson). He was running into people. He doesn't do that much anymore."
It took a little longer than they thought, but Michigan coach Brady Hoke and Borges found their 20-carry lead tailback. But can Toussaint, who is entering his junior year, build on that momentum?
What they lose

Reserve Mike Shaw. He provided a senior influence at an otherwise youthful position, but his production (199 yards) will be easily replaced.
And that's it. Michigan returns 93.1 percent of the production from the Big Ten's No. 2 rushing attack.

What they have back

Toussaint was the fifth-best rusher during Big Ten play, despite not getting full-time snaps until the fourth game of the conference slate and being in his first season as the starter. He seamlessly blended edge-gaining quickness with a penchant -- sometimes, a preference -- for lowering his shoulder. His vision, once a weakness, sharpened throughout the season.
(Oh, and the guy can cut a rug. He's the total package.)
Toussaint battled Vincent Smith throughout fall camp and the first half of the season to claim the spot. Smith returns for his senior season, but now is the clear third-down and change-of-pace back. He still has an important role, as he's the team's best blocking back, and also dangerous on screens.
Thomas Rawls received praise throughout the season, even if he did not see the field much as a freshman. Now a sophomore, he appears to be the leader to become the third option in the backfield.
Stephen Hopkins is back at fullback, where he moved midway through last season and became a versatile threat at that position. He can run -- provided he figures out his fumble issues -- and look for him to add a dimension to the passing game.

Spring mission

Diversify the rushing attack. Part of what made Michigan so effective in the rushing game last year was the two-pronged threat of Toussaint and quarterback Denard Robinson. They fed off each other well, with Toussaint's growing threat helping to loosen up the attention paid to Robinson. At least, a little bit.
It was impressive that the Wolverines were so prolific on the ground last year, considering they went through spring, summer, fall and seven games before finally settling on Toussaint.
This time, Michigan has its featured back and needs to take advantage of that stability by adding layers and wrinkles to the game plan. That base will serve the team well next year, particularly if the passing game continues to be uneven.
Kyle Meinke covers Michigan football for AnnArbor.com. He can be reached at 734-623-2588, by email at kylemeinke@annarbor.com and followed on Twitter @kmeinke.