Posted on
Sun, Jan 10, 2010 : 6 a.m.
2010 Detroit auto show preview: Liquidation risk down, but automakers still shaky
By Nathan Bomey
The Detroit auto show is typically reserved for impressing media and generating buzz among car fans.
But the 2010 show marks the first time in the history of the auto industry that two automakers need to impress an entirely new audience: their majority owner, the American taxpayers.
The auto industry has something to prove at the show, which begins Monday with press conferences for more than 5,000 members of the media expected to converge on Cobo Hall.
General Motors and Chrysler narrowly escaped liquidation in 2009 after the federal government funded their bankruptcy filings in exchange for an ownership stake in both companies.
The consequence? At least 20 Washington politicians, including Speaker of the House Nancy Pelosi and Transportation Secretary Ray LaHood, are visiting the show this year to check up on their investments.
Economists say the worst of the auto crisis may be over, but a cloud of uncertainty still haunts the industry.
"Nobody's out of the woods yet," said David Cole, chairman of the Ann Arbor-based Center for Automotive Research. "That will be one of the messages. We've all got work to do.
AnnArbor.com Auto Show Coverage

"Things seem to be headed in the right direction, but it's not over 'til it's over, and it's going to be a challenging period."
That's not to say the exhibition, officially called the North American International Auto Show, will be devoid of exciting car news.
In fact, more than 50 manufacturers are participating in the show, and automakers are expected to unveil 30 new vehicles for the first time globally. Show organizers expect more than 700,000 visitors, making for an economic impact between $300 million and $500 million.
Car companies are predictably quite secretive with their product plans, but analysts agree that alternative propulsion technology is likely to be a theme among the announcements.
All the major automakers are pursuing electric vehicles, hybrids, or both. GM in November plans to sell for the first time its much-anticipated Chevrolet Volt, an extended-range electric vehicle.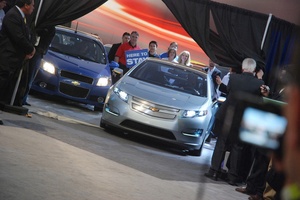 The Volt's introduction to media at the 2007 Detroit auto show stole the spotlight and left GM's competitors scrambling to get their own lithium-ion battery-powered cars in the works.
"There's no major reputable automaker that does not have some clean tech in their vehicle" plan, said University of Michigan engineering professor Ann Marie Sastry, CEO of Ann Arbor-based vehicle battery startup Sakti3. "Every single automaker is looking not only at advanced propulsion systems but also looking at efficiency and connectivity. In the last three years there has been a profound change."
Toyota is planning a plug-in version of the popular Prius hybrid. Ford is developing its own electric vehicles, Nissan is developing an all-electric car called the Leaf, and Hyundai is expected to show an electric vehicle concept car in Detroit.
Electric vehicles are the central theme of a new 37,000-square-foot exhibit called Electric Avenue, which features major automakers showing technology alongside startup companies. Visitors will have the chance to test-drive alternative energy cars at the EcoExperience exhibit.
2010 Detroit auto show

Press preview: Jan. 11-12
Public days: Jan. 16-23 (9 a.m.-10 p.m. every day, except 9 a.m.- 7 p.m. Jan. 24)
Vehicles on display: About 700

Tickets: $12 adults; $6 seniors (65 and older); $6 children (7-12 years old; 6 and under free)

Location: Cobo Hall, downtown Detroit
Web site: www.naias.com


Electric vehicles will be a key theme at the 2010 auto show, but hybrid cars - which use batteries to get better gas mileage for an internal combustion engine - are still important to the industry.
Toyota, for example, plans to reveal a new concept hybrid car at the show.
Bruce Brownlee, senior executive administrator for external affairs at the 1,100-person Toyota Technical Center in York Township, said he expects to see a variety of alternative powertrain offerings at the show.
"I think we're going to see alternative energy vehicles in the full range of hybrids and battery electric vehicles," Brownlee said.
Nonetheless, electric vehicles are still a few years away from being viable for the ordinary consumer. The Volt, for example, is likely to cost close to $40,000 - although the government will offset that with a $7,500 tax credit.
In the short term, automakers know that consumers are embracing frugality. That explains the success of Hyundai, which is gaining market share in the U.S. during the economic crisis.
"Customers are looking for very good value," Brownlee said. "And at the same time they're looking for all the bells and whistles they've grown accustomed to. That's the challenge. We have to deliver a very nice vehicle with all the bells and whistles at a competitive price."
The influence of Washington, however, adds a new layer of intrigue this year.
One sign to watch for: How will politicians react to the fact that Chrysler has no new cars to show this year, despite new corporate leadership from Italian automaker Fiat.
The federal government's decision last year to provide emergency loans worth $50 billion for GM and $15 billion for Chrysler was unpopular among the general public.

So Washington wants its money back as soon as possible - partly why GM has already started repaying its loans.
But Detroit auto show chairman Doug Fox, president of Ann Arbor Automotive, said the lawmakers aren't coming because of the bankruptcies. They also want to see the latest alternative transportation technologies.
"The government officials are interested in seeing the progress and development of these new components," Fox said.
Contact AnnArbor.com's Nathan Bomey at (734) 623-2587 or nathanbomey@annarbor.com. You can also follow him on Twitter.