Posted on
Thu, Dec 30, 2010 : 7:45 a.m.
Looking back at the year in food in Ann Arbor
By Jessica Webster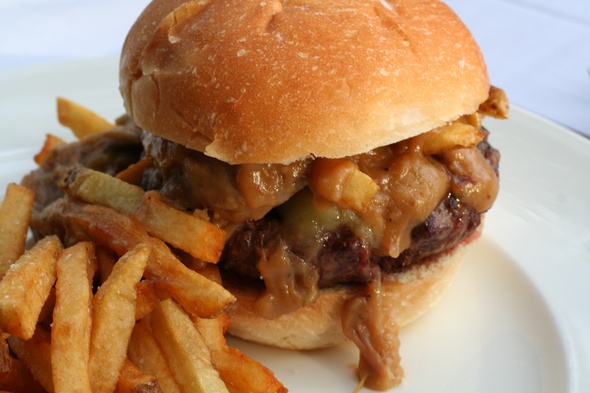 Jessica Webster | AnnArbor.com
For food lovers in Ann Arbor, 2010 was a busy year. We saw new food trends, restaurant openings and closings, celebrity sightings and a significant amount of national attention for some of our beloved Ann Arbor food institutions. Let's take a look back at some of the highlights.
While locally sourced food continues to be a priority for many Ann Arbor area residents, the biggest food trend in our city can be summed up in one word: hamburgers. We saw @Burger — a new burger joint concept launched by Big Boy — move into the McKinley Towne Centre building on East Liberty Street. Five Guys Burgers is opening soon in the former Shaman Drum location on State Street. Red Robin Gourmet Burgers opened a second location in Ann Arbor. And Business Review's Paula Gardner reported that other national chains, including Fatburger, SmashBurger, Sonic and Culver's are seeking Ann Arbor real estate.
Former "Top Chef" contestant and Ann Arbor darling Eve Aronoff brought us her own, Cuban-inspired spin on burgers when she opened her second Ann Arbor restaurant earlier this month. Frita Batidos offers Cuban burgers called fritas and fruity milkshakes called batidos among other treats. It also offers diners an opportunity to sample Aronoff's food at a much lower price point than her higher-end eve the restaurant location in Kerrytown.
But higher prices certainly did not deter visiting celebrities from frequenting Aronoff's pricier establishment. Actors David Arquette and Courtney Cox were repeatedly spotted at eve the restaurant when in town filming Scream 4, with Arquette tweeting that it was their favorite restaurant.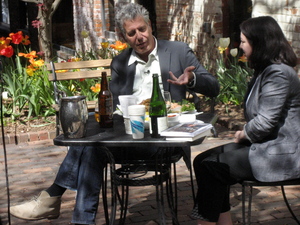 Jessica Webster | AnnArbor.com
National attention for Ann Arbor food was not in short supply this year. In addition to the visiting movie stars, we saw many a food celebrity in our midst. Bad boy chef, writer and television host Anthony Bourdain was spotted schmoozing shopkeepers in Kerrytown Markets while filming an interview with the Borders bookstore chain. Food philosopher Michael Pollan came to town for a talk about sustainability and food health and safety in a fundraiser appearance at Zingerman's Roadhouse. The Roadhouse also hosted Food Network personality Alton Brown for a segment on America's best comfort food. The episode concluded with Alton Brown presenting chef Alex Young with a plaque naming the Roadhouse macaroni and cheese the best comfort food in America.
But that wasn't the end of our television exposure this year. 'Man v. Food' host Adam Richman was spotted filming at Krazy Jim's Blimpy Burger in early September for what ended up being an entire segment on Ann Arbor. In addition to Blimpy Burger, Adam Richman checked out the Triple Play reuben at Maize and Blue Deli and scarfed down five pounds of nachos (dubbed "Mount Nacheesmo") at Tios. And the WGN America show "Sky Dives" visited Zingerman's Roadhouse and Blimpy Burger for a segment of its program in June.
New restaurant openings included Squares on East Liberty Street, Flat Top Grill in the Huron Village Shopping Center on Washtenaw Avenue, Marcano's Takeout, which opened in the former BTB Burrito at 1906 Packard, and Roger Monk's, which evolved from the former Lord Fox on Dixboro Road. And we said goodbye to Yoshi's (which lasted just six months on East Liberty Street), Senor Lopez on Stadium Boulevard and Beyond Juice on East Liberty. Cosi also announced it would depart from its State Street location in late January 2011. La Marsa Mediterranean Cuisine plans to open in the Cosi space at 301 S. State St. by early May.
What will 2011 bring to the Ann Arbor area food scene? Keep your eye on the Food & Drink and Business Review sections of AnnArbor.com to find out.
Jessica Webster oversees Food & Drink coverage for the Community Team at AnnArbor.com. You can reach her at jessicawebster@annarbor.com.