Posted on
Mon, Feb 11, 2013 : 12:20 p.m.
Flu season: Those 50 and older in Washtenaw County bearing the brunt of the illness
By Amy Biolchini
Reports of influenza cases in Washtenaw County indicate the season has passed its peak locally, according to health officials.
Melanie Maxwell | AnnArbor.com file photo
Individuals age 50 and older have born the brunt of the illness
this season
, said
Laura Bauman
, epidemiologist for
Washtenaw County Public Health.
Three Washtenaw County adults, all over the age of 60, have died due to complications from multiple illnesses including the flu as of last week, Bauman said. No deaths of children due to the flu have been reported locally.
The deaths occurred in adults that had underlying health conditions and sought treatment at area hospitals for influenza, Bauman said.
"Not only are most of the hospitalizations in individuals over 50, a lot are over the age of 70," Bauman said.
Those affected the most by the flu virus this year are in an older age range than in the past, Bauman said.
The health department is following up with hospitalized individuals to see if they have had flu vaccines, Bauman said. The flu shot is less effective in people between the ages of 70 and 90 years old, as their bodies don't develop as strong of an immune response to the vaccine as younger individuals, Bauman said.
Flu season peaked during the week of Jan. 12 in Washtenaw County, Bauman said. However, cases continue to be reported at rates that are higher than the peak of previous, milder flu seasons.
"We had a very high peak, but flu is still very active," Bauman said.
As of Feb. 6, a total 111 people had been hospitalized due to the flu in Washtenaw County since the flu season began Sept. 30. This week, the figures are closer to 120 hospitalizations, Bauman said.
That figure is higher than the 84 hospitalizations netted in the pandemic flu season of 2009-10. The health department first began tracking hospitalizations due to influenza in 2009.
Statewide, 273 people had been hospitalized due to the flu between Sept. 30 and Feb. 2, according to the Michigan Department of Community Health.
Norovirus continues to circulate in Washtenaw County, though there have been no recent closings of day care centers or preschools due to the illness, Bauman said. Both G1 and G2 strains of norovirus are in circulation, Bauman said.
Pertussis, also known as whooping cough, also is actively being reported.
Schools in the county are still reporting children absent from school with gastrointestinal symptoms, Bauman said. Ann Arbor Public School officials have stated student absentee rates have not been outside the range of normal this year.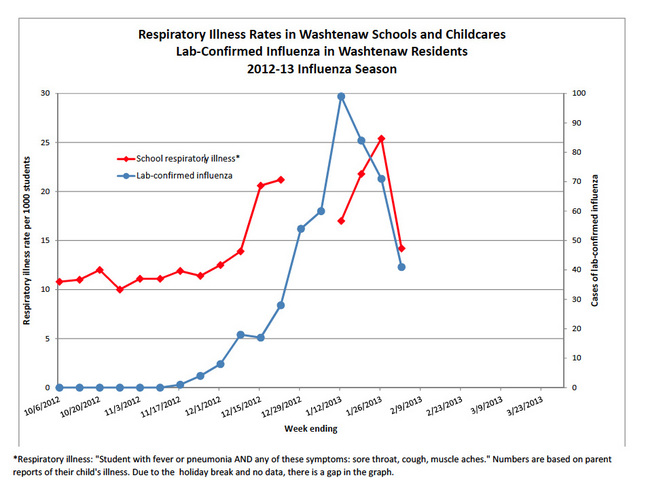 Courtesy of Washtenaw County Public Health
Amy Biolchini covers Washtenaw County, health and environmental issues for AnnArbor.com. Reach her at (734) 623-2552, amybiolchini@annarbor.com or on Twitter.