Posted on
Sun, Jan 24, 2010 : 6:05 a.m.
Ann Arbor school spending on athletics nearly double that of similar districts
By David Jesse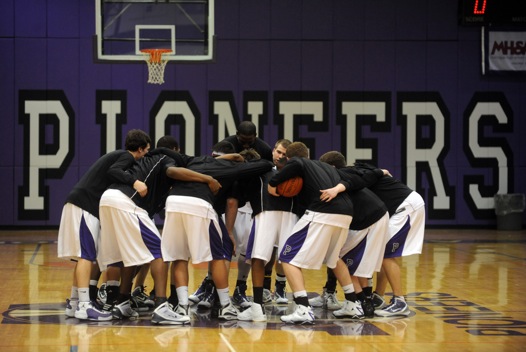 The 
Ann Arbor school district

 
is set to spend nearly twice as much as similar-sized districts on athletics from its general fund this year, an AnnArbor.com analysis shows.
The district's 2009-10 school year budget calls for using $3.2 million from the general fund for athletics at the middle school and high school level. That subsidy makes up the bulk of the $3.6 million athletics budget. Of that, more than $2.5 million will be spent on high school athletics.
By comparison, similar districts in southeast Michigan surveyed by
AnnArbor.com spent an average of $1.7 million on athletics from their
general funds.

"As we're in the midst of addressing our budget deficit, that's one reason that one of the options we're looking at is reducing the general fund contribution to athletics," Superintendent Todd Roberts said.
The general fund subsidy represents 1.6 percent of the district's total $191 million general fund budget. Athletics spending is just one area to come under scrutiny as administrators look for ways to to close a projected $20 million budget deficit over the course of this school year and next.
The district also is studying other cost-cutting and revenue-generating measures, including eliminating teaching positions, implementing schools of choice and consolidating transportation.
In athletics, a pay-to-play program is on the table.
The district has about 5,600 high school students, and last year, 3,618 took part in high school sports. That's more than 65 percent of the high school student body, which drives up the amount of money spent on athletics, administrators note.
Long-time Pioneer High School swimming coach Denny Hill said he isn't too surprised to find out about the difference in athletics spending between districts.
"We have twice the number of students involved than other districts," Hill said. "More than 50 percent of Pioneer is involved in athletics in some way, and I think that is really a plus for those kids that go to Pioneer."
Parent Mike Small, who has two daughters playing sports in Ann Arbor high schools, said the comparison shows the pain Ann Arbor athletes and their families will soon feel.
"We've had a really good sports program, lots of different sports for kids to play," he said. "That's good. But I think we're going to see some of that change soon. There's no way the district can keep handing out this type of money for sports. Parents and kids are really going to have to pay a lot more if they want to keep these sports."
That could happen soon. Ann Arbor's general fund subsidy for athletics will likely go down in 2010-11 as part of the cost-cutting process.
Roberts has proposed instituting pay-to-play, along with cuts to the high school sports program, to generate $500,000 in savings. Under the plan, high school athletes would pay $150 a year to play sports. Proposed cuts include eliminating transportation to some events and consolidating some teams between all the high schools.
Another district's athletic budget
An AnnArbor.com survey of comparable districts shows many have already taken some of the same steps the Ann Arbor district is considering. The districts analyzed - Dearborn, Plymouth-Canton, Farmington, Lansing, Walled Lake and Rochester - all have three comprehensive high schools. 
Their student populations range from 11,500 to 17,700. Ann Arbor has more than 16,400 students.
All of the other districts currently have pay-to-play sports programs, with varying fees to play.
One such example is Plymouth-Canton, widely considered to be the geographically closest comparable district to Ann Arbor.

Sue Heinzman, a co-athletic director at Plymouth-Canton, remembers a time in the not-too-distant past when her budget ran over $2 million. But years of cuts have taken about $500,000 out of the district's athletics budget.
"We've been cut more than any other program in the district," Heinzman said.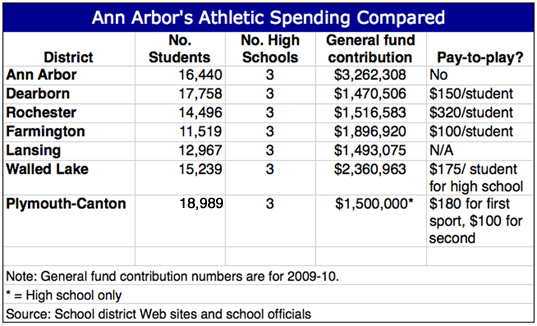 Heinzman now has about $1.5 million to spend, split pretty evenly between the district's three comprehensive high schools. Plymouth-Canton has about 6,300 high school students, and one-third of those students play sports. The athletics budget is spread across nearly 30 sports teams per high school. Ann Arbor has more than 30 at Huron and more than 30 at Pioneer.
The district also has had pay-to-play fees in place - $180 for the first sport, $100 for the second and the third is gratis - for the past five years. But high school athletes don't have to pay team fees to booster clubs. Instead, their booster clubs rely on fundraising.
Heinzman said she's able to buy some equipment for her team using general fund dollars and will often negogiate with teams, offering to pay for half if they raise the other half.
Two athletic directors oversee the entire program at the three schools. Ann Arbor has three athletic directors, after hiring a third this year to oversee Skyline's athletics program.
Any general fund subsidy for athletics may soon be a thing of the past, Heinzeman said. The way she sees it, unless the way schools are financed changes at the state level, high school athletics could be forced to be self-supporting within five years.

Ann Arbor's athletic spending
Ann Arbor's general fund contribution to athletics - which last year was $435 per athlete in middle and high school - is greater than all the comparable districts surveyed by AnnArbor.com.
In the 2005-06 school year, the Ann Arbor school district spent nearly $2.4 million from its general fund on high school athletics.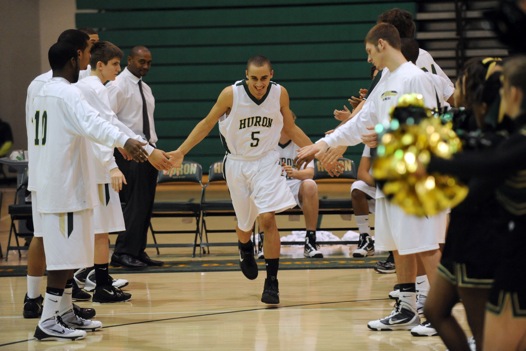 During the 2006-07 school year, the district spent about $1.9 million in general fund money on high school athletics, district audits show. That decrease came during a budget crunch that saw the district making cuts through such measures as eliminating an assistant athletic director position at both Huron and Pioneer high schools.
But spending gradually began to rise again. In 2007-08, the district spent just under $2.1 million. Last year, it spent $2.4 million. And this year, it's scheduled to spend over $2.5 million.
The reason for the big jump? The introduction of Skyline High School to the funding mix, the numbers show.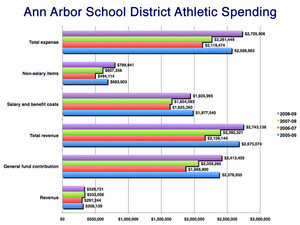 Each year, the district gives each high school a portion of its overall general fund subsidy to spend on athletics programs.
At Pioneer, that was worth $1.2 million in 2005-06, dipping to $930,000 the next year. By the 2007-08 calendar year, it was $1,032,055, and in 2008-09, it was $1,016,255.
At Huron, the general fund subsidy was $1.2 million in 2005-06, down to $937,000 in 2006-07, up to $1,026,930 in 2006-07 and at $1,047,136 in 2008-09.
The district added a $350,000 general fund subsidy to Skyline, beyond what was already being spent on Pioneer's and Huron's athletic programs.
The subsidies are primarily used to pay for salaries and benefits for coaches. This school year, more than 70 percent of the overall general fund subsidy for sports will go to the salaries of the district's three athletic directors, all the coaches and other athletics personnel. The bulk of the rest of the money goes to pay for transportation and officials for games, athletic directors said.
The coaches' pay is set by the teachers union contract, using a point system that provides $7.10 per point. For example, a head football coach position is worth 893 points, or just over $6,300. The head soccer coach position is worth 660 points, or nearly $4,700.
The rest of the money needed to run a sports program, including funds to buy equipment like football helmets, is largely paid for by parents through private booster clubs, Ann Arbor's athletic directors said. There is no central financial record that shows how much private booster clubs help out. Most Ann Arbor sports programs charge students a team fee that goes to the booster clubs. That fee varies widely, depending on the sport.
At the schools, athletic directors divide up the general fund subsidy amongst all the sports. The ADs said they do so based on the number of students participating. The amounts spent on similiar sports at each school can be different.
For example, 2008-09 district financial records show Huron spent $95,818 on boys football, its most expensive sport. Of that, $78,740 went to coaches' salaries and benefits. Just over $17,000 was spent on non-salary items.
Athletic director Dottie Davis allocated $78,212 of the school's $1,047,136 general fund subsidy to the football program. The remainder of the revenue needed to cover it came from ticket revenues.
At Pioneer, the school spent $80,770 on boys football in 2008-09, district financial records show. Of that, $65,298 went to salary and benefits, while more than $15,000 went to non-salary items. Pioneer Athletic Director Lorin Cartwright allocated $24,385 of the schools' $1,016,205 general fund subsidy to football. The rest was covered with other revenues, records show.
High school principals control similar funds that pay for other extra-curriculars at the high school. In the 2008-09 school year, the general fund subsidy to the student activities fund was $874,867. Of that, $779,780 went to high schools for things like band, newspaper, debate and other student activities.
Making cuts to those programs is a balancing act, Roberts said.
"The community and their expectations of having an amazing program also weigh into our decisions," he said.
For example, Pioneer took four of the nine state championships won by Washtenaw County schools in 2009.
"We'll continue to look at it as we go forward," Roberts said. "We have to think about the quality of the program and the opportunities we offer our students versus the cost."
AnnArbor.com sports reporter Jeff Arnold contributed to this story. David Jesse covers K-12 education for AnnArbor.com. He can be reached at davidjesse@annarbor.com or at 734-623-2534.