Posted on
Wed, Jan 27, 2010 : 6:04 a.m.
Ann Arbor school district spends least amount of general fund money on its poorest school
By David Jesse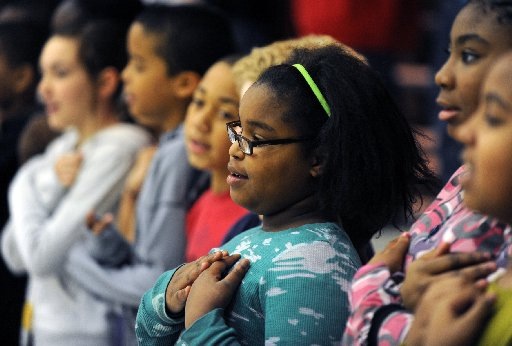 The Ann Arbor school district's poorest elementary school gets fewer dollars per student from the general fund than any other school in the district, financial records show.
The district spends $6,613 out of its general fund on teachers, administrators, staff members and supplies at Mitchell Elementary School on Ann Arbor's southeast side, records show. That's $938 per student below the district average of $7,551 spent per student at the elementary level.
But that's not an entirely accurate picture of what the district spends, administrators say.

They say to get a more accurate idea of how the district is supporting Mitchell Elementary students, funds from two special programs need to be added in.
"Clearly this is a community that is in greater need than many others in the district," said Lee Ann Dickinson-Kelley, the district's elementary school administrator. "There are many supports that are not reflected in that number."
Details of those funds - which come from grants given to the district from the federal government - were not included in the public budget document that shows the spending at every school building. But information on those funds was given to AnnArbor.com after inquiries about the data were made.
The numbers
The district assigns the cost of most of the staff in a school building to that school building's budget.
Not all employees are included in the breakdown of costs per school. For example, the district keeps the cost of special education teachers, even those assigned to specific rooms at specific buildings, separate from the buildings' budgets.
District officials said they do that because special education teachers can move from building to building.
Costs per student funneled from the general fund to each elementary school varies widely.
For example, while Mitchell gets $6,613 per student, Pittsfield Elementary gets $9,414.
The range is due in large part to the experience level of teachers at a school, district administrators said. That's seen in an average teacher salary and benefits cost breakdown.
At Mitchell, the average cost of a teacher, which includes salary and benefits, is $92,348. At Lakewood Elementary School, the average cost of a teacher is $105,905.
The same spread exists at the middle school and high school levels.
At the middle school level, a teacher at Forsythe costs the district, on average, $96,123. A teacher at Clague costs the district $102,059.
At the high school level, a teacher costs the district an average of $113,493 at Stone High School, and $81,361 at Roberto Clemente Student Development Center.
A teacher's salary is set by the union contract and is based on experience and length of service.
District administrators said the average cost per student can also be influenced by the number of students at a school.
For example, they said, the district spends $18,713,833 out of its general fund at Pioneer High School. At Huron, that number is $16,057,657. But the cost per student at Pioneer is $8,248, compared to Huron at $8,996. 
The difference? There are 700 more students at Pioneer, meaning costs are spread over more students.
Extra supports
In addition to general fund dollars, several district schools get federal grant money.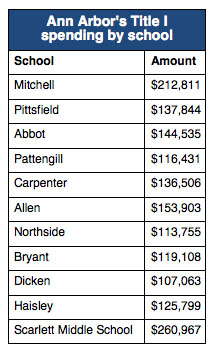 The largest pot comes from Title I funds, which are targeted to schools with poverty rates higher than the school district's average, which is about 20 percent.
That also means a school might get Title I funding one year, but not the next - depending on the composition of the school's student body and the district's overall student body.
In Ann Arbor, 10 of its 21 elementary schools and one of its five middle schools get Title I funds. The district also uses those funds on professional development, support for homeless students and other district-wide initiatives.
The schools receiving additional funds are Scarlett Middle School and Mitchell, Pittsfield, Abbot, Pattengill, Carpenter, Allen, Northside, Bryant, Dicken and Haisley elementary schools.
"Title I money must supplement the general fund," Dickinson-Kelley said.
That means the district can pay for supplemental teaching positions using Title I funds, but can't pay for general core teachers. In other words, the district couldn't cut a general fund position and replace it with a position funded by Title I money.
In each of the Ann Arbor schools receiving Title I, that money pays for one or two full-time equivalent teaching positions. In total, just under $2 million is being spent this school year out of Title I to fund teaching positions.
With more than 60 percent of its student body receiving free or reduced lunch rates, Mitchell has a higher population of students living in poverty than any other Ann Arbor school.
That's the reason the district is dedicating both Title I and Title II funds into the school.
The Title II funds pays for seven teaching positions at Mitchell. Those funds also help pay for professional development across the district. Next month, the district will use Title II funds to pay for only six teachers at Mitchell, with the general fund picking up the other position. The extra Title II funds will be spent on professional development. In total, the district get over $677,000 for Title II money.

The goal is to reduce class size to at least one teacher per 17 students, Dickinson-Kelley said.
"While other schools would certainly want a similar ratio, because of the 1:17 requirement, it would be nearly impossible to spread out the RCS funding to other schools any longer as we once did - the necessary ratio would be difficult to achieve if not concentrated in a single school," she said. "Consequently the district elected to use the funding in support of our most needful building."
It's unclear whether cost-cutting measures proposed by district administrators - including eliminating 34 teaching positions - could impact Mitchell or lead to larger class sizes there. 
"The district has an ongoing obligation to monitor and adjust these expenditures and subsequent decisions throughout the year," Dickinson-Kelley said. "In fact we will be making some adjustments in a few weeks to ensure the general fund is contributing adequately to Mitchell School while also making Title II support available."
Is it working at Mitchell?
As Mitchell Principal Kathy Scarnecchia studies the scores of her students on Michigan Educational Assessment Program tests, she sees "our students are still not learning, or at least achieving on this test, at the same rate as the rest of the district."
Scarnecchia said the extra money is helpful, but she'd like to make sure the district is focusing money - both from the general fund and the various Title programs - on helping the district's neediest students.
"It's about trying to equalize that opportunity for students. Our district doesn't ever really talk about that issue in public," she said. "Certainly the Title I money is helping our students. The superintendent and (Dickinson-Kelley) are facing tough choices. I know they'll continue to support our school.
But she does admit that if they had a few more general fund dollars, the Title money could be making an even bigger impact on the Mitchell students.
"I think there could be more done if we were starting at the same base (as other schools)."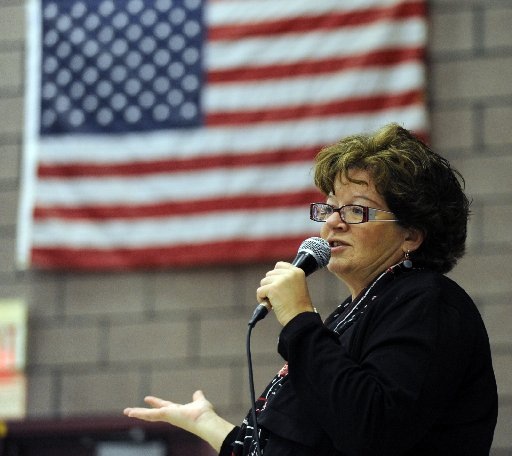 To view budget data about an individual school, click on the PDF.
David Jesse covers K-12 education for AnnArbor.com. He can be reached at davidjesse@annarbor.com or at 734-623-2534.