Posted on
Fri, Sep 6, 2013 : 5:59 a.m.
Convicted killer struggled with alcohol, father's death before murdering wife
By Kyle Feldscher
This much is clear: Jean-Pierre Trias is spending at least the next 30 years in the Bellamy Creek Correctional Facility for murdering his wife, Katherine Porter.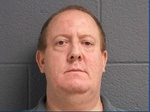 Courtesy of MDCO
However, what exactly led to Trias, 45, stabbing his wife to death, leaving as many as 69 individual injuries to her body, before police responded on Jan. 11 to their home in the 4700 block of Hickory Pointe Drive in Pittsfield Township, still isn't known.
The police report obtained by AnnArbor.com through a Freedom of Information Act request provides a few clues on possible contributing factors. In it, friends and family members lay bare Trias' struggles with drinking, coping with the death of his father and his past issues with their marriage.
Porter was found dead in the home after Trias called his brother, telling him that he "blacked out" the night before and didn't know if he hurt someone. But on the day of his arrest, Detective Jason Hoehner wrote that Trias seemed normal.
"During my encounter with Trias, he showed no signs of emotional distress, mental health issues, desire to harm himself or others, or any outward signs of emotion other than calm, engaging and cooperative," Hoehner wrote.
The marriage

File photo
Trias and Porter were married in August 1995. The two shared a love of traveling, board games and deep strategy games, according to
Paul Horvath
, a math lecturer at Eastern Michigan University, where he was a colleague of Trias, who worked part-time as a coordinator of math tutoring and testing services and as a graduate assistant.
Another friend, John McKinnon, said the couple was pleasant and happy, did favors for each other and clearly showed affection.
Yet there were underlying issues in the marriage. According to the police report, Trias said he felt penned up in the past and, in 2010, filed for divorce and moved out of the couple's home. Sarah Porter, Katherine Porter's sister, told police he was sometimes arrogant.
"(Sarah Porter) stated that she was not aware of any domestic violence issues going on between Katherine and JP," the report stated. "Sarah stated that JP did have a temper, was very competitive and would get irrational about issues over his own insecurities. Sarah stated that JP was very arrogant and felt he was better than he was.
"She used examples of him being unemployed and his belief that he could get younger attractive women."
Her sister, Martha Porter, added, "The way JP acted and treated everyone was that he only mattered," the report stated.
No one interviewed by police said they had ever seen evidence of domestic violence in the relationship. Both Porter and Trias had tempers, but the two apparently apparently never directed their ire at each other physically.
JP's issues
Many friends and family members pointed toward the death of Trias' father as a major moment in his life that sent him away from Porter and toward the bottle.
Multiple people told police Trias began drinking heavily around the time of his father's death and during the divorce proceedings in 2010. During that year, he traveled often to Puerto Rico — where his family is originally from — to take care of his father's estate.
Tracey Kocik, a close friend of Trias, told police the couple never had any drastic relationship problems. Porter was dedicated to her job and often worked long hours, time she couldn't spend with Trias, and that weighed on him, according to Kocik.
"(Kocik) stated that she never knew of any single reason for JP leaving, but rather a build up of things being incompatible with her working all the time and his father dying," the report stated.
However, it looked like things had turned for the better in late 2012. Sarah Porter told police that Trias and Porter spent Christmas with their family and everything seemed fine. Friends told police they thought the issues had passed and that Trias had seemed happier in recent months.
But something changed in Trias in the days before the murder.
His mother, Jennie Trias, told police she spoke with him on the phone every day from Jan. 6 until Jan. 10 and he seemed emotional. The last time she spoke with him before his arrest was around 9 p.m. on Jan. 10, when he told her he had been going to detox for alcohol treatment and, through tears, told her "I turned into my father, help me."
By the next day, Porter's body was bloodied and bruised in the couple's home. Police found blood on bottles of Johnnie Walker Red and Goldschlager when they performed a search warrant.
A brutal death
The autopsy performed by Washtenaw County Deputy Medical Examiner Dr. Bader Cassin showed 69 wounds on Porter's body.
Trias left a 10-inch knife in her stomach. A second knife had broken off in her skull. There were bite marks on her and a bruise on her right eye.
Trias' face was left injured with marks consistent with fingernail scratches. Her sister, Martha Porter, doesn't think she went down with out a fight.
Martha Porter's "sister was always a fighter and would fight to her death," the police report stated. "Katherine Porter had long fingernails and would leave scratches if she were to fight."
At 2:30 p.m. on Jan. 11, Trias called his brother Tom and was "unnaturally calm," according to the report. A few hours later, the two spoke again and Trias was upset. He told his brother he blacked out the night before, had wounds on his body and didn't know if he hurt anyone.
Trias knew he did something — he had researched local defense attorneys online and phoned the Simon and Gehrein law firm before his arrest. Joe Simon would eventually represent him during his case.
During a search of his computer, police found a to-do list, where the last line was "Kill Kathie Kill Kathie Kill Kathie!" Other items on the to-do list were as simple as grading, prepping for classes, solving mathematical problems and distributing T-shirts.
Trias had last modified the list on Jan. 5, at least five days before Porter's death.
When he was arrested, Trias declined to speak to police because he wanted to have a lawyer present. He was never interviewed and, when he spoke in court, never gave a clue as to what possible motivation he had for killing his wife. More answers may yet come: Trias is being sued by Porter's family in a wrongful death lawsuit.
Still, those close to the couple find it hard to believe that Trias was himself when he made the decision to kill Porter.
"Something in JP broke for him to have done this," Kocik said.
Kyle Feldscher covers cops and courts for AnnArbor.com. He can be reached at kylefeldscher@annarbor.com or you can follow him on Twitter.