Posted on
Tue, Jan 29, 2013 : 4:23 p.m.
Pioneer student charged in football melee returns to court next month
By Kyle Feldscher
The Pioneer High School student charged with four assault counts in connection with the brawl between the Pioneer and Huron high school football teams will be back in court in two weeks.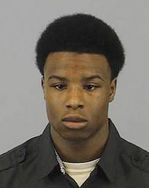 Courtesy of WSCO
Bashir Garain, an 18-year-old Ann Arbor man, was in court for a pretrial hearing in front of Washtenaw County Trial Court Judge Donald Shelton. Walter White, Garain's attorney, said he's waiting on discovery from Washtenaw County prosecutors to proceed in the case.
"The people have not gotten certain discovery they are going to provide to me," White said.
Garain is charged with two counts each of assault with a dangerous weapon — a felony — and assault and battery, a misdemeanor. He will return to court for a pretrial hearing at 1:30 p.m. Feb. 12.
White said in court the discovery — or evidence — he will receive from the prosecution could help the two sides of the case come to a resolution.
According to police, Garain attacked two different people with a crutch during the Oct. 12 brawl between the two football teams. The melee started after a confrontation between the teams' coaches escalated into physical violence.
Two other juveniles have been charged in the case. AnnArbor.com is not releasing their names because they are juveniles.
Garain was formally arraigned on charges in November and is out of jail on a personal recognizance bond. White previously has told AnnArbor.com Garain maintains his innocence.
Video from the brawl shows a man police say is Garain - who was injured in the Aug. 24 game against Warren De La Salle and did not play in the game against Huron - swinging his crutch during the fight.
The fight began in earnest when Vince Wortmann, an assistant coach at Pioneer, shoved Huron head coach Cory Gildersleeve. Wortmann believed Gildersleeve was physically threatening Pioneer head coach Paul Test, who alleges Gildersleeve was pushing him.
Wortmann was fired for his actions, but Washtenaw County prosecutors decided not to charge him criminally. Test and Gildersleeve both were tagged with two-game suspensions and eventually resigned.
Kyle Feldscher covers cops and courts for AnnArbor.com. He can be reached at kylefeldscher@annarbor.com or you can follow him on Twitter.