Posted on
Wed, Apr 24, 2013 : 10:30 a.m.
Ann Arbor schools budget cuts: Public to get first look at administrative plan
By Danielle Arndt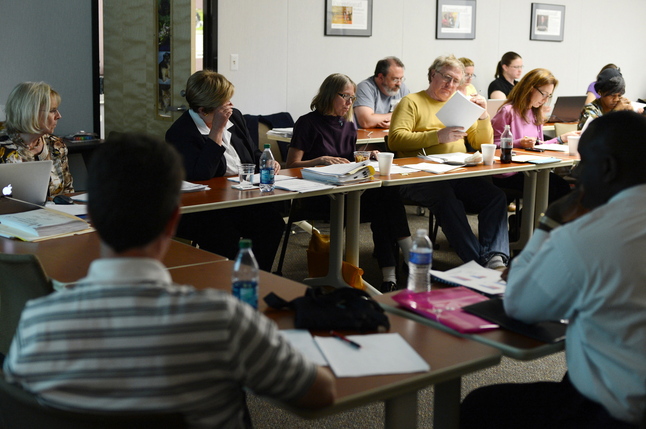 Melanie Maxwell | AnnArbor.com file photo
Wednesday night marks the dawn of difficult decision-making for the Ann Arbor Board of Education.
The district's administration will present its recommended expenditure budget for the 2013-14 academic year at a regular meeting that begins at 7 p.m. at the Ann Arbor District Library. It's a budget that will include painful cuts to some district programs.
The Ann Arbor school board started its budget process a little earlier than usual this year by requesting an initial list of possible budget cuts from central administrators in December.
Wednesday, the public will learn what items from that list remain on the chopping block.
Among the possibilities presented in December were reducing funding for high school theater, music and athletics; moving the Roberto Clemente alternative program to a wing of Pioneer High School and closing the existing Clemente building; reducing the number of teachers and counselors; moving Skyline High School from a trimester schedule to a semester schedule; and cuts to transportation.
But, the potential savings from cutting these items was figured when the district was projecting a much bigger hole to fill than it has now.
The Ann Arbor Public Schools went from facing a budget shortfall of more than $17 million, to now needing to cut $8.67 million to balance its budget for the 2013-14 academic year. The change was attributed to $3.4 million in concessions that the Ann Arbor teachers union agreed to, some additional revenue the district was able to bring in and additional special education reimbursement money from the Washtenaw Intermediate School District, which was driven by the county spending less on special education services last year than projected.
The new projection of an $8.67 million deficit will be reflected in the proposed reductions, said AAPS Communications Director Liz Margolis. She said the superintendent's cabinet will present the board with a number of different budget scenarios for consideration, so that trustees have options if they don't agree with the expenditure budget as recommended by the administration as a whole.
To prepare for Wednesday's budget meeting, Margolis said members of central administration have been going through the district's expenditures line by line and meeting with various groups of staff within the schools to brainstorm ways to save.
"Everything we're bringing to the table is bad. We don't want to be bringing any of this forward. The focus has been not to impact the classroom," Margolis said, adding there likely will not be many changes from the items on the list in December, but that the amounts being proposed for the cuts may have changed.
"It will be up to the board to decide what is the best of the worst," she said. "People hear these (recommendations from administration) and think it's a done deal. But no one knows how it will end up. The board could reject some or all of our proposals."
Superintendent Patricia Green said previously that across-the-board salary cuts would be needed to balance the budget. She has said contract negotiations are taking place. Details about these negotiations or what central administrators and the Ann Arbor principals union might give up are not known.
The board has conducted four community dialogues on the budget this year to gather suggestions from members of the public. Board President Deb Mexicotte said she and Treasurer Glenn Nelson were compiling the suggestions and have typed them up to give to administration.
School board Vice President Christine Stead said she has a few additional things she would like to ask the administration about and some thoughts for the board to weigh. She said she looks forward to having her questions on the possible impact of some of the cuts answered.
"I expect to see a description and a dollar amount much like we've seen in the past… but more about how this number came to us (as a recommendation)," Stead said. "The impacts to the services we offer I hope will be explained where it's not been clear."
She also said she is hoping for more detail on who was involved in coming up with the budget proposals and how the cuts might be executed if approved by the board at the end of May.
"We're assuming that buildings and teachers across our organization and principals across our organization had a role and … my thought is they better have offered up ideas about some of what is brought forward," Stead said. "I'll be looking to see our collective best thinking of what's doable and what's best for kids."
Danielle Arndt covers K-12 education for AnnArbor.com. Follow her on Twitter @DanielleArndt or email her at daniellearndt@annarbor.com.