Posted on
Tue, Jul 5, 2011 : 5:58 a.m.
Former students of Pioneer High School teacher Vicki Shields support her following MTV's 'Made' controversy
By Kyle Feldscher
After Pioneer teacher Vicki Shields came under fire for her role on an episode of MTV's "Made," several former students spoke out to defend one of their favorite teachers.
Shields became the main antagonist in the show, which featured Pioneer graduate Emma Hamstra's transformation from "preppy poet" to rapper. Shields hosted Hamstra in her African American Humanities class for her to explain why she wanted to become a rapper and the episode showed Hamstra saying she felt "blindsided" by the questions from students and Shields, and running out of the class crying.
Kirby Lee, a student at Western Michigan University and 2010 Pioneer graduate, said the show didn't give viewers the real sense of what Sheilds is like as a teacher.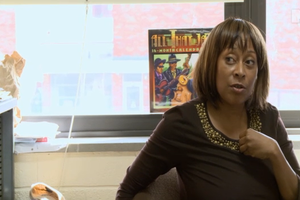 Courtesty of MTV's Made
"She's a great teacher and a great person and I think it's unfair to judge someone from a MTV show," he said. "No one really knows what went on in the class other than the people in it."
The stories of how Shields, faculty sponsor of the Anime Club at Pioneer, came to be involved in the episode differ — Hamstra said she asked to meet one on one with the teacher and then was invited to come to the class while Shields contends that the show's producers asked her to bring Hamstra in.
Shields said she began receiving hate mail and calls for her to resign from community members immediately after the episode aired. However, rumors that Shields has been asked to resign by school officials have been repeatedly denied.
Many members of the Ann Arbor community have spoke in support of Shields, including Pioneer teacher Jeff Kass, who called her an "incredibly important voice at Pioneer" at Wednesday's school board meeting.
Immediately after the show aired, Shields told AnnArbor.com that the show had been edited to make the classroom incident more controversial that it was. Lee said he believed Shields' contention because it didn't reflect the teacher he knew in school.
Lee, who is black, said Shields has always had a strong opinion but was very open to discussing others' points of view. He said Shields challenged her students to think outside of their own worlds.
"She taught me to open my mind about things more," he said. "Being in high school, a lot of us kind of had a box around our minds and what we think about. She helped open your mind and realize what's going on around you in society."
Made controversy
Here are some stories regarding the Made episode that aired last week featuring Emma Hamstra
Although the discussion about race in the "Made" episode seems contentious, Shields' former students said they never felt uncomfortable talking about race in her class.
Timothy Clendenin, a University of Michigan student who also graduated from Pioneer in 2010, said he had Shields for two classes and the students in the classes were able to have productive conversations on a regular basis. Clendenin, who is white, said he and other white students never felt accused or intimidated in Shields' class.
He characterized Shields as "very open and friendly" and always willing to continue discussions with students after class was over.
"We were in an African American Humanities class. There was no reason to feel uncomfortable," Clendenin said. "I always felt fine there and all the other white people in there also usually felt fine. No one felt like a victim or were intimidated."
However, not everything Shields did in her classes was a discussion of race, said Jessica Obidicke, another 2010 Pioneer graduate who is attending Michigan.
Obidicke described Shields' class as a learning experience where she found out a lot about the world around her and how she felt about different issues. She said Shields made her classes fun and "there was no class like hers."
"She really personalized her classes and gave it a twist," Obidicke said. "People came to the class and liked to learn."
Kyle Feldscher covers K-12 education for AnnArbor.com. He can be reached at kylefeldscher@annarbor.com or you can follow him on Twitter.