Posted on
Sat, Dec 15, 2012 : 10:30 a.m.
From $2 to $2,000, 10 gifts for the University of Michigan fan in your life
By Kyle Mattson
Whether you're shopping for the University of Michigan alumus or die-hard Wolverine fan in your life there's no shortage of maize and blue items to put under the tree this year.
From Duct tape to underwear, the sale of licensed products brings in more than $6 million in revenue each year for the university. These thousands of items mean there's no doubt a product out there with the block-M emblazoned on it for your loved one, but at the same time it can make picking out the perfect gift an overwhelming task.
To help you out we've complied the following list of 10 gift ideas for the Michigan fan in your life from downtown Ann Arbor retailers.
1 - Did your high school senior receive an early present in the form of an acceptance letter to the university? Congratulate them with a shirt featuring their future (or to be determined) school of study. All About Blue on State Street sells a number of versions from band to nursing. $10-13
2 - Help you boss channel their inner "Bo" and motivate your workplace with the help of a mug feature his likeness recalling "The Team" speech from Underground Printing. $10
3 - Football may the sport that steals the spotlight but that doesn't stop die-hard hockey fans from filling the completely renovated Yost arena. Help your puckhead stay warm at the game or just walking around town this winter with a tassel knit hat. Multiple varieties available at both downtown M-Den locations. $18-35
4 - Embrace the gluttony of the holidays with this stocking stuffer: a box of Strawberry "Go Blue" Pop-Tarts. Available at M-Den and various food retailers. $2-4
5 - Socks, wallets, and ties, just about every man has come to expect unwrapping at least one of these each year. This time, help dad mix up his style by embracing the resurgent trend of the bow-tie. The Golden Wolverine bow-tie was sold for decades but disappeared from the shelves of Van Boven in Nickel's Arcade as men moved toward long neck-ties. But then, a few years ago an original sample was discovered in storage and the family-owned haberdashery decided to bring it back. $50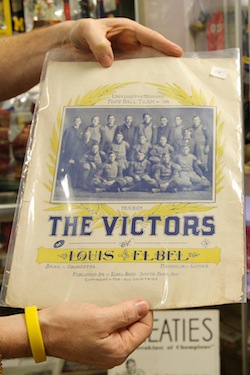 6 - Need to buy for someone who already has a U-M collection worthy of its own museum? You're going to have to get creative. Luckily, Ken Magee expanded his own personal collection into the
Ann Arbor Sports Memorabilia Shop
located below the soon to be "
what crepe?
" restaurant where you can find items from every era dating back to pre-1900. If you're truly looking for something no one else will have, head to the glass display cases in the center of the shop where you'll find items like an original copy of the sheet music for "The Victors" from when it was first performed in 1898. $250
7 - Don't want to spend your entire budget on one item? The most popular item at Ann Arbor Sports Memorabilia Shop that often provides a more wallet-friendly option are the boxes upon boxes stuffed with football game-day programs. Pick out a memorable game from the year the person was born or graduated and throw it in an envelope with a bow on it, no wrapping needed. $25-$600
8 - Know someone whose love of Michigan extends beyond Ann Arbor and across the entire state? Kill two birds with one stone with a maize and blue Don't Mess With The Mitten shirt from All About Blue. Sweatshirt $30 / Hoodie $40
9 - Looking for the ultimate, one-of-a-kind gift? An authentic taxidermied Wolverine is the crowning jewel of any fan cave or
tailgate party
. It will cost you though, and you better act fast.
Antelope Antiques
owner Karl Lagler has already received a number of inquires on the one that arrived in his store two weeks ago.
$2,000
10 - Although the closest thing to "meggings" in Ann Arbor may be worn by the Michigan Football team, the fashion trend of women trading in their sweatpants for leggings is showing no signs of going away anytime soon. To help students say "Hail" in style Underground Printing has started selling the popular nylon pants in five different colors. $40
Do you have a good gift recommendation? Post it in the comments below.