Posted on
Wed, Nov 14, 2012 : 5:59 a.m.
Pedestrian crosswalk, other safety measures on the table for stretch of Ann Arbor-Saline Road where woman died
By Kyle Feldscher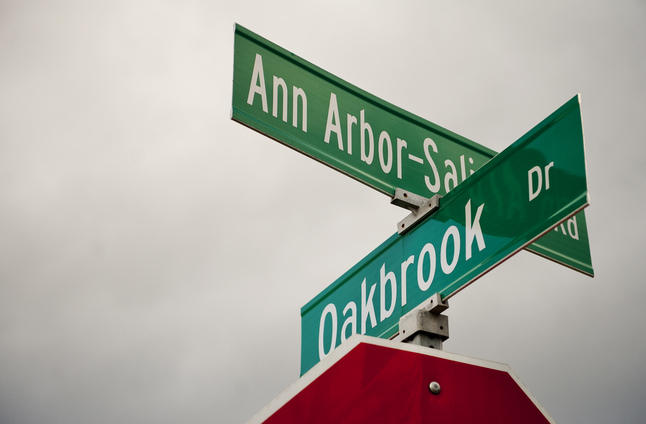 Daniel Brenner | AnnArbor.com
Ann Arbor city officials are considering safety improvements to the stretch of Ann Arbor-Saline Road where a 70-year-old woman was struck by a car and killed Friday night.
However, solutions may not come right away, one official cautioned.
City Transportation Manager Eli Cooper said the area was definitely going to be in the city's plans after the woman, whose name has not been released, was struck by a pickup truck while crossing Ann Arbor-Saline Road at Oakbrook Drive at 6 p.m. Friday.
Cooper said he hadn't been aware of citizen requests for a pedestrian crosswalk on Ann Arbor-Saline Road between Eisenhower Parkway and South Main Street, but such a crossing would make sense with the increase in residential properties in the area in recent years.
"Make no mistake about it, the city takes pedestrian safety seriously," Cooper said. "This is a very unfortunate circumstance and it clearly has brought to our eyes the fact there are people who are attempting to cross there.
"We're going to have to take a look at what's the best way to proceed with an appropriate crossing."
Property owners and city government officials have expressed their concerns about the area in the days following the crash, which took place in an area with no pedestrian crosswalk. The speed limit in the area is 45 miles per hour and there are either four or five lanes of traffic on the stretch of Ann Arbor-Saline Road between Eisenhower and South Main.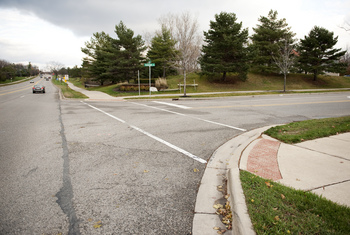 Daniel Brenner | AnnArbor.com
Although Cooper believes something should be done to make the road safer for pedestrians, he urged patience.
"There's a right way to do it," he said. "It'd be premature (to do something) without having analysis and getting data about traffic patterns and pedestrians' activity. We're not just jumping out and saying we need to do something. We need to do what's right; there's no timeline."
A pedestrian crosswalk across Ann Arbor-Saline Road was proposed in the city's Non-Motorized Transportation Plan from 2007. That plan called for a crosswalk northeast of the Oakbrook Drive intersection. However, the crosswalk was never installed.
City Traffic Engineer Les Sipowski said the crosswalk was never put in because there was no good way to slow traffic on a four-to-five-lane road for pedestrians in 2007. However, recent developments such as the High-Intensity Activated crossWalK (HAWK) systems have made it safer and more feasible. Those systems are activated by pedestrians and remain dormant when no one is trying to cross.
"Doing a pedestrian crosswalk on a roadway like that requires more than just striping bars," Sipowski said. "When the Non-Motorized Plan was prepared, we didn't have any devices that would help pedestrians cross roadways with four or five lanes of traffic moving."
He added, "right now, with these new tools, it's probably feasible to provide a better pedestrian crossing opportunity."
While many officials have said the area on Ann Arbor-Saline Road between Eisenhower and South Main wasn't being talked about as a safety concern, one resident of the area said she had been contacting city officials with her worries.
Sabine Gabaron, who lives on Northbrook Drive, said she'd been exchanging emails with Sipowski since the fall of 2011. Gabaron said she'd told Sipowski she was worried an accident would happen due to heavy traffic coming to and from Whole Foods in Cranbrook Plaza and the increasing amount of pedestrian traffic crossing at the Northbrook Drive intersection.
Northbrook Drive is directly across Ann Arbor-Saline Road from Oakbrook Drive.
Gabaron said a walk from her home to Whole Foods or Busch's, near South Main Street and Ann Arbor-Saline Road, might only take five minutes but she refuses to make the trek because she finds the area too dangerous.
"There should be a way to get to the other side of that road and more and more people are just doing it without realizing how dangerous it is," she said.
Cars coming over a hill in the northbound lanes add to the danger of the area, Gabaron said. She said she had contacted Sipowski and was told there would be work done to make the intersection more clear by the end of the construction season, typically mid-November.
She said it's important for the city to revisit how people come in and out of Cranbrook Plaza. She would like to see more street lights added to the area to improve the lighting at night and some sort of crosswalk installed.
"Something needs to be done. They have to allow people to go to the other side of the road," she said.
Carolyn Grawi, a board member for the Washtenaw Biking & Walking Coalition in addition to director of education and advocacy for the Ann Arbor Center for Independent Living, said one solution could be Rectangular Rapid Flashing Beacons — or RRFBs — similar to those on Plymouth Road.
Grawi said Friday's accident, the accident that killed a pedestrian on Golfside Drive in Pittsfield Township Thursday and a very serious crash involving a bicyclist on Washtenaw Avenue on Aug. 13 all had one thing in common: Pedestrians were struck by vehicles while they tried to cross a five-lane road. Having a crosswalk with the RRFBs, along with a pedestrian refuge, would improve safety considerably, Grawi said.
"It's impossible to cross a five-lane road with no safe crossing," she said.
She urged city officials to take up a Complete Streets Policy. Complete streets are defined as "roadways planned, designed, and constructed to provide appropriate access to all legal users ... whether by car, truck, transit, assistive device, foot or bicycle" by state legislation, enacted in 2010. State roads throughout Michigan are designed, or being designed, to be complete streets that are safe for all users.
"It's really important we consider all users when we talk about this," she said.
Grawi said the fact there are two parks in the area of Northbrook Drive, as well as grocery stores and residential neighborhoods — among other things — suggests that it would be more useful to have a crosswalk there instead of forcing pedestrians to walk to the corner of Ann Arbor-Saline Road and Eisenhower Parkway or Ann Arbor-Saline and South Main Street.
Sipowski said many things need to be studied before any changes can be made to the road.
"We have to see what is the best location and what the best financing for the project would be," he said.

View Pedestrian accident in a larger map
Kyle Feldscher covers cops and courts for AnnArbor.com. He can be reached at kylefeldscher@annarbor.com or you can follow him on Twitter.