Posted on
Sun, May 15, 2011 : 5:59 a.m.
Ann Arbor Fire Department struggles to meet response time standards as City Council considers cuts
By Ryan J. Stanton
Angela J. Cesere | AnnArbor.com
(Editor's note: This story was updated shortly after publication to correct the response time for a fire that occurred on April 23, 2010, based on new information provided to AnnArbor.com. The reporting in this story was based on reports provided to AnnArbor.com by the city, which included en route times that we understood to be the equivalent of travel time. We have since learned that the en route times represent a combination of travel time and turnout time. The National Fire Protection Association standard for travel time and turnout time together is 5 minutes, 20 seconds, and that is the measure that should have been applied to the en route times in this story, rather than the 4-minute travel time standard. For further explanation of this, see this column: Ann Arbor Fire Department's struggle to meet response standards not based on travel time. )
The city of Ann Arbor lags far behind other communities when it comes to fire department staffing levels and continues to struggle to meet national standards for fire response times.
Those are among the findings of an AnnArbor.com analysis of more than 1,800 pages of fire department records obtained through Freedom of Information Act requests.
The reports include data on thousands of incidents handled by the Ann Arbor Fire Department over the past two years, including response times for fires and other calls.
Fires in Ann Arbor killed two citizens and caused an estimated $1.3 million in property damages last year, records show. Most of the damages — $1.24 million worth — happened to homes and apartments, while businesses and other buildings were less affected.
If Ann Arbor officials go through with a proposal to cut 12 firefighter positions from the budget, those numbers could climb, warns Matt Schroeder, firefighters union president.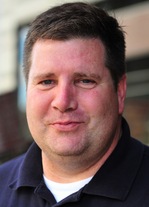 "We are now playing Russian roulette with citizen safety," Schroeder said in a statement. "Now we are in the predicament that we cannot adequately staff the city with firefighters."
The Ann Arbor City Council meets Monday night to consider a two-year budget that includes deep cuts to public safety, including large staffing reductions in both police and fire. It's possible a decision on the budget could be pushed back to a later date.
City officials are tasked with closing a $2.4 million shortfall in a general fund of less than $80 million for the fiscal year starting July 1. The deficit is projected to grow to $4.9 million the following year if cuts aren't made, and public safety accounts for half the budget.
The job eliminations — which Fire Chief Dominick Lanza argued against before resigning in March and then firing off an open letter airing his frustrations — would reduce the fire department's ranks from 89 to 77. The department already lost five positions last July.
The question now is: Can Ann Arbor afford to make those cuts?
Before retiring last month, even City Administrator Roger Fraser, who recommended the reductions in fire services, acknowledged "every bit of this is an experiment."
Struggling to respond
After closing a city fire station, eliminating 37 firefighter positions and taking two fire trucks out of service over the past decade, Ann Arbor is struggling to respond to fires within time limits recommended by the National Fire Protection Association, records show.
The fire department responded to 278 fires last year, 116 of which were reported as structure fires. Of those, 101 happened inside homes or apartments.
'Major fires' reported in 2010
April 3 — 900 block of South State Street; 5:17 a.m. Initial arrival: 6 mins 15 secs; Full alarm: 9 mins 4 secs; Damages: $140,000, one death.
April 13 — 500 block of West Stadium Boulevard; 1:41 a.m. Initial arrival: 6 mins 31 secs; Full alarm: 7 mins 54 secs; Damages: $265,000.
April 23 — 2500 block of Georgetown Boulevard; 1:02 a.m. Initial arrival: 2 mins 37 secs; Full alarm: 7 mins 6 secs; Damages: $310,000.
Sept. 16 — 100 block of East Summit; 5:55 a.m. Initial arrival: 4 mins 9 secs; Full alarm: 4 mins 9 secs; Damages: $185,000.
Nov. 7 — 1200 block of Prescott Avenue; 1:19 a.m. Initial arrival: 3 mins 5 secs; Damages: $13,000, one death; Full alarm not needed because report was of a person on fire, not structure fire.
Records show the fire department handled five incidents last year that were classified as "major fires." Four were house fires and one was a person on fire. The department failed to meet national standards for response times on three of the four house fires, which caused an estimated $900,000 in damages and killed one person.
The firefighters union is the first to admit Ann Arbor has a substandard fire department and actually has used that fact to argue against cuts.
NFPA standards state the first fire truck should arrive on the scene of a fire within four minutes, and a full alarm assignment should be in place within eight minutes. In Ann Arbor's case, a full alarm means four fire trucks and a battalion chief, according to city fire officials.
Records show it took about 4 minutes and 53 seconds on average for the first truck to arrive at each of the four major house fires last year, missing the standard by nearly a full minute. Fire professionals often stress that fires double in size every minute, so every second counts.
To a lesser degree, the department has struggled to get a full alarm on the scene within eight minutes. It missed the mark on one of the four major house fires last year.
That was the case with an April 3, 2010, fire that started on the porch of a rental house on South State Street, near the University of Michigan. The flames from a burning garbage bag ignited a porch couch and quickly spread to the home, killing 22-year-old Renden LeMasters.
According to reports, firefighters were dispatched at 5:17 a.m. It then took 6 minutes and 15 seconds for the first two trucks with eight firefighters to arrive together. A full alarm assignment wasn't in place until 9 minutes and 4 seconds after firefighters were dispatched.
In addition to LeMasters's death, two other people were injured in the fire, which caused an estimated $140,000 in property damages.
On April 13, 2010, firefighters were called to another fire on the 500 block of West Stadium Boulevard at 1:41 a.m. They could see flames and smoke coming from the home while en route and arrived to find heavy flames on the first floor, extending to the second floor.
Records show it took 6 minutes and 31 seconds for the first truck to arrive with three firefighters. A full alarm arrived just barely under eight minutes. The fire caused an estimated $265,000 in damages. The home, one unit of a duplex, was declared a total loss.
On April 23, 2010, a father and his 6-year-old daughter had to jump to safety from the roof of their burning house in the 2500 block of Georgetown Boulevard. Meanwhile, the mother and a 3-year-old boy fled through the front door as flames engulfed the two-story home.
Records show it took 2 minutes and 37 seconds for the first truck to arrive and a full alarm was in place in 7 minutes and 6 seconds, meeting both standards. Three firefighters were injured fighting the blaze, which caused an estimated $310,000 in damages.
Staffing levels lagging
According to the NFPA, the average full-time career fire department in the United States has about 1.72 firefighters per 1,000 residents.
Right now, Ann Arbor has 0.78 firefighters per 1,000 residents — a figure that drops to 0.67 with the cuts being proposed.
AnnArbor.com surveyed a random sample of Midwest college towns to find out their fire department staffing levels. The average among five communities that responded was 1.3 firefighters per 1,000 residents, nearly double the levels being considered in Ann Arbor.
The college towns surveyed were Columbus, Ohio (Ohio State), Evanston, Ill. (Northwestern), Bloomington, Ind. (Indiana), East Lansing (Michigan State) and Iowa City (Iowa).
With staffing levels dwindling, Schroeder said the Ann Arbor firefighters union proposed more than a year ago that the city apply for a federal SAFER grant.
Ryan J. Stanton | AnnArbor.com
SAFER is an acronym standing for
Staffing for Adequate Fire and Emergency Response
. It's a grant program created to provide funding directly to local fire departments to help increase staffing levels and meet national standards.
Schroeder said the response the union received was lackluster at best and the city's administration refused to entertain the idea.
Dozens of communities across the country recently were awarded SAFER grants from the U.S. Department of Homeland Security, including Southfield ($2 million), Redford Township ($1.16 million), Dearborn ($940,595), Ferndale ($851,164), and Southgate ($791,680).
Counting nine fire chiefs the city has gone through in the last decade, Schroeder said he believes the Ann Arbor Fire Department has suffered from a lack of consistent leadership. The last two chiefs to resign both cited strong pressure from the city's administration to make cuts as a reason for leaving, and both left citing concerns about the staffing levels.
Police Chief Barnett Jones now doubles as Ann Arbor's fire chief since Lanza's resignation. If confronting cuts to the fire department is a reality this year, the city will come up with a plan to make sure response times are not affected, Jones said in a recent interview.
"I'm now the fire chief, I'm sitting with two assistant chiefs, and I'm talking to the union and the battalion chiefs. We'll manage it," Jones said. "There are some good people over there, and we're going to take a look at what the ICMA is going to tell us."
Ann Arbor is paying $54,000 to have the International City/County Management Association conduct a study of fire department staffing levels. A report is due mid-summer.
Until that report is issued, Ann Arbor officials acknowledge they don't really know the full impact of cutting 12 more firefighters — seven on July 1 and another five next year.
"I'm hoping that their recommendations will shed a light on how we can reorganize the fire department," Jones said. "Although I've never fought a fire, I'm learning, and the reality is there are some things we can do differently."
Schroeder argues hiring ICMA to study the fire department's staffing levels is the equivalent of the fox guarding the henhouse.
"This has always been about cutting people without any research from a neutral party or backed by any empirical evidence," he said.
'We really don't know'
The city began a new practice in mid-February of closing one of the city's five fire stations on a rotating basis to curtail overtime costs as needed. Each month a different station is assigned to be closed and property owners receive service from the nearest open fire station.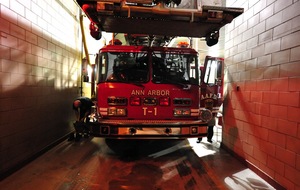 Ryan J. Stanton | AnnArbor.com
As the city makes further cutbacks, Ann Arbor firefighters fear those rolling station closures will happen more frequently.
The union points to last month's temporary closure of Station 5, located in U-M's North Campus area. With the station closed, the next closest fire station is either in downtown Ann Arbor or on the south side of the city at Huron Parkway and Platt.
Response times in the North Campus area rose significantly, according to data provided by the union. When Station 5 was open, the fire department was able to respond to most calls within five to six minutes, but when it was closed, it took nearly 10 minutes on average.
According to the union, it now takes almost six minutes on average for one fire truck to get to the scene of an emergency.
Fires accounted for about 4.6 percent of the 6,028 total incidents handled by the Ann Arbor Fire Department last year, records show. More than 3,400 of calls dispatched were for emergency medical situations ranging from difficulty breathing to seizures to cardiac arrest.
On a normal day, Ann Arbor has six fire trucks in service plus a battalion chief who drives his own vehicle. The minimum daily staffing level has dropped from 24 to 15 firefighters.
Assistant Fire Chief Chuck Hubbard, who has been with the fire department for 25 years, said it's still hard to say how further cuts might affect response times.
"That's going to have to be looked at," he said. "Because we really don't know. I think that's what the chief is going to be looking at — is this going to create a problem or is it not?"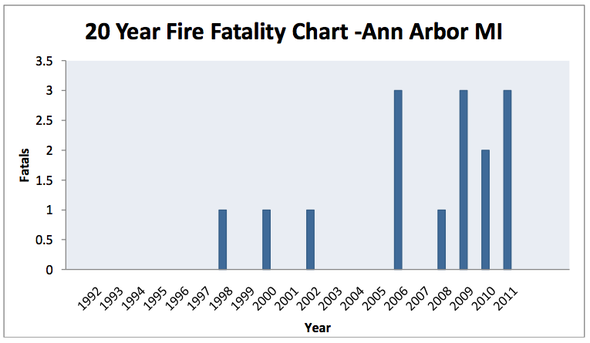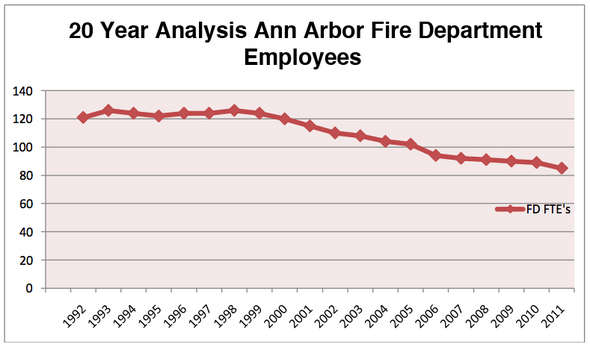 Ryan J. Stanton covers government and politics for AnnArbor.com. Reach him at ryanstanton@annarbor.com or 734-623-2529. You also can follow him on Twitter or subscribe to AnnArbor.com's e-mail newsletters.