Posted on
Wed, Mar 20, 2013 : 5:07 p.m.
Council member concerned after Ypsilanti fills $54K assistant to city manager position
By Katrease Stafford
The hiring of an assistant to the city manger at a salary of $54,900 has at least one Ypsilanti City council member concerned that the move isn't in line with the city's efforts to save money.
"I understood that we really were on a mission to save money and not expand," Mayor Pro Tem Lois Richardson said. "With that, I know that some of our staff took on additional responsibilities and they had also taken a 5 percent cut and have not received a raise... I really understood that we weren't going to be hiring."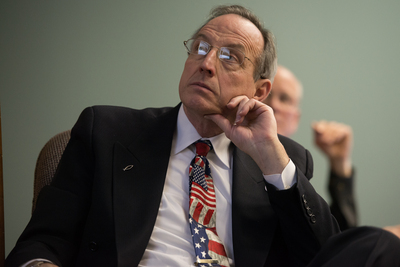 Courtney Sacco I AnnArbor.com
City Manager Ralph Lange said the hiring of Ericka Savage as the assistant to the city manager was necessary. Lange said one of her main responsibilities will be to find additional ways to save money. Savage's official start date is Wednesday, March 20.
"She's $27,000 less than the person she's replacing and she's coming in at tier two (benefits)," Lange said. "The bottom line is she has to do things, especially with SEMCOG, that will have a return on investment (that will either) save us money or make a return on money… I think she can more than pay for herself."
Lange was referring to the former director of administrative services, David Kowal, who resigned in July to take a job in Kalamazoo. Kowal had a salary of $82,400.
Lange said Savage will assist in making the SEMCOG report become a reality, as well as several other projects "waiting in the wings."
Ypsilanti received a SEMCOG report earlier this year that outlined several ways the city can save money by creating an additional $2 million in cost reductions and revenue enhancements across all funds beyond the level spelled out in the city's five-year budget plan.
The city received more than 200 applications for the position in February and similar to when the city was searching for a deputy police chief, council did not approve the hires. In lieu of a public interview process, a committee was created to interview the applicants.
Savage has served as an alternate officer to the city's administrative hearing board since April 2012 and obtained her juris doctorate from the Michigan State University College of Law.
Savage also attended the Institute for Public Policy and Social Research where she was the 2009 fellow for the Michigan Political Leadership program.
In addition to three years of state legislative experience, Savage served six years with the Pontiac where she served as deputy city attorney and legislative auditor.
In a statement, Savage said she is thrilled for the opportunity to work in a larger capacity for the city.
"I look forward to assisting the city manager in implementing the SEMCOG recommendations," Savage said. "More importantly, I look forward to a bright future for Ypsilanti."
Lange said since Savage was hired after Jan. 1, she will receive a different benefits package compared with those hired beforehand. In February, the city council approved several benefits changes including less vacation time and a different pension package.
The city's employee makeup has changed over the years. In 2012, the city lost 15 employees who either retired or resigned. Altogether, those employees' wages amounted to $1,030,374. Thirteen of those 15 employees were unionized employees from the police and fire departments.
Richardson is asking Lange to consider restoring the 5 percent pay cut for the city's employees and eliminating furlough days.
"To continue with that 5 percent cut or furlough is really unfair," Richardson said.
Lange said as soon as he gets through working on the city's budget, he plans to work on the concerns regarding furlough days and pay cuts. Lange noted that those hired after Jan. 1 will not take any furlough days, but Richardson believes that should include employees hired prior to that date as well.
"That is definitely a goal of mine," Lange said.
Katrease Stafford covers Ypsilanti for AnnArbor.com.Reach her at katreasestafford@annarbor.com or 734-623-2548 and follow her on twitter.