Posted on
Wed, Dec 12, 2012 : 6:10 p.m.
EMU community asks for answers following student's death
By Kyle Feldscher
Courtney Sacco I AnnArbor.com
Eastern Michigan University community members didn't get many of the answers they'd hoped to get at a campus safety meeting Wednesday following the
apparent homicide of Julia Niswender.
University officials organized the meeting in the EMU Student Center's auditorium Wednesday afternoon, less than 24 hours after Niswender was found dead in her apartment. According to police, she hadn't been seen for several days before one of her suitemates asked officers check on her at 9:30 pm. Tuesday.
Thomas Eberts
said police found evidence he called "suspicious" and led to "unanswered questions," causing police to call Niswender's death an apparent homicide. At the campus safety meeting Wednesday, EMU Police Chief
Bob Heighes
was tasked with explaining to the approximately 200 members of the community why he couldn't release that information.
"This is an Ypsilanti police case, not an EMU Police case," Heighes said. "We are assisting them wherever and whenever we can with information involving our student. A lot of things we don't have information on because it's not our case."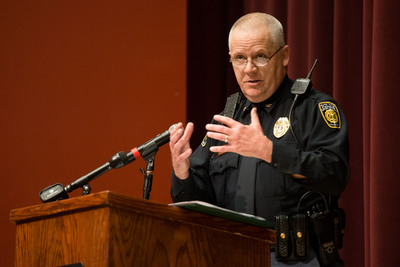 Courtney Sacco | AnnArbor.com
Heighes told the crowd what he knew: Niswender's suitemate called police at 9:30 p.m. Tuesday after not seeing her for a few days. When police arrived, they found her dead in her bedroom and began their investigation. In the morning, Ypsilanti investigators told EMU Police they were calling Niswender's death an apparent homicide before releasing that information to the public.
An autopsy on Niswender's body was done Wednesday and completed in the afternoon, Heighes said. However, the results of the autopsy were not available at Wednesday's meeting and Heighes was not able to provide a timeline on when more information would be available.
No representatives from the Ypsilanti Police Department were at the meeting Wednesday. EMU spokesman Geoff Larcom said the university held the meeting to show what they were doing in their response to Niswender's death, provide safety tips and counseling services and to express their condolences to Niswender's friends and family on behalf of the university, and the Ypsilanti police were not asked to be in attendance.
University President Susan Martin made some brief remarks, extending her sympathies to Niswender's friends and family. Martin immediately became choked up during the beginning of her comments.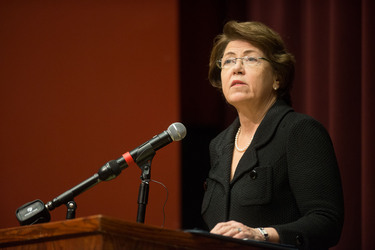 Courtney Sacco | AnnArbor.com
She said Heighes called her in the middle of the night after he was told of Niswender's death. Martin said she immediately woke up and began contacting top administrators at the university, most of whom had been working through the night.
"Our job is to communicate directly to you what we know and what we don't know," she said.
When he spoke to AnnArbor.com Wednesday afternoon, Eberts said many questions had to go unanswered because police are protecting their investigation. He wouldn't say if police found evidence of violence at the apartment when they arrived or what kind of evidence led police to believe a homicide took place.
Students at the meeting at EMU asked Heighes if police have a suspect in mind, if the person who is believed to have killed Niswender was armed and dangerous. Heighes sounded apologetic as he was unable to answer.
"I don't have any other details other than what I shared," he said.
Heighes did pass along safety tips to students, asking them to not wear headphones while walking on campus, walk with a partner, call police if they see something suspicious and to call authorities if they get any unsolicited visitors. EMU officials also said they're adding extra police patrols.
Many students expressed concern with the on-campus student escort service that allows students walking around late at night to have someone walking with them for safety.
Among the concerns were the escort service sometimes doesn't come, ends at 3 a.m. and won't accompany students to off-campus housing.
Officials also encouraged any students in need of counseling to seek out the professionals at EMU's Snow Health Center.
Lisa Lauterbach, director of the university's Counseling and Psychiatric Services, said she spent most of the day talking to students and staff members about Niswender's death. She said the counselors at the Snow Health Center are available for free from 8 a.m. to 5 p.m. Monday through Friday.
"People are feeling unsettled, some people are feeling unsafe," she said. "It's scary to think this kind of thing can happen in our community."
Officials said any more information about Niswender's death would first come from the Ypsilanti police before being sent to the university community.
Anyone with information on Niswender's death is encouraged to call Eberts at 734-482-9878 or Crime Stoppers at 1-800-SPEAKUP (773-2587).
Kyle Feldscher covers cops and courts for AnnArbor.com. He can be reached at kylefeldscher@annarbor.com or you can follow him on Twitter.