Posted on
Tue, Apr 23, 2013 : 5:58 a.m.
Ypsilanti denied nearly $1M grant for consolidation of police and fire departments
By Katrease Stafford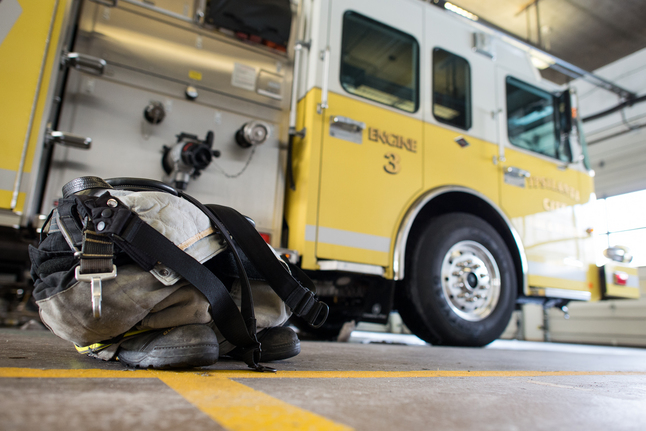 Courtney Sacco | AnnArbor.com
Editor's note: This story has been updated with comments from former fire chief Jon Ichescho.
The city of Ypsilanti was denied a nearly $1 million Michigan Department of Treasury grant that would have gone toward the creation of a hybrid police and fire department, City Manager Ralph Lange confirmed.
Without the grant, it is unclear how the city will pay for the creation of the department, but some city officials believe it should still be pursued.
The city applied to receive $943,480 through the Competitive Grant Assistance Program, formerly known as the EVIP grant, from the state of Michigan on Dec. 3, 2012 and received word of the denial April 18.
"The city applied for an EVIP grant to assist in a study of improving police and fire functions," Lange said in a written statement to AnnArbor.com. "The state did not approve our request. Although the city's grant application was within the advertised criteria, the governor indicated that selection was based on collaboration and mergers with other municipalities. We are disappointed, but not discouraged. We will continue with our efforts to improve police and fire services for the city of Ypsilanti."
Ypsilanti fire union representative Ken Hobbs said a committee comprised of fire representatives from across the state, including former Ypsilanti Fire Chief Jon Ichesco, was put together to recommend effective and efficient practices for fire services.
"The Ypsilanti plan did not have a risk analysis prior to my retirement with a single component of reductions and a shift of resources to law enforcement for a short period of time until additional cuts will be required," Ichesco told AnnArbor.com. "That is the key reason I support a regional approach to fire service. "
The Ypsilanti hybrid model would cross-train police officers to perform firefighter duties and firefighters would have the option to be cross-trained as well.
Hobbs said the committee received approval from Gov. Rick Snyder's office to present before members of the treasury department.
"They put this committee together and showed this wasn't the way to go," Hobbs said. "They showed it wasn't cost-savings effective. I think our unions did a huge thing showing it's not effective. This is probably not the best way to spend the state's money."
According to Hobbs, the city only can apply for the grant once per year.
"He could have applied for regionalization, but Mr. Lange was not interested in it," Hobbs said. "He put his eggs in one basket."
Several firefighters and Ichesco openly have voiced their opposition to the hybrid model and urged the city to move forward with regionalization.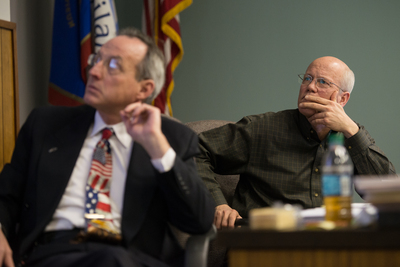 Courtney Sacco I AnnArbor.com
The denied grant application states the city planned to hire four new officers, who will be cross-trained, and do four "conversions" of current officers in 2015 and four conversions in 2016.
For each subsequent year until 2016, the city will cross-train another four officers, bringing the total to 20 cross-trained officers by 2016.
"This EVIP grant application is provided to cover the anticipated cost of cross-training each of these personnel and cover the costs of providing the necessary equipment and gear for a cross-trained police officer or firefighter to perform both duties," the city wrote.
About $4 million will be awarded to 11 Michigan communities through the Competitive Grant Assistance Program. The program is designed to offset costs related to the consolidation or sharing of services between local units of government.
"How are you going to come up with this money out of your pocket?" Hobbs said. "That's my whole thing. I would hope that city council takes a long hard look at this and see if this is going to be the most efficient and financially responsible decision. I don't think this is the best thing for the city moving forward. Without this money coming from the state, it's a horrible way to do to business. It doesn't work."
Ypsilanti Mayor Paul Schreiber said he supports the creation of the hybrid model.
"I am in favor of it and it is probably the most efficient (model)," Schreiber said. "... We are woefully understaffed and right now we're burning people up."
"Currently, police officers and firefighters perform only the duties required by that position," the city wrote.
"At this time, police only staff at three on a shift for day road patrols and four on shift or night road patrols. At that level, any time a police officer is off duty for at reason, overtime is required, canceling out any savings from reduced personnel. On the fire side, current shifts are down to four officers which is the bare minimum staffing level for structural fires, this potentially makes responding to EMS and other calls more difficult... Further staffing cuts are increasing costs, rather than reducing them."
Schreiber said the hybrid model will allow the city to staff up to a needed level and maintain city services.
"No matter how it works out, we're going to have to start paying for the services," Schreiber said. "From what I can tell, it would let us deliver to closely the same level of services. We have lost a number of people in the fire and police departments through resignations and retirements."
According to documents sent to the treasury, the city is expecting the hybrid model will save about $2.1 million during the next five years.
The documents state the city approximately will spend $663,480 during the next four years to train new and existing officers, about $75,000 on uniforms and equipments, as well as several other fees totaling the requested grant amount of $943,480. The city believes it will find about $210,315 in short-term savings in one year or less and save $2,103,153 throughout the next five years.
The city said estimated annual long-term savings will amount to $420,631. A full conversion to the hybrid model is expected by 2016, according to the documents.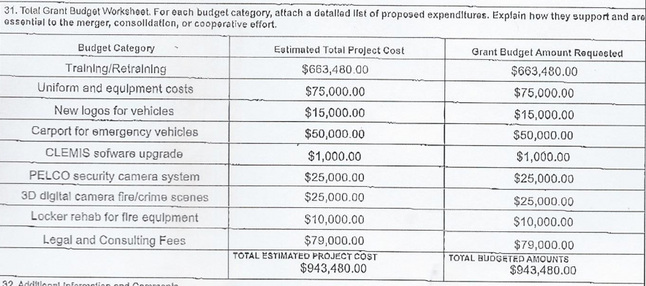 Courtesy photo
"While the there are other alternatives to the hybrid public safety model for delivering police and fire services, none of them are feasible or desirable," the city wrote. "In 2008, the city participated with six other jurisdictions on a feasibility study for regional policy authority. That effort has stalled, as have discussions with Ypsilanti Township regarding a joint police authority. In lieu of a multi-jurisdicitional police and or fire authority, the alternatives include further reducing service levels which area already stressed to the limit."
Officials said if the grant were received, it would have paid for a large chunk of the hybrid model. How it will now be funded is not known.
Schreiber referred funding questions to Lange, but said city officials are responsible for looking at how operations will the impact the city long-term and not just the immediate future.
"My job as a policymaker is to look into the future and see what's best in the future," Schreiber said. "The hybrid safety model will have a dedicated fire department and police department that can do both."
Schreiber recalled a conversation with Police Chief Amy Walker a few years ago, in which she told him sometimes police officers arrive first on the scene and it would be helpful if they could respond to the fire.
Lange previously told AnnArbor.com Walker likely is a candidate to head the entire hybrid department.
"(Walker) said 'it would be nice if I had the gear to put it on and help with the fire, that would get the response quicker,'" Schreiber said. "I think it's good to have police officers cross-trained. We're not talking about cross-training firefighters against their will, we're giving them the option."
Lange is in the middle of collective bargaining with the various unions within the fire and police departments. The contracts must be settled before the hybrid model can be put fully in place.
Lange previously said the Police Officers Association of Michigan contract negotiations are moving along well, but the fire negotiations are moving "very slowly." The city council is expected to consider the POAM contract at its Tuesday meeting.
Click below for the full grant application:
Katrease Stafford covers Ypsilanti for AnnArbor.com.Reach her at katreasestafford@annarbor.com or 734-623-2548 and follow her on twitter.