Posted on
Wed, Mar 17, 2010 : 1:30 p.m.
Ten most important moments from Michigan's basketball season
By Michael Rothstein
As Michigan's basketball season wrapped up with no postseason bid Sunday - it was sent into the off-season with a half-court shot that will eventually become the stuff of legends - there was a lot of time left for reflection.
How did Michigan reach this point, watching the NCAA tournament on television?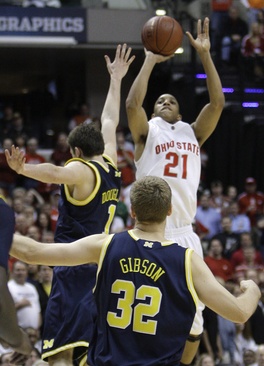 AP photo
10) Ever so briefly, Michigan found its rhythm in Minneapolis. The Wolverines shot 68 percent in the second half and earned a much-needed road win over the Gophers, 71-63. The performance offered hope that U-M might have cured its shooting ills and confidence woes. A loss to Penn State nine days later made all the same questions return.
9) Manny Harris gets a triple-double in the season-opener. Harris' 18-point, 13-rebound, 10-assist night gave hope for a great season, even though it came against Division II Northern Michigan.
8) Michigan ranked No. 15 in the preseason. The Wolverines hadn't had that type of expectation since Bill Frieder and Steve Fisher roamed the sidelines in Ann Arbor. It showed. Michigan, before the season even started, downplayed the ranking and tried to stay an underdog aggressor. That didn't work so well.
7) Playing at Kansas. If you're looking for Michigan's season in microcosm, peek at how the Wolverines played in Lawrence. Inconsistency marred a chance for an upset because Michigan fell behind by 21 points in the first half. Michigan made up ground in the second half, but placed itself into too big a hole early.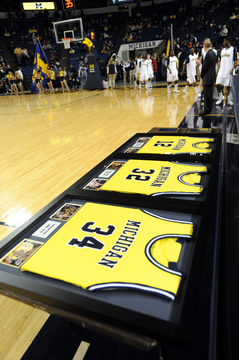 Lon Horwedel | AnnArbor.com
6) Senior Night in Ann Arbor. DeShawn Sims deserved better. One of the better players in school history - he finished his career in the Top 16 in scoring and rebounding - he picked up a win but in front of a fairly sparse Crisler Arena crowd. Sims ended his career with 1,584 points (16th all-time) and tied for 12th in rebounds (728).
5) Announcements. Michigan committed to building a new practice and development center along with Crisler Arena renovations. It's only one piece, but an improved infrastructure will help in recruiting and bringing people back to Michigan basketball games.
4) Losing to Michigan State at the buzzer. Had they beaten the Spartans, the Wolverines might have had the confidence for an extended midseason run. They had a legitimate shot to knock off a Top 10 team. Instead, the loss crushed the Wolverines, leaving an incredibly somber lockerroom after the game and a 57-56 loss.
3)Â Darius Morris' shot blocked at the buzzer in Orlando. The block sent Michigan to a 68-66 loss against Alabama, a 1-2 finish in the Old Spice Classic and it left the Wolverines exposed. It also left some wondering why the ball wasn't in Manny Harris' hands to start with.
2) Manny Harris gets suspended for Purdue game. Whatever happened in practice, it set a tone. The Wolverines struggled against the Boilermakers and struggled to find themselves after that point.
1) Michigan makes a defensive mistake in the Big Ten tournament and Evan Turner ends the Wolverines' season with a 37-foot buzzer-beater. Season over on a call Michigan coach John Beilein later said he would like to do over again if he could. Same could likely be said of the Wolverines' season.
Michael Rothstein covers University of Michigan basketball for AnnArbor.com. He can be reached at (734) 623-2558, by e-mail at michaelrothstein@annarbor.com or follow along on Twitter @mikerothstein.