Posted on
Wed, Feb 2, 2011 : 6:42 p.m.
Brady Hoke's first recruiting class ranked No. 21 in country and adds toughness to Michigan football team
By Pete Bigelow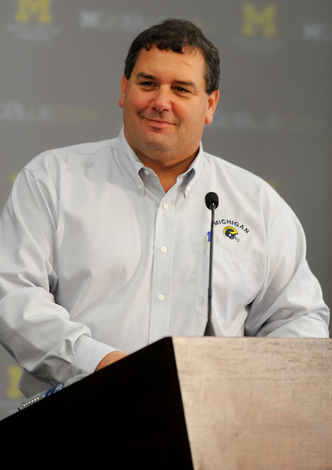 Melanie Maxwell | AnnArbor.com
Four weeks ago, Brady Hoke stood at a podium and talked about building a foundation of toughness throughout the roster of the Michigan football team.
He didn't have a coaching staff, much less a recruiting class, at the time.
But Michigan's new coach returned to the same podium Wednesday and introduced a 20-member recruiting class that reflected that central trait he described in his first day on the job.
"Our mindset and our goal was to get guys who were going to represent Michigan and Michigan football," Hoke said.
He said the Wolverines succeeded in doing just that across the academic and on-field spectrums.
In particular, he said Michigan infused its defense with tough, physical players, the kind the unit sorely lacked last season while enduring the worst defensive season in school history.
Twelve of the 20 were defensive recruits. Five defensive backs. Four linebackers. Three defensive ends - who should help the Wolverines run a 4-3 scheme under new defensive coordinator Greg Mattison.
"One thing I know from coaching in the Big Ten and being here at Michigan, you have to play defense," Hoke said. "All of those guys, we think, have the right stuff when it comes to a physicalness and a toughness that we want to play defense with." It wasn't only on defense that the Wolverines believe they added that toughness.
They added three offensive linemen - two who weigh 330 pounds. They added 6-foot-5, 250-pound tight end Chrs Barnett, whose commitment came in while Hoke addressed reporters at the Junge Family Champion Center.
Barnett is the lone tight end commitment, a position the Wolverines desperately wanted to add depth at because they plan to use multiple tight end sets.
"At San Diego State, we played three or four kids," tight ends coach Dan Ferrigno said. "We've played with some young kids, and that's why Chris, if we can teach him fast enough, he'll help us next year."
RELATED CONTENT
Rivals.com ranked Michigan's recruiting class 21st in the country and third in the Big Ten. Scout.com ranked the Wolverines as the 27th in the country, fourth in the conference.
Both recruiting services placed Ohio State first and newcomer Nebraska second in the Big Ten rankings. Scout.com had Iowa third.
Either way, analysts declared it a successful showing for a coach working in a compacted timeframe.
Tom Lemming, appearing on CBS Sports National Signing Day Show with former Michigan coach Rich Rodriguez, called it a "great class."
Hoke said there were probably two to three recruits he missed, perhaps most notably Traverse City offensive lineman Jake Fisher, an early Michigan verbal commitment who announced Wednesday he would attend Oregon.
"You're never going to bat a thousand," Hoke said.
Fisher was an exception to one of the goals Hoke set forth - capture the in-state players he wants while transitioning from a regional recruiter at San Diego State to a national recruiter at Michigan.
Michigan signed players from seven different states - three from Texas, Florida, California, Maryland and Illinois - but the majority of the class was comprised of kids from Ohio (seven) and Michigan (six).
It's a geographic pattern similar to the classes the Wolverines recruited when Hoke was the defensive line coach at Michigan from 1995 to 2002.
"Michigan is always a national brand, it's a worldwide brand for what the school represents," Hoke said.
"But as far as how we will approach recruiting, we'll approach recruiting in the state of Michigan first … and then we'll branch out from there. The state of Ohio is an important part of it. Illinois, Indiana, western Pennsylvania. I don't think there is any doubt that's where we're going to start and how we're going to recruit."
Pete Bigelow covers the Michigan football team for AnnArbor.com. He can be reached at 734-623-2551, via email at petebigelow@annarbor.com and followed on Twitter @PeterCBigelow.