Posted on
Sun, Oct 23, 2011 : 5:59 a.m.
Denard Robinson's woes against Michigan State show blueprint for stopping Michigan quarterback
By Kyle Meinke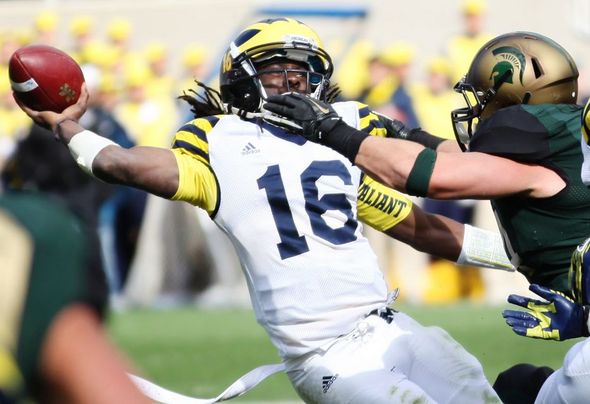 Jeff Sainlar I AnnArbor.com
Is the book out on how to stop Denard Robinson?
Maybe.
The Michigan football team's star quarterback struggled badly in a 28-14 loss to Michigan State last week. How it happened, though, should be disconcerting for the Wolverines.
It was the wind, sure. An inaccurate throwing day? Definitely.
But, most of all, it was schematics -- and, specifically, MSU's menu of blitz packages.
What was most effective?
"Just about everything," Spartans defensive coordinator Pat Narduzzi said last week. "We played our base defense, we were able to pressure him when we wanted to pressure him and dialed up some things that he couldn't handle."
That's troubling for two reasons: First, this kind of problem is more systemic than just having an inaccurate day throwing. Second, that's how Michigan State attacked him last year, so it wasn't exactly a surprise.
To be sure, there are five coaching staffs takings notes. Now, No. 18 Michigan (6-1, 2-1) will have to find a way to adapt, or Robinson could struggle again this year in Big Ten play.
In fact, Robinson's numbers last year were down significantly after the Spartans spelled out how to defend him. He was 67-of-96 passing (69.8 percent) for 1,008 yards, seven touchdowns and one interception in the five games that preceded Michigan State.
In the final seven regular-season games, he was 88-of-154 passing (57.1 percent) for 1,308 yards, nine touchdowns and nine interceptions.
The book on him is becoming very simple: Apply pressure. He might beat you with his legs -- that's always a concern with Robinson, and part of what makes him so great -- but he also will make bad decisions in the passing game and become increasingly inaccurate.
The Spartans battered Robinson with all kinds of looks, from a three-man rush that got penetration to all-out blitzes. Most effective of all were the corner and double A-gap blitzes.
The beauty of the these risky packages is they send more rushers than there are blockers. Simple math says that's not a good thing for an offense.
The flip side, of course, is defenses have a man disadvantage in the secondary, and it's on the quarterback to make them pay for the risk vertically.
Therein lays Robinson's problem.
He overthrew and underthrew receivers and, most vexing of all, failed to read defenses. Multiple times, he threw into double coverage instead of an open receiver, which suggests he is not recognizing coverage.
Robinson finished 9-of-24 passing for 123 yards, one touchdown and one interception in the loss. That's the worst completion percentage of any game he's started in his career.
He was particularly bad under duress.
The corner blitz that hurt the Wolverines the most came on a fourth-and-1 play late in the fourth quarter and trailing by seven. Offensive coordinator Al Borges has been panned this week for electing to pass here, and rightfully so.
But Borges made the call in an effort to punish MSU's aggressive playcalling. It did not work out that way, obviously, as the Spartans' Johnny Adams came unblocked on a corner blitz from Robinson's blind side.
Sack.
Now, Michigan's offensive issues against Michigan State hardly were all on Robinson. In this case, for instance, there wasn't much he could do with the pressure coming unimpeded from his blind side. But, his ineffectiveness gave the Spartans the confidence he wouldn't punish them for their temerity.
Another case came on Michigan's next drive with less than 5 minutes remaining and trailing by a touchdown. The Spartans sent yet another double A-gap blitz, the line didn't pick up the first guy through and Robinson reacted by checking down. (Pictures here from MGoBlog.)
Only, he threw a slant. Vincent Smith ran a hitch.
Pick-six.
The offensive line obviously must be better, and the coaching as well. There were few schematic adjustments made to help Robinson deal with the blitz packages, nor snap-count adjustments to compensate for MSU jumping the calls.
But, again, it comes back to Robinson in a lot of ways. If he were hitting in the passing game, it would keep defenses honest. Michigan State did not play honest defenses.
Hey, why not send a blitz if you aren't going to get burned?
Surely, other Big Ten teams are taking note.
Kyle Meinke covers Michigan football for AnnArbor.com. He can be reached at 734-623-2588, by email at kylemeinke@annarbor.com and followed on Twitter @kmeinke.