Posted on
Fri, Oct 21, 2011 : 12:17 p.m.
Answering fans' mostly despondent questions after Michigan's loss to Michigan State
By Kyle Meinke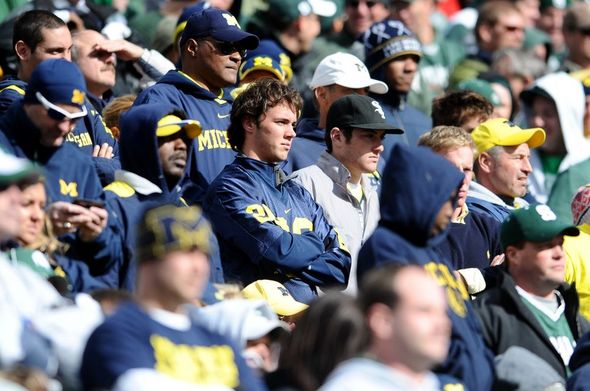 The No. 18 Michigan football team (6-1, 2-1) is taking a week off. We, however, are not.
I've received countless emails this week lamenting the play of quarterback Denard Robinson, blasting the playcalling of offensive coordinator Al Borges, excoriating the perceived dirty play of Michigan State in Saturday's 28-14 loss and one asking when coach Brady Hoke would be fired.
Seriously, I did.
Anyway, it seemed like a good time to run our first mailbag of the season, something we'll do on and off again as the season hits the home stretch. Without further ado, on to your (mostly despondent) queries:
Why didn't they roll Denard out of pocket? Why no screen passes? Whatever happened to where Denard just turns and throws to the receiver standing at wideout and let them be playmakers? Playcalling I thought was terrible. I think Denard also needs help on reading defenses.

-- Scott from Milford, Kan.

Scott, there's a lot here, but I generally agree with you on all points except the first. Let me take these one at a time.
Robinson has been good and bad this year, but he's been consistently bad on rollouts. I like the idea of getting him into space because he's short, so his vision is better out there, and of course he always is a threat to run. However, rolling him out does not put him in a position to succeed in the passing game because his mechanics tend to abandon him most when he's on the move.

Where are the screens? Outstanding question. Robinson's best work has come either on short passes or jump balls, and Michigan can go to the latter only so much -- especially against a team like Michigan State, which was applying consistent pressure throughout the game (tallying seven sacks). The Wolverines should have gone to screens, or bubble screens, to punish MSU for its aggressive line and blitz packages. When I watched the tape, though, I didn't see a single bubble screen. Puzzling.

Where are the short passes? Robinson's best passing game this season came against Minnesota, and this is something offensive coordinator Al Borges went to several times in that game. He completed his first 11 passes and cruised from there. Receiver Jeremy Gallon was particularly effective in this role. I think he was targeted once in this capacity against Michigan State. Again: Puzzling.

As for reading defenses, this really might be the thing Robinson does worst. It seems, sometimes, he knows to whom he'll throw before the snap, and he'll track that receiver no matter what the defense does or gives. That's why he sometimes throws into triple-coverage when there's someone else wide open. His vision and decision making have been every bit as frightful as his accuracy -- maybe worse.

Why is Hoke not involved with any playcalling? I know he thinks it's cool to not wear a headset, but he needs to be involved. Simply deciding to "Go for it" is not where a head coach's responsibility ends. Then he passes off the responsibility for the play call on Borges? Cowardly. Fourth-and-inches and Michigan runs that? I've seen kids in the front yard draw up better and more effective plays than that. In fact, even kids would know to sneak it.

-- Thom from Bellbrook, Ohio
If there is one man not concerned with "looking cool," that man must be Hoke. I mean, he's the guy who noted after the rainy Western Michigan game "I know I look real big on HD." He would never wear pants again, if Dave Brandon would let him. (He'd at least wear shorts.)
To your point, though, Hoke isn't involved in the playcalling because he's "not an offense guy," he said. By that, he means he has little expertise with coaching and calling an offense. That's why he hired Borges, someone used to calling plays and taking the reigns of an offense. That frees Hoke to focus on defense, where he does have expertise.
I understand your concern, but I think this is a gesture of great strength. First, it shows Hoke can identify weaknesses in himself, then compensates for them. Second, it's a sign he trusts his staff, and has no problem delegating. Every successful coach has these two qualities because, in the end, one cannot be hands-on with all three facets of the game and 115 players without stuff slipping through the cracks.
Or going crazy.

MSU plays dirty? It's called football. The Wolverines are notorious for being sour losers! ... If Denard Robinson can't take the hits, maybe he should not be playing football. No sympathy here. The press needs to give MSU some credit for ONCE. They are the better team in Michigan. And, yes, there are plenty of Spartan fans near Ann Arbor.

-- Carolyn from Saline
You're right. Michigan State is the best team in this state, and few have said otherwise ((certainly not me). Not even the Wolverines have said otherwise. Watching a guy like center David Molk, one of the toughest guys I've ever seen -- physically or mentally -- admit he was out-toughed, with his tail between his legs, spoke volumes. Michigan, simply, has accepted it was beaten fairly and squarely, whether or not there were "dirty plays."
And, for what it's worth, Michigan hasn't once said the Spartans played dirty, even though they were given several chances to do so Saturday and Monday. Now, that's not to say they aren't saying something different behind closed doors -- and maybe they are, especially regarding the punch to Taylor Lewan's throat, the frightening helmet twist of Robinson and the late hit that knocked Robinson from the game -- but they aren't letting on publicly. And, really, that's the way it should be.
You can read more about why I think Gholston deserved his one-game suspension here.

Is it time to move Troy Woolfolk to safety? I mean, Blake Countess is making serious noise at corner. He played well Saturday again.

-- Damian from Markham, Ontario
Valid point, Damian. I'm not sure whether Woolfolk will move to safety -- I know he practiced there some in fall camp -- but I do think you'll continue to see Countess steal snaps from Woolfolk. Last week, Woolfolk played only some of the first series before being supplanted by Countess, and deservedly so.
Countess will make mistakes along the way because that's what true freshmen do. But, right now, there's no question who is performing better. Woolfolk might be best served just getting some rest in an effort to get his mind and body right. In the interim, Countess needs to be the guy.

I thought the coaches did a great job at adjusting to what the other teams gave them, but offensively this wasn't the case on Saturday…..I hope this isn't starting a trend.

-- Terry from Green Brook, N.J.
When Hoke started blaming himself and his staff at the beginning of his first (and only) news conference this week, my mind immediately jumped to Michigan's inability to adjust to MSU's blitz packages (notably, the corner blitz) and their anticipation of the snap count. That's egregious and inexcusable.
Borges is a coordinator who relies on feel for so much of his coaching and playcalling. How could he not have felt this? He's up in the press box during games, where he'd have a bird's-eye view of his offensive line -- and, in turn, his quarterbacks -- being bludgeoned.
Say what you will about that fourth-and-1 call (I still say they had to run there, but I also understand the flip side), but not countering the blitzes nor remedying the snap-count anticipation is unconscionable.

David Molk said that MSU out-toughed Michigan. If that is true, why did they out-tough them? Isn't toughness what Hoke has been trying to get across to these players since Day 1? So, how could this happen? I don't think MSU out-toughed them, I just think that the MSU players are better than the Michigan players right now. These are still RichRod's players who were purposely recruited smaller for the spread and I think, once the first two Hoke classes get established, that this will change.

-- Jeff from Livonia
I think MSU did "out-tough" Michigan, although I hate that word. What does that even mean? But, the spirit of what Molk and others are saying is the Wolverines lacked the fortitude to hold up against the Spartans' defensive line and blitzes. That, obviously, was true.
The problem isn't as much the size of Michigan's linemen (Mark Huyge and Molk were recruited for Lloyd Carr's system, for example) as it is their inexperience with the new blocking schemes. They were exclusively zone blocking before, but now are switching to the power-running schemes. Less experience means more thinking. More thinking means slower reaction. Slower reaction means ... well ... it means your linemen end up on their cans.
Right guard Patrick Omameh seems to be struggling more than anyone at this point, especially when he pulls.

I'm dampening my protest over the dirty play by MSU for this reason: I heard an MSU player say after the game that their coaches are teaching them to "play angry." If that's all it is then: I say it's time for Hoke & Co. to teach the Wolverines to PLAY ANGRY. And I hope that's what they do starting with the next game.

-- Jack from Ann Arbor
I think most of the struggles up front have to do with technique, but attitude certainly plays into it. The offensive line will have to find some tenacity if Michigan is to beat teams such as Iowa, Nebraska and Ohio State, each of which feature big, meaty lines like Michigan State. None are as talented as the Spartans' front, but they're of that ilk.

Do you give this team any chance against Nebraska? I honestly don't see what changes much from that debacle I watched on Saturday.

-- Chris from parts unknown
Definitely ... maybe. I didn't like this game for Michigan coming into the season because it came after back-to-back road games against Iowa and Illinois, and before the big rivalry game with Ohio State. That seemed to be a brutal point on the schedule for a game against a premier opponent.
Now, though, the Cornhuskers are revealing themselves to be less premier than originally thought after being blown out by Wisconsin and nearly losing to struggling and short-handed Ohio State. Chinks in the armor? Maybe.
Michigan also catches two other breaks: The game is in Ann Arbor, and Nebraska will be without star defensive tackle Jared Crick, who tore a pectoral muscle and is out for the season. After the Michigan State game, it's pretty clear that, unless drastic changes are made -- and that might not be possible with current personnel -- the Wolverines will struggle against big, physical defensive lines. So, for the Cornhuskers to lose their three-year starter, and one of the Big Ten's best defensive lineman, is a boon to Michigan's chances.

Why would a coach remove the most dynamic player in college football, and replace him with a sophomore quarterback, against the nation's No. 1 defense, in a hostile environment?

-- Daniel from Normal, Ill.
I like the philosophy behind the two-quarterback sets. It gets valuable reps for backup Devin Gardner, who is a hit away from being your starting quarterback -- and that is becoming increasingly plausible, considering the beating Robinson absorbed the past two weeks (he left both games, and didn't return against MSU). So, getting Gardner experience is good insurance.
However, taking the most explosive player in the conference, and maybe the country, out of the game entirely is perplexing. Borges has talked about how he doesn't like to take his starting quarterback out because it upsets his flow, yet that's exactly what Michigan did against MSU.
And Robinson needs all the flow he can get.

What is this team's identity? It's not toughness. That was exposed Saturday. It's not a power running team. It's not a physical, stop-the-run defense. It's not a high-powered passing attack. There is no identity. And isn't that part of the problem?

-- Thom from Bellbrook, Ohio
Michigan has a lot of problems right now, no question, but I'm not sure a lack of identity is one. The Wolverines have a changing identity, which I think is what you're getting at, and it's an amalgam right now of the old system and new. But, again, I'm not sure doing a lot of things necessarily means you lack identity. That, in and of itself, is an identity.
I think on defense, the identity is bend-but-don't-break. There's a lot of head-scratching plays, but they are tackling much better (for the most part), preventing big plays and getting turnovers. That's why, with largely the same personnel as last year, Michigan is giving up 14.7 points per game instead of 35.2.
On offense, their identity is multiplicity. You're right -- it's not a power-running team or a passing team, but it is a kitchen-sink team. Borges will call and do whatever needs to be done to move the ball. You can question Borges' play calls, or his inability to adapt to blitzes against MSU, or Robinson's inability to pass the ball. Those are fair game. But, Michigan's spread-West Coast hybrid still is an identity.
Even if it's a maddening one at times.
Kyle Meinke covers Michigan football for AnnArbor.com. He can be reached at 734-623-2588, by email at kylemeinke@annarbor.com and followed on Twitter @kmeinke.