Posted on
Sat, Sep 24, 2011 : 8:09 p.m.
Michigan 28, San Diego State 7: Your comprehensive guide to our coverage
By Rich Rezler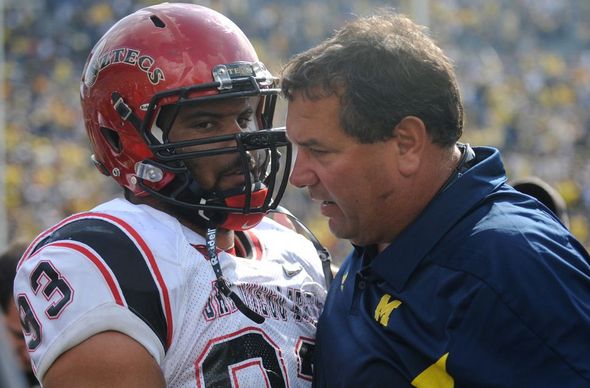 Angela J. Cesere | AnnArbor.com
Denard Robinson ran for 200 yards and three touchdowns in Michigan's 28-7 win over San Diego State. Ho hum, right?
Not so fast. Not everything about the Wolverines' win at Michigan Stadium on Saturday was as familiar as their junior quarterback slicing through the opposition's defense. (Well, that missed field goal? That was pretty familiar.)
Plenty more was different. It all starts, of course, with Brady Hoke and five members of his coaching staff standing across the field from their former players and friends. Hoke dismissed the emotion involved in the game in the week leading up to kickoff, but afterward went through a long line of players and assistant coaches, extending handshakes and hugs.
What else was similar? Robinson struggled in the passing game and the Wolverines are off to a 4-0 start for the third straight year.
What else was different? Michigan got off to a fast start. Its defensive line played well. And the Wolverines kept a high-profile opponent, SDSU running back Ronnie Hillman, in check.
AnnArbor.com has all of those storylines, and more, covered. Here is a compilation of stories you can find on our site:

Post-Game Coverage
• Our main game story touches on the Michigan coaching staff's awkward position, the Wolverines' first fast start, a good defensive performance ... and that Denard Robinson guy.
• Kyle Meinke's column: The Michigan coaches showed their softer side after the win against their former team.
• Michigan got off to its first fast start of the season. After being outscored by a combined 21-0 in the first quarters of their first three games, the Wolverines led 14-10 after 15 minutes on Saturday. Coach Brady Hoke called it the "best total team half of football" this season.
• San Diego State coaches used pictures of Hoke and five other former Aztec assistant coaches to signal in plays. It was a way to trick and pay tribute to their former colleagues.
• Criticized for most of the season, the Michigan defensive line broke through with its best effort.
• Our game day notebook includes items about Blake Countess, Denard Robinson, Fitzgerald Toussaint, Brendan Gibbons and more.
• We asked our readers to "Grade the Wolverines" on their offensive, defensive, special teams, coaching and overall performance. You can still get in on the action.
• We handed out game balls. Not surprisingly, Denard Robinson was among the top honorees ... for his legs, but not his arm.
• Photo gallery: Staff photographers Melanie Maxwell and Angela J. Cesere compile their favorite images from the game.
Video: Brady Hoke, Ryan Van Bergen, Mike Martin and Denard Robinson talk to the media after the game.
• Boxscore
• The weekly police blotter: Police arrest 5, eject another 30 fans from Michigan Stadium.

In-Game Coverage
• Jim Knight strung together live updates throughout the game. Read them here.
• Check out the transcript from our live chat. (And join us next week for another one. Saturday at 11:30 a.m., prior to the Big Ten-opener against Minnesota.)

Pre-Game Coverage
• The Michigan basketball team held its annual alumni reunion tailgate before the game. It was a chance for dozens of former Michigan players to catch their first glimpse of Crisler Arena's facelift. They're also excited about the state of the program, Nick Baumgardner reports.
• We asked you to predict the game. While 86-percent correctly picked Michigan, the highest percentage (43%) thought the Wolverines would win "by 4-10 points." Just 28 percent chose "11 points or more."
• A letter to the editor arrived this morning from a reader who attempted to watch the Pioneer High School tennis team play this morning. His question: Does tailgating and drinking take precedence over school functions?

More Scores
• Penn State 38, Eastern Michigan 6 (Story)
• Michigan State 45, Central Michigan 7 (Coverage)