Posted on
Tue, Jul 24, 2012 : 5:58 a.m.
Michigan football over-under: How much range will Brendan Gibbons show in 2012?
By Nick Baumgardner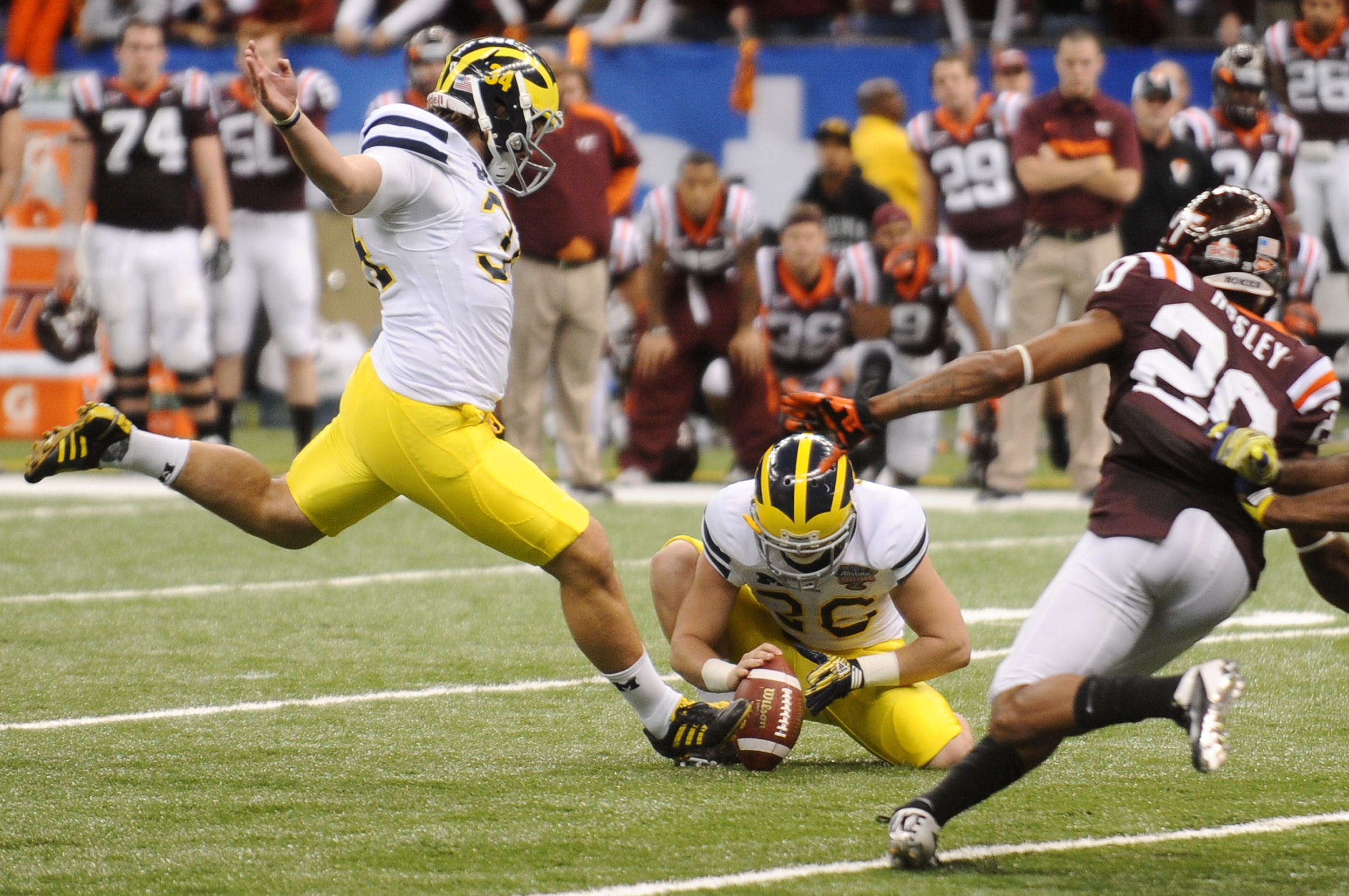 Melanie Maxwell | AnnArbor.com
Few people have gone from zero to hero as quickly as
Brendan Gibbons
.
A year after going just 1-for-5 and losing his starting spot, the Michigan football kicker rebounded in 2011 with a 13-for-17 performance that included the overtime game-winner in the Wolverines' Sugar Bowl win against Virginia Tech.
Gibbons was far from perfect last season, but he was certainly more reliable. He went 5-for-5 from distances of 20-to-29 yards and 6-for-8 from 30-to-39 yards.
There still seems to be one weakness, though, with Gibbons' game -- and that's distance. His long last season was only 43 yards.
Michigan coach Brady Hoke insisted for most of last season that the Wolverines would go with freshman kicker Matt Wile if a long-distance try ever presented itself.
Michigan Football Over-Under
Luckily for Michigan, though, it never really did. Gibbons was 2-for-4 from 40-to-49 yards and no one on the roster attempted a kick beyond 50.
Gibbons was better last season from short range, but can he become a more reliable kicker from deep?
We debate:
Over/under: Brendan Gibbons will hit a 45-yard field goal

Kyle Meinke: Gibbons is a cult hero around here, from the long hair, to the shout-outs for brunnettes -- and of course, game-winning kicks in BCS games.
But as Nick outlined above, reliability from intermediate depths are not at issue here -- Gibbons showed he can do the job. The question is, can he hit from deep if Michigan needs it?
He could -- but I'm not sure he'll get that opportunity.
Although Hoke backed Gibbons from the start last year, he also established early that he could turn to Matt Wile if long-distance situations -- and there's no way he would have done that if there wasn't major doubt in his mind about Gibbons' serviceability from deep.
Especially considering Wile was just a true freshman at the time.
Complicating matters is Michigan has a fourth-down conversion machine in quarterback Denard Robinson, and a strong overall running game. Given the opportunity to boot a long-range field-goal try, or go for it in short- or even mid-yardages situations, Hoke will be more likely than most coaches to just go for it.
Prediction: Michigan's personnel in the running game will reduce the overall chances on long-distance tries, regardless of who attempts them -- and I still think Wile could be the guy there anyway. Taking the under on this one is the safe bet, despite Gibbons' growing reliability.
Nick Baumgardner: Gibbons' turnaround was one of the more feel-good stories of last year.
Early, he was receiving Bronx-cheers from the Michigan Stadium crowd for simply converting an extra point. But by the end of the season, he was looked at by many fans as a reliable mid-range kicker.
From deep, though? I have my doubts.
Gibbons' season-long was 43 -- and Michigan never asked him to do anything more difficult than that.
Given the situation, if Michigan was in the 45-yard and beyond range on the field, it seemed more than content to try its luck at a fourth-down conversion, rather than let Gibbons try his hand at a long boot.
The only real pressure-packed kick he had last year was in the Sugar Bowl, and the Wolverines never really asked him to test his leg strength.
Prediction: There's two sides to this. One, Gibbons has zero track record at being able to consistently hit field goals from 45 yards and beyond.
Two, Michigan seems to think it has something special in Wile -- a strong-legged youngster from San Diego. So if there is a long-range try to be had, Hoke may just let Wile try it.
The Wolverines were 10-for-17 on fourth-down conversions last season, and given the option on fourth and manageable this season, I'll bet they roll with Denard Robinson's legs more than they do Gibbons' foot.
I'll agree with Kyle on this one and take the under.