Posted on
Wed, Jul 25, 2012 : 5:57 a.m.
Michigan football over-under: Will the Wolverines post a winning record vs. Ohio State, Michigan State, Notre Dame?
By Nick Baumgardner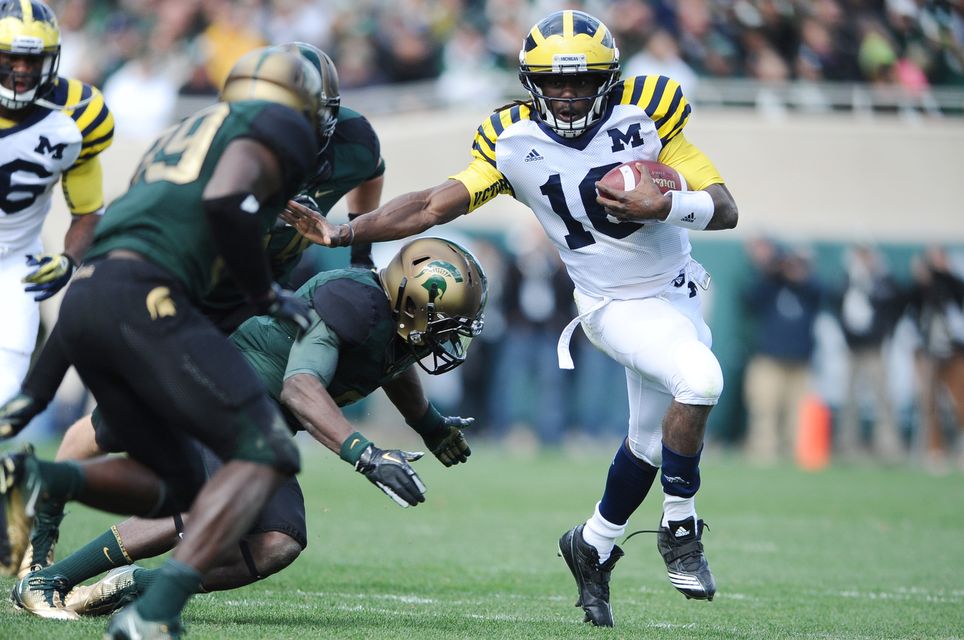 AnnArbor.com file photo
Brady Hoke
says it all the time: The
Michigan football
program has three annual rivalries that mean more than the rest.
There's Ohio State (or, Ohio, as Hoke puts it), Michigan State and Notre Dame. Anyone can debate the order of importance, but that's not necessarily the most important discussion point.
This season, with one of their tougher schedules in years, the more important debate angle seems to be how exactly the Wolverines will fare against their most-hated rivals.
Last season, Michigan had a good year -- from a total picture standpoint. It rallied against Notre Dame at night inside Michigan Stadium, dropped a 28-14 decision to the Spartans and rebounded for a 40-34 win against Ohio State.
It's not 3-0, but 2-1 isn't bad.
This season, Michigan has to visit Notre Dame (also at night) and head to Columbus for its first-ever meeting against Urban Meyer's Buckeyes. The Wolverines get Michigan State at home, but the Spartans have one of the best defenses in America and a four-game winning streak in their back pocket.
Michigan Football Over-Under
All three games will likely be nailbiters, and all three could capture the nation's eye.
But how will Michigan do?
We debate.
Over-under: Michigan victories against Notre Dame, Michigan State and Ohio State -- 1 1/2

Kyle Meinke: Michigan went 2-1 last year against its three-biggest rivals, pulling out nail-biters at home against Notre Dame and Ohio State, but getting thumped on the road against Michigan State.
That 2-1 record will be hard to replicate next year, and for one of the reasons Michigan posted it in the first place: Venue.
The Wolverines were 8-0 at home last season, but 3-2 away from Ann Arbor, and they didn't play particularly well in two of those three wins anyway.
The road/home split is significant in the Big Ten -- league teams went 21-34 last year away from home -- and it becomes more pronounced in rivalry games. It's difficult to see Michigan going into Columbus, a place it hasn't won since 2000, and pulling out a victory.
Ohio State also won't be eligible to play in a bowl this year, so it can truly leave everything on the field in this game.
The closer matchups will be at Notre Dame and home against Michigan State.
The game agains the Irish is tough to call. Notre Dame hasn't settled on a quarterback, and it loses all-everything receiver Michael Floyd, who terrorized Michigan for 13 catches and 159 receiving yards last year.
But the game is at night in South Bend, and the Wolverines have forged three epic comebacks in a row in the rivalry. That run has to end some time, right?
The most winnable game of the three could be Michigan State, the team that has beaten Michigan four times in a row.
One of the biggest reasons the Wolverines lost the past two games against Michigan State was the poor play of quarterback Denard Robinson. He completed less than half his passes in those games and threw twice as many picks (four) as touchdowns (two).
Now, though, he's seen Michigan State's best shots, taken them on the chin -- and should be more capable of countering their schemes. His counterpart, meantime, is first-time starter Andrew Maxwell.
In a game this physical -- Michigan players call it the toughest game of the year -- it's sage to take the seasoned veteran over the rookie.
Plus, although Hoke would never admit it, this is Michigan's most important game this year, at least as it relates to winning a Big Ten championship. With tough road games to follow at Nebraska and Ohio State, its imperative the Wolverines not only protect their home field, but beat their biggest competition for the divisional crown.
Prediction: This is a tough one to call, particularly so early in the year. So much can happen before any of these games are played. But considering the Wolverines' recent road woes, as well as the current state of the rivalries, it is difficult to see them posting a winning record in these games. At this point, take the under.
Nick Baumgardner: None of these will be easy, and as per usual, they won't be short on storylines either.
First thing's first: Notre Dame. Michigan has had Notre Dame's number of late, taking three straight and five of the last six. The Wolverines already have their longest winning streak over the Fighting Irish since a seven-game spurt ended in 1909. The Irish no doubt have revenge on the brain, and will have a great home environment behind them -- but, well, there are a lot of buts.
Brian Kelly's team will likely start the season with another quarterback controversy, one that may not be settled by week three, and also won't have Floyd. Floyd's absence, coupled with the consistently inconsistent quarterback play, could mean Notre Dame is once again a turnover waiting to happen early in 2012.
On defense, the Irish lost their best player (defensive end Aaron Lynch) to a transfer and lost three starters in a secondary that was already more than suspect. For me, there's just too many question marks. Michigan has gotten better in areas, while Notre Dame seems to be stuck in neutral.
As for MSU and Ohio State? I can see Michigan getting one of these, but not both.
Michigan was physically mauled last season in East Lansing, and has had to spend the entire year hearing about its four-game losing streak to MSU basically on a daily basis. The Spartans have questions on offense, but defensively, they're a nightmare matchup.
Ohio State? Well, the Buckeyes have nothing to play for -- except beating Michigan, that is. Add in Urban Meyer and a road venue, and you've got quite the gas can.
Prediction: I'll take Michigan over Notre Dame early in the season, though it will be a close one -- as always.
As for Michigan State? We all know Hoke continually emphasizes the importance of Ohio State above all else, but in 2012, I think Michigan State might temporarily take that billing. The Wolverines' most embarrassing performance a year ago was against MSU. They were manhandled, mocked and have been poked at by MSU coach Mark Dantonio ever since.
It'll be a dandy, but in the end, I think Michigan's emotion at home will be too much for MSU to overcome -- and the four-game losing streak goes up in smoke. As for OSU? Urban Meyer has the luxury of putting literally everything the Buckeyes have into this one. This is their bowl game, league title and national championship all rolled into one.
Backed into a corner in July? I'll side with the Buckeyes. But for the sake of this debate, I say Michigan once again goes 2-1 against its three hated foes.
In 2012, I've got the over.