Posted on
Fri, Jan 4, 2013 : 11:56 a.m.
10 predictions for 2013 in Ann Arbor
By Richard Retyi
We got through the Rapture and the last night on earth and whatever a fiscal cliff is, and here we are with a whole new year spread before us like virgin snow. What better time to take wildly unfounded shots at 10 predictions for 2013 in Ann Arbor. From food to finance to Punk Week, this faithful writer will give you a few things to look forward to in the new year (and maybe a few things to dread).
Mary Bilyeu, Contributor
You've Had Your Last Blimpy Burger
When the University of Michigan plunked down an estimated seven figures for the Blimpy Burger building on South Division, the clock started ticking on the last burger served at the historic corner location. For nearly 60 years, Ann Arborites have chowed down and been scolded at Blimpy Burger but come the summer of 2013, the grills will go cold and the building will likely be demolished to make room for parking. Though owner Rich Magner has said that they'll look for an alternate location, I have a bad feeling that we've had our last Blimpy Burgers in 2013. Ann Arbor has a glut of burger joints and though Blimpy is an iconic brand (Proof? Check out the signed Guy Fieri poster inside!) it's going to struggle at a new location, if it finds a suitable spot at all. Look, I like ordering a quad and getting yelled at because I don't grab a tray too, but I don't feel good about this one.
Punk Week: Back and Filthier Than Ever
Last summer's Punk Week was Punk Weak. The mostly annual gathering of the nation's "punks" didn't happen in 2012 after an equally quiet 2011, except for the not really related shopping cart race, which went on as planned. The main reasons for the two-year lull stemmed from the events of the Worst Punk Week Ever in 2010, featuring multiple arrests, nudity and alleged public fornication. It's widely believed that a number of out-of-town crust punks were to blame for the majority of the issues in 2010, leading to a clean-up of the "punk houses" on Main Street and a general crackdown on all things Punk Week related. Well, this summer marks three years since the happenings of 2010 and Punk Week will be back and filthier than ever. Even laxer local marijuana laws, global warming and TWO Five Guys locations are all the punks need to have one of their most successful (and peaceful) Punk Weeks of all time.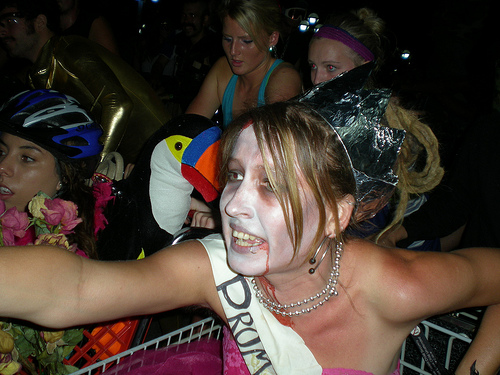 Introducing a University of Michigan Mascot
Remember the brouhaha last year when Michigan athletic director Dave Brandon semi sort of alluded to the fact that a University of Michigan mascot wasn't entirely off the table?
"We're interested in doing a mascot but it has to be something that fans love, that children love that everyone can embrace."
OK, that reads less like a hedge and more like a "the mascot is coming, kids." The University of Michigan has been Wolverine-clawed in the past with attempts at cuddly and not-so-cuddly mascots. There's nothing wrong in principle with a mascot. They're cute, kids love them and even when you have no idea what the mascot is, it's hard not to want your picture taken with them. Or buy a hat with their face. Or a T-shirt. Or a onesie. Or a diaper bag.
And that's what a mascot is really about. Revenue streams. I love the University of Michigan football team and their nine alternate uniforms, but after renting out the Big House for weddings, maximizing ticket revenues and coming up with the awesome all-you-can eat option for Yost, what additional streams of cash can the athletic department tap into to keep the stock price climbing in time for the annual shareholders meeting? A mascot. Hopefully better than Willie the Wildcat and this guy.
Ann Arbor Gets a Dive Bar
Ann Arbor's craft cocktail scene is cresting. The microbrew scene is overflowing. Ann Arbor has college bars, pubs and a few places for wine, but what it lacks is another dive bar. The 8-Ball Saloon currently has a monopoly on the Ann Arbor dive bar scene. It's dirty, it's cash only, it's got free popcorn and disgusting bathrooms and wobbly pool cues. In other words, it's perfect. But it's a dive bar, which means it's small and intimidating and tucked away in an alley awash with old urine and cigarette butts.
Ann Arbor needs another dive bar and someone smarter and wealthier than me needs to have recognized this by now (I'm looking at you BTB guys). I love Manhattans as much as the next drunk, but enough with the cocktail bars and the charcuterie. Let's get some Blatz and free peanuts and a jukebox and a few pinball machines and a pool table or two and get this party started in time for Punk Week.
Retailer of the Year: Biercamp
My love for Biercamp isn't much of a secret. Their meats and made in Michigan products are perfect for breakfast, lunch, dinner, second dinner and post-workout snacks, but guess what they're adding in 2013? Beer. Yes. Biercamp is going to become Beercamp (see what I did there?) with in-house brewed suds served by the growler. There's no timetable on when this deal-changer will happen but this final piece of the puzzle will make Biercamp a can't-miss destination for out of towners and a regular stop for all Ann Arborites. Even vegetarians (they have beans).
Hollywood Returns to Ann Arbor
Remember when Jason Segel, Emily Blunt and the actor who plays Trudy on "Mad Men" were in town a couple summers ago to film "The Five Year Engagement"? Remember when George Clooney was in town shooting that movie I never saw? Remember when Juliette Lewis looked like a 60-year-old Juliette Lewis impersonator hanging out in Ypsilanti when they filmed Whip It a while back?
Well, get ready, Ann Arbor—Hollywood is coming back in 2013. After a brief hiatus for big film incentives, Michigan is back on the map for moviemakers. Who will pay our fair city a visit? Who will tweet about Zingerman's Deli this summer? Who will woo the local populace with their karaoke stylings and free-spirited Los Angeles attitude? Taylor Kitsch. Please, oh please, make it Tim Riggins. Just not Jason Segel, for the love of Oscar. He's broken too many hearts already.
Tim Horton's Will Rule Ann Arbor
The coffee and cruller giant has already laid roots in Ann Arbor with a few satellite shops, but now that the first proper standalone Tim Horton's has opened on Ellsworth and State Street, say goodnight—Tim Horton's will rule Ann Arbor. I'm Canadian. I know how this stuff works. We put down roots (John Candy, Dan Ackroyd, Phil Hartman), establish a regular standalone presence (Jim Carrey, Alex Trebek, William Shatner, Mike Myers) and then rule the school (Ryan Gosling, Rachel McAdams, Seth Rogen, Justin Bieber, OMG Taylor Kitsch again!). I love Zingerman's Coffee and Roos Roast and even Biggby, but this is Tim Horton's we're talking about. Resistance is futile.
The Next Big Thing in Booze: Craft Moonshine
Let me take a step back and say that I love Ann Arbor's craft cocktail saloons, notably Alley Bar, The Last Word and the Bar at 327 Braun Court. But muddled fruit and freshly crushed herbs and dashes of homemade bitters are so 2012. Let's move to the next thing, Ann Arbor—craft moonshine. It's not a new trend (see New York Times features in 2009 and 2010) but it's a trend that's starting to gain momentum in your local liquor stores. You used to order moonshine online and get a jar full of clear terror along with a complimentary Wild and Wonderful Whites of West Virginia DVD (outlaw mountain dancing!) but today you can pick from any number of moonshine makers just down the street.
I'm no lawyer, and Googling "Ann Arbor Moonshine Laws" doesn't result in any useful hits, but if Leopold Bros. could distill liquor a while back, why can't one of my favorite cocktail bars follow suit. I hear all you need is a bathtub and a car with the doors welded shut. General Lee noise!
Downtown Home & Garden Does Something Else Cool
First it was Mark's Carts, then Downtown Home & Garden went and created Bill's Beer Garden. What's next for 2013? Who cares! Mark Hodesh and his partners have added a cool new addition to our city each of the last two years and I have no doubt they'll continue the trend with something new and awesome. A 50-foot tall statue of Lewis, the loveable Downtown Home & Garden tabby? Fire breathers? A super-duper lemonade stand? Something is in the offing. I can feel it.
Something Big is Going to Happen in Liberty Plaza
Downtown Liberty Plaza has has been home to Occupy Ann Arbor, Sonic Lunch and a number of ad-hoc protests, but something big is going to happen here in 2013. Bigger than Black Jake & the Carnies. Bigger than free bananas and pizza for the indigent. It could be a gigantic concert, it could be a gigantic rally, it could be jackhammers and mini hydraulic excavators tearing it a new one. The plaza has too much potential to be used solely for occasional events and infrequent skateboard video shoots. Bonus prediction: by the time the Ann Arbor Skatepark is complete, Tony Hawk will be mass producing hoverboards. You fought the good fight, hooligans. Better luck next century.
What are your thoughts on those predictions? Have any of your own? Share them in the comments and let me take credit for them!
Richard Retyi returns to AnnArbor.com with his new column Hidden Ann Arbor. Rich will write about the hidden side of Ann Arbor and the things locals take for granted. In his day job, Rich is a social media director for a digital marketing agency in Ann Arbor. Read more of his stuff at RichRetyi.com or follow him on Twitter.