Posted on
Wed, May 26, 2010 : 5:52 a.m.
Local singer Katie Geddes releasing long-awaited studio album
By Kevin Ransom
Ann Arbor's Katie Geddes doesn't sing for her supper. But if she was so inclined, she certainly has the vocal talent and musical taste to be a full-time singer and performer.
Geddes has been singing publicly in and around Ann Arbor for about 15 years — usually doing coffeehouse gigs and church concerts, either on her own or as part of her trio, All About Eve. And once or twice a year, she'll do a "Katie Geddes & Friends" show at the Green Wood Coffee House, where she books, organizes and presents the Green Wood concert series.
But unfortunately, Geddes has rarely been recorded. She released a live album about 10 years ago, but her new disc, "We Are Each Other's Angels," is her first-ever studio release. (She's also sung background vocals and duets on the albums of other local artists, like Kitty Donohoe and Matt Watroba.)
"I've never really been interested in trying to make a career out of performing and recording," says Geddes. "Not that I wouldn't love it, but when I see how many talented people there are who do it full time and aren't able to make a living at it…..Well, I'm glad I have my career (as a financial planner), and that I'm able to sing for the pleasure of it.
"I don't ask for large fees, but it doesn't matter, because I have my full-time job, and I'm good at that, so I never had to say 'no' to an invitation to sing just because the fee wasn't high enough."
Listening to "Angels," though, makes us wish Geddes had been making records right along, because it's a winning collection of beautifully performed songs. Geddes is not a songwriter, and she doesn't play an instrument, "so the most important thing for me is to be able to pick good songs, choose the instrumentation and arrangements, and really sing them well," she says.
She succeeds on all of those fronts on "Angels," set for release in early June. The song selection is mostly a deft balance of heartfelt folk-pop songs and rootsy or countrified remakes of classic pop tunes. There are also a couple of covers of radio hits that were once famous for being kitschy — before Geddes and her talented backing musicians got hold of them.
Many of the tunes feature warm, organic string-band arrangements, wherein Geddes' clear, strong, evocative voice is nestled in a bed of acoustic guitar, banjo, fiddle and / or mandolin. One song features just her voice and piano, and on a couple of tracks, she's backed only by acoustic guitar and harmonica. And she performs one song a capella.
The album was produced by the talented and versatile David Mosher, who plays most of the aforementioned mandolin, fiddle, banjo, concertina and guitar parts on the disc. Ann Arbor blues-harp hero Peter Madcat Ruth plays on three songs, local musician Dan Reynolds adds sturdy guitar backing to three tracks, and Geddes' friend Mary McCaslin also adds banjo and acoustic guitar.
The album commences with a buoyant, lively, country-flavored work-up of the Beatles' "I've Just Seen a Face," that smartly finds new possibilities in a song we've all heard a million times. "I do think that is one of my talents," confirms Geddes — "finding different ways to do popular songs, usually in a more county-style arrangement.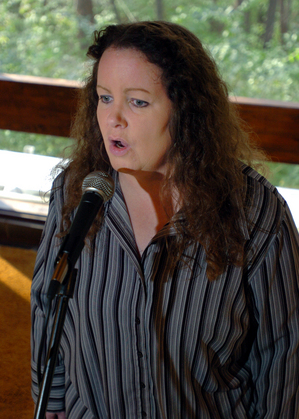 File photo
"We used to do that song when I was in The Usual Suspects, a pretty casual band that played occasionally around town, and I liked the way we were able to arrange it here, with the vocal starts and stops, and the instrumental breaks."
Another highlight is a heart-rending reading of John Prine's "Hello in There" — one of Prine's most beloved songs, as it's a poignant take on the loneliness often experienced by the elderly. On this track, Geddes double-tracks her vocals, so that she is harmonizing with herself, backed only by piano. The result is quite lovely, and guaranteed to put a catch in the throat of anyone who's ever had a grandparent — meaning everyone.
"I'm a huge Prine fan, and this is definitely my favorite song of his," says Geddes.
McCaslin drops in for two duets — one on "Hello Stranger," the old-time country classic that's been covered by the likes of Emmylou Harris, Catie Curtis and various others. McCaslin is a country-folk singer who specializes is songs about the American West. "So, Mary just brings so much authenticity to this song," effuses Geddes.
McCaslin's harmony vocals also help Geddes put a sprightly, country-folk spin on "Promises," a late-'70s hit for Eric Clapton. Meanwhile, "Johnny Be Fair" is Geddes' Celtic-flavored, a capella treatment of Buffy Ste. Marie's '60s-era song — the title of which, of course, is a clever play on Chuck Berry's "Johnny B. Goode." Geddes performs it almost as a keening Celtic lament, and her vocal chops are absolutely up the challenge of singing it unaccompanied.
But back to Geddes' guilty pleasure — "kitschy pop songs about love and romance" — which she and her backing musicians make more substantive by carving off the kitsch and playing them straight. One of those here is "When I Need You," a '70s radio hit from Leo Sayer that most folks would probably agree was a fairly sappy / lightweight performance.
"I remember how Sayer was perceived, and how he had that quirky, high-pitched delivery, and was sometimes known for silly songs, but this song itself was worthy of a better treatment," says Geddes.
One more bit of resurrected kitsch is "Something Stupid," which was a hit for Frank and Nancy Sinatra in the '60s. "When I was a kid, I just loved Nancy Sinatra," effuses Geddes. "I liked 'These Boots Are Made for Walkin'' and 'Sugar Town,' so I just had to do this one, and Michael Johnson (of "Bluer than Blue" fame) was a good enough sport to do a duet with me on it."
On a decidedly non-kitschy front, another of the record's highlights is a sweetly-melodic country-folk version of Michael Nesmith's "Some of Shelly's Blues," propelled by Ruth's playfully intricate but still soulful harmonica part.
And the title track, a cover of Geddes' favorite Chuck Brodsky song, is given more emotional heft due to Geddes' wistful vocal performance and the weepy fiddle and accordion.
As a child, Geddes says she did in fact daydream of being a professional singer. "When I was about 9 or 10, I would sit in my bedroom and drive my mother crazy, listening to the same 45s over and over again, and singing along with them and pretending I was singing for an audience," says Geddes.
"And then I was in the church choir for 10 years, but it wasn't until 1995 that I began singing solo, at Green Wood. And it took me a long time before I had much confidence in my singing ability.
"People would frequently tell me that I had a nice voice, or even a beautiful voice, but for a long time, I couldn't hear what they were hearing," she says. "I didn't hear anything remarkable in my voice. But now, after all these years, I guess I'm at a point where I believe them."
The new CD is expected to be available at Katie Geddes' website, CD Baby, Amazon.com and iTunes.
Kevin Ransom is a free-lance writer who covers music for AnnArbor.com.