Posted on
Fri, Aug 26, 2011 : 5:59 a.m.
Ann Arbor medical marijuana supporters rally night after local raids
By Kyle Feldscher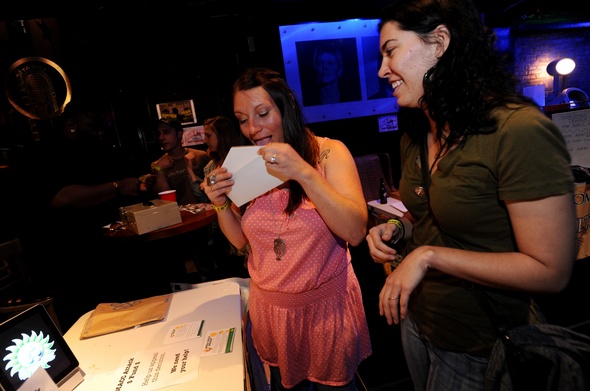 Melanie Maxwell | AnnArbor.com
After a court ruling dismayed medical marijuana users Wednesday and raids on marijuana dispensaries in Ann Arbor Thursday, some Ann Arbor area activists sought to regroup at a rally Thursday night.
About 150 local medical marijuana supporters came to Live at PJ's in Ann Arbor in an attempt to rally their community, just hours after 2 medical marijuana dispensaries were raided by authorities.
Local activists were filtering among the crowd, dressed in various pro-marijuana clothing including hats entwined with pot leaves, gathering signatures on letters to Michigan lawmakers that voiced support for the dispensaries.
Chuck Ream — a local medical marijuana activist whose dispensary, MedMar, was raided by police Thursday morning — gave a passionate speech to the crowd espousing the long history of marijuana's medical use.
"Your great, great, great grandmother had no problem getting cannabis and there were many different uses for it," Ream said.
The benefit concert had been planned for weeks, but took on an added importance to local activists after a Michigan appeals court ruling released Wednesday essentially banned dispensaries, and raids on MedMar and A2 Go Green Corp Thursday.
Medical Marijuana action
It's been a big week in the world of Michigan's Medical Marijuana Act. Here are some of AnnArbor.com's stories from this week
Joshua Devault
, of the
Treecity Health Collective
, was one of the many people passing around the form letters for people to send to their state representatives.
Devault said the last few days had shaken up a lot of the area's patients and caregivers, to the point that people had been coming to the collective wondering what to do about their medicine that day. He said he had to turn patients away because of the uncertain situation surrounding the medical marijuana laws right now.
He said it was important for the community to show their representatives that dispensaries have a purpose — supplying medicine to patients, who might not be able to grow their own marijuana, in a safe manner.
"It's very hard to grow the type of medicine that collectives can have," he said. "It's that power that we have as a group collective, to be able to dispense that kind of medicine to patients that really need it."
Devault said he often gets elderly people coming to the collective looking for medical marijuana. He said without the dispensaries, patients like them would not know how to properly use the medicine or might not be able to get it at all.
The raids conducted on Thursday were not related to Wednesday's ruling by the Michigan appeals court, police said. Employees allegedly failed to follow guidelines established for operating dispensaries, according to Michigan State Police Det. 1st Lt. Wynonia Sturdivant.
The guidelines that the dispensaries had violated were unclear as of Thursday. There has been much debate around what the guidelines are to operate a dispensary, with many activists saying that there are no actual guidelines set out by the Medical Marijuana Act.
T.J. Rice, a friend of Ream's who ran a dispensary that was busted in March 2010 and had felony drug charges brought against him a year later, said the most important thing for medical marijuana supporters right now is to have a sense of community among themselves.
Rice said his ultimate goal is to form an effort that will see marijuana totally legalized, but in the meantime it's important for patients, caregivers and supporters to stick together.
"We've got a long road ahead of us," Rice said.
Kyle Feldscher covers police and courts for AnnArbor.com. He can be reached at kylefeldscher@annarbor.com or you can follow him on Twitter.