Posted on
Mon, Apr 18, 2011 : 5:59 a.m.
High radon levels persisted in basement where Ann Arbor police officers worked, records show
By Ryan J. Stanton
Ryan J. Stanton | AnnArbor.com
Radon levels far above
amounts posing cancer risks
plagued the basement of
Ann Arbor's city hall
where police officers worked for many years, city records show.
Top city officials were aware of the problems, reports show, but measures taken — including a mitigation system installed in the 1990s — failed to keep radon below federal safety levels, and it wasn't until 2009 that the city moved employees out of the basement.
Members of the police officers union believe there may be a link between the radon in the air they breathed in the basement offices — along with asbestos and mold issues — and health problems experienced by several officers, including two recent deaths.
Vada Murray, 43, a police officer in Ann Arbor for two decades and a former defensive back for the University of Michigan football team, died April 6 two and a half years after a lung cancer diagnosis. Neither Murray, nor his parents, ever smoked.
Jason Zogaib, 35, died March 13, 2009, after a two-year fight against leukemia. He had been an Ann Arbor police officer for more than 10 years.
Radon, a radioactive gas that is naturally occurring in the earth's atmosphere and commonly found in basements, is the second-leading cause of lung cancer in the United States.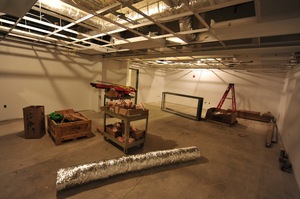 Ryan J. Stanton | AnnArbor.com
City officials deny there's a connection to be made, but dozens of pages of reports obtained by AnnArbor.com through the Freedom of Information Act and other sources show elevated radon levels in the city hall basement dating back to at least the early 1990s, the earliest reports available.
Test results as recently as two years ago indicated radon levels more than seven times the U.S. Environmental Protection Agency's action level — the point at which remedial action is recommended because the levels are considered unsafe and pose cancer risks.
As city officials celebrated the recent opening of the city's new police-courts building on Saturday, City Administrator Roger Fraser talked with AnnArbor.com about the radon problems inside city hall, which housed the police department for decades up until recently.
Fraser said he doesn't believe any health issues cited by the police officers union, including the two deaths, are linked to radon levels in the building's basement.
"Even before they raised concerns, we've been monitoring what's been happening in our building with air quality," Fraser said, adding it seemed to be meeting all standards. "It hasn't been a lovely place and we'll concede that, and there has been some discussion about elevated radon readings. But we have no reason to believe they've been elevated over any period of time, and that's what it would take to create any kind of a health risk."
What the records show
The police officers union has had longstanding concerns about air quality in city hall, including radon, asbestos and mold. In a formal complaint filed with the state about two years ago, it referenced the fact that two officers had been diagnosed with cancer.
Radon is measured in picocuries per liter of air, or pCi/L. The EPA action level is 4 pCi/L, an amount exceeded many times over the years in the basement of city hall.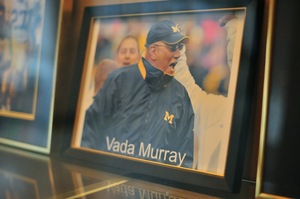 Ryan J. Stanton | AnnArbor.com
Tests conducted by the
Michigan Occupational Safety and Health Administration
from March 11-16, 2009, showed radon levels ranging from 21.9 to 28.8 pCi/L in the basement detective bureau, south side offices and evidence room.
According to the EPA, if 1,000 people who never smoked were exposed to 20 pCi/L over a lifetime, about 36 could get lung cancer. The number goes up to 260 for smokers.
Despite the high readings, Jeremy Kapalla, an industrial hygienist from MIOSHA, sent city officials a letter on Sept. 15, 2009, informing them the inspection resulted in no citations for either asbestos or radon, and the letter closed a pending case. It's not clear in city records but the case appears to have stemmed from a complaint filed by the police officers union.
"What MIOSHA found was that we had elevated levels of radon, but they weren't at a critical stage at that point," said Bob Cariano, the city's safety manager. "But we did have some high numbers, there's no doubt about that."
MIOSHA's report wasn't the first alarm to sound. After earlier tests confirmed high radon levels in the basement, a number of concerned police employees moved from their offices in February 2009. The basement housed roughly 30 employees at the time.
Some employees moved to vacant desks elsewhere in the department, which also occupied the first floor, and some moved to other city offices. Matt Kulhanek, the city's fleet and facility manager, said at the time the city conducted air quality testing in city hall every two years, and the last results from May 2008 had given the city no reason to be concerned.
But the police officers union had concerns, records show. The union cited one instance where, two days prior to testing done by MIOSHA around 2001, the city allegedly ventilated the basement by opening ground-level doors and running industrial fans.
In November 2008, the union asked for employees to be moved from the building after home radon test kits indicated pCi/L levels in the high teens to low 20s. The request to be moved from the building was denied, the union claimed.
An outside firm hired by the union, GZA GeoEnvironmental Inc., later conducted short-term and long-term tests and both found elevated levels of radon in the basement work area.
MIOSHA began investigating the union's concerns in February 2009. It was around that time that city officials agreed to let police employees move to other offices if they had worries.
"Certainly to the extent that somebody's got it in their head that they're at risk, that's a perception issue and it's something that we have to deal with," Fraser said. "Anytime anybody expressed concern, we found other accommodations for them."
On March 18, 2009, a company called Protech Environmental Services sent the city a letter indicating it tested for radon over the previous three days and all readings were above the EPA action level of 4 pCi/L. Despite an active radon mitigation system in operation in the basement, the readings still ranged from 15.6 to 21.7 pCi/L, test results showed. The levels were cited as unacceptable and remedial action was recommended.
On April 23, 2009, the city administrator's office sent a memo to city employees alerting them that Protech would be back working in the basement to evaluate the building's radon extraction system. As part of the evaluation, the company would be drilling holes in various basement locations and utilizing smoke testing to determine the extent of airflow movement.
Protech issued a report about a week later stating it took steps to address some of the shortcomings of the system, but test results still showed radon levels ranging from 6.8 to 9.5 pCi/L afterward. The company reported it was working on outlining proper corrective measures to reduce the radon levels below the EPA action level.
Fraser acknowledged in a Feb. 26, 2009, staff memo the existing radon extraction system, which had been in place several years, was no longer effectively regulating radon levels.
"City staff are working to identify an environmental firm that will assess and redesign the city hall radon mitigation program," Fraser wrote in the memo. "The chosen firm will implement an effective radon mitigation program and regular testing will take place to monitor air quality throughout city hall."
Asked on Saturday what steps the city took to implement a new system, Fraser said: "I'm not going to get into the details of that."
But he said the problem all along was the 1963-era city hall basement, and that's since been completely gutted and renovated as part of the police-courts building project.
A company called Testing Engineers & Consultants Inc. conducted tests in the renovated basement two months ago in mid-February. The purpose of the tests was to verify the efficiency of a sub-slab pressurization radon mitigation system recently installed.
The tests indicated that, at eight of nine monitoring locations, radon concentrations were below the EPA action level of 4 pCi/L, but one location identified as an IT training area was slightly elevated at 4.6 pCi/L. The average of the nine samples was 3.05 pCi/L.
Based on those results, the company recommended the city do additional followup sampling. About two weeks later, test results from three areas ranged from 2.7 to 3.6 pCi/L.
File photo
Police Chief
Barnett Jones
, who lobbied to move officers out of the basement two years ago, said he came to find out there had been radon problems in the building for years.
"I can tell you that I had no idea when I took this job that there had been a history of radon in the building," he said. "But as soon as I found out it was high, I went to Roger Fraser and told him I wanted to get my people out of the basement because they had a fear of high radon. And then they advised me that they had a history of high radon in this building."
Records dating back to the early 1990s show readings as high as 20 pCi/L, though most readings on reports viewed by AnnArbor.com hovered between 6 and 10 pCi/L.
A company called Radon Testing and Reduction Systems recommended in December 1993 that the city install a ventilation system after tests showed levels ranging from 5 to 7.9 pCi/L.
In early 1994, the city contracted with the Howell-based company to install the system at a cost of $3,134, which reduced the levels to between 2 and 3.6 pCi/L, according to tests done by the company shortly after the installation.
It's unclear whether the city kept up with regular monitoring after that. A test conducted in January 2001 eventually showed radon levels had ticked back up to 5.9 pCi/L.
Three months later, MIOSHA came in to investigate a complaint alleging 65 employees working in the basement were exposed to radon. The city received no citation in the incident, but MIOSHA stressed that didn't mean the city was in compliance with state standards.
MIOSHA recommended the city make improvements to the mitigation system, including adding a bigger fan. City staff communications show a state inspector informed the city the company that installed the system several years prior had a reputation for doing shoddy work.
An emotionally charged issue
While it's no surprise to the police officers union that radon levels were high, it's unclear who else has seen the results from tests paid for by the city, beyond top-level administrators. Mayor John Hieftje said the reports never made their way to him.
"I've never seen the testing numbers and I just don't know a whole lot about this issue," Hieftje said. "I understand that obviously there was radon at one time down in the lower level of the Larcom building because we had a radon extraction system and I noticed that years ago. But I have not ever really been too briefed on this issue."
Deputy Police Chief Greg Bazick said he had no idea the readings were so high, and he's never been briefed on what the reports show.
"I just have not been involved in the administrative-level discussions and I'm not privy to the details," he said. "I wasn't aware that they were that high."
Representatives of the police officers union declined to comment for this story, citing concerns about discussing the issue in the press.
The union has used the issue of radon and asbestos as leverage in labor negotiations with the city. The city is asking officers to agree to concessions and to begin contributing more toward the cost of their health care, but the union isn't budging.
Facts About Radon
Radon is a naturally occurring, radioactive gas formed by the breakdown of uranium in rocks and soil. It is tasteless, colorless and odorless. It can enter homes through cracks in foundations, sump pump crocks and other openings. Radon is present in outdoor air, but is diluted to such low levels it's usually not a concern. But inside an enclosed space, it can build up to dangerous levels. According to the
U.S. Environmental Protection Agency
, no level of radon is technically safe.
Since the late 1980s, radon tests have been taken throughout the United States. According to data available from the county, about 12 percent of Michigan's single-family homes have indoor radon levels greater than 4 pCi/L, the EPA action level. Washtenaw County has an even greater potential for elevated levels. According to estimates, more than 40 percent of homes in the county could have radon levels above the EPA action level.
Radon decays into tiny, radioactive particles that stick to dust and debris in the air and are inhaled. The particles break down quickly, releasing radiation in the lungs, potentially leading to lung cancer.
Radon is the second-leading cause of lung cancer in the United States, responsible for an estimated 21,000 deaths per year, according to the EPA. Smoking significantly increases the chances that someone exposed to radon will develop lung cancer.
Home radon levels can be greatly reduced by mitigation systems installed in a single day by a qualified contractor for about $800 to $1,200. For more info, click here.
"Due to exposure to high levels of radon and asbestos with the police department facilities of the Guy Larcom building, our membership has exhibited a higher than normal need for health care," union officials wrote in a statement shared with AnnArbor.com last month. "We believe these benefits should be given an adequate amount of time before being changed again."
City Council Member Stephen Rapundalo, chairman of the council's labor committee, fired back at a recent public meeting by saying there's no evidence that Ann Arbor police officers have a higher need for health care because of the building in which they previously worked.
Still, the city has cited air quality problems in the basement of city hall as a reason for constructing the new police-courts building. A fact sheet on the project states the old police department was "badly deteriorating" and there were "air quality issues and black mold in many areas of the police facility." The same city document states the area in which police were housed was originally designed for storage space and not meant to be inhabited.
Council Member Christopher Taylor, D-3rd Ward, also acknowledged those issues in a newsletter sent to constituents last month explaining the reasons for the new building.
"The condition of the police station was particularly troublesome — cramped quarters, leaks, security insufficiencies, radon, asbestos," Taylor wrote in the letter. "The arrangement was considered 'only temporary' in the 1960s."
Fraser said the city still maintains "there was nothing scientifically or otherwise to worry about." He said he's sorry for the recent loss of an officer to lung cancer, but he doesn't believe there's any connection to the radon levels in the place where he worked.
"Vada Murray's demise is certainly sad, it's tragic," Fraser said. "He did, in fact, file a worker's comp claim about a year or so ago and that's still in process. I don't know what the current status of that is. But we've talked with others about the health risks of radon. They have looked at how our employees have used the building, and we've not heard anything to lead us to believe that there is any potential that the kinds of concerns that some of our employees have had are related to our building, and we continue to believe that's true."
AnnArbor.com is in the process of seeking more details about Murray's worker's compensation claim. Asked if the city is contesting the family's case, Fraser said: "We pay a carrier to handle our worker's comp stuff so we don't directly get involved in that."
Hieftje, who attended the deceased officer's memorial service last week, said Murray was a patrol officer and didn't regularly spend extended periods of time in the city hall basement.
Bazick said Murray still would have spent time in the basement.
"We all have worked in the basement up until moving out of this building in that our lockers for changing were there," he said. "The detectives and the dispatchers primarily spent the most time down there, and there were a few civilian employees who had offices down there. But almost everybody would have had some exposure to the basement."
Bazick, who stressed he was offering his own viewpoint and not speaking for the department, said personally he's not too concerned about the radon levels. He said he worked in the basement for many years as a supervisor in the communications section.
"The two recent deaths of these relatively young officers are tragic, and I understand that they looked after their own health and it makes it that more puzzling why they contracted what they did," he said. "I know this is an emotionally charged issue for some people and I don't want to in any way diminish their perspectives. I can just tell you that I'm not concerned that I'm going to contract an incurable disease because of the many years of exposure I, too, had in the basement, and that's just an individual perspective."
Murray played football for U-M from 1986 to 1990 under Bo Schembechler, who took the Wolverines to the Rose Bowl in 1987, 1989 and 1990. A number of former teammates attended his memorial service on Thursday to pay their respects.
The police department honored Murray with the same ceremony it would afford to an officer killed in the line of duty, including a solemn procession of more than 100 uniformed officers. Hundreds packed into Cliff Keen Arena for the service.
Jones said he's confident no Ann Arbor police officer will have to worry about exposure to radon any longer, and hopefully the same goes for future users of the city hall basement.
He said he's learned a valuable lesson in all of this, too.
"I've said to myself quietly many, many times, if I were ever to leave this police department, and I left to go someplace else, I would do a heck of a lot better on researching than I did coming here," Jones said. "If I move again, you better believe I'm going to look at building plans and historical perspective of environments and everything else."
Ryan J. Stanton covers government and politics for AnnArbor.com. Reach him at ryanstanton@annarbor.com or 734-623-2529. You also can follow him on Twitter or subscribe to AnnArbor.com's e-mail newsletters.