Posted on
Sat, Mar 10, 2012 : 5:59 a.m.
Fire protection in Ann Arbor hits a new low with ladder trucks in and out of service
By Stephen Lange Ranzini
It was the night of May 16, 2011, when my very pregnant wife sent me into open political revolt against Ann Arbor's mayor and City Council. My dissatisfaction had been rising and the $100 million of mismanaged and wasteful building projects (the "Rog Mahal," the "Big Dig" and the "Hurinal"), our roads in increasing disrepair but not being fixed, and police department cuts that impacted the safety of downtown residents were all vexing me.
However, it wasn't until I came home looking forward to a relaxing evening after a hard day of work that a discussion with my wife about cuts in the fire department pushed me right over the edge.
Over dinner, I informed my wife that I had learned earlier in the day that if there was a fire in our building, under a new staffing policy "experiment," Ann Arbor's only tower truck, stationed two blocks away downtown, would no longer be able to respond to rescue my wife or young son in our 10th floor downtown condo.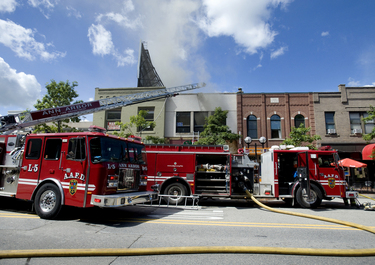 Melanie Maxwell | AnnArbor.com
"What are you going to do about it!?" was my wife's reply.
So an hour later, there I was, speaking to the mayor and City Council during the public comment period at a city budget hearing about why this and the other planned public safety budget cuts were rank insanity.
My efforts failed. Mayor John Hieftje announced that he was "comfortable" with the "experiment" to cut the public safety budgets and the citizens who spoke up were ignored. The city chopped $1 million from the fire safety and police departments. Seven police employees were fired -- including a young hero who had just recently waded into a raging gun battle to quell a downtown 3 a.m. post-bar brawl -- and six more positions eliminated. Seven firefighter positions were cut.
In the last 20 years, 15 citizens lost their lives to fires in Ann Arbor, including four just in 2011 and 12 since 2006. The rate of death by fire has increased tenfold to an average of 2 per year from the rate in the prior 15 years. The rise in deaths began when the fire department cuts began and there is a tight statistical correlation.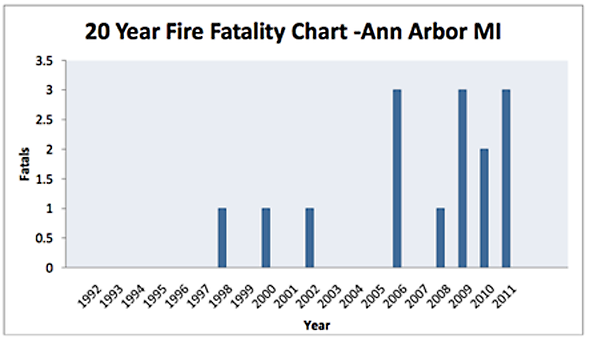 Source: Ann Arbor firefighters union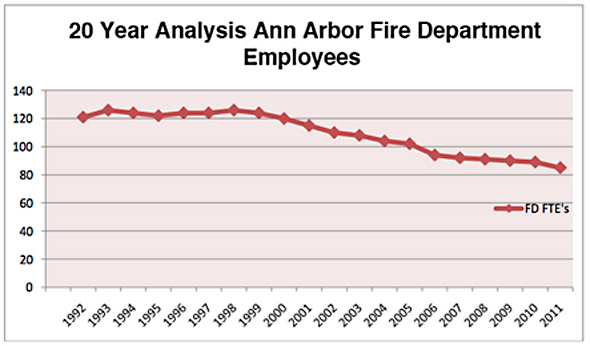 Source: Ann Arbor firefighters union
Fast forward a year and we learned that the $1 million in cuts were never required, as the city's general fund ended that fiscal year with a $965,000 surplus. The city commissioned a report about our fire department from fire safety consultants, ICMA. Not surprisingly, the city's report concluded that the staffing levels were inadequate and that the city was not meeting national fire safety standards.
The implications of not meeting the National Fire Protection Association and ISO fire standards are that our homeowner insurance rates will rise as the city's fire safety rating at ISO falls.
But staffing levels have continued to fall and currently, the fire department has 76 staff, 18 fewer than when ICMA did the research for its report. What was inadequate then, is extremely unsafe now. Until 2000, when the cuts began, we had more than 120 fire safety employees.
Recent revelations are even more disturbing. My research indicates that the fire department's tower rig was out of service for mechanical faults 174 days in 2011, and every day of 2012 so far.
According the president of the local firefighters union, Matt Schroeder, "the tower must be repaired or replaced." In addition, Ladder 5, was out of service 34 days last year and has been frequently out of service in 2012.
When Ladder 5 is out of service, Ann Arbor's firefighters have no working ladder trucks to respond to a multi-story building fire! According to Schroeder, if there is a fire in a multi-story building in Ann Arbor, anyone needing rescue by ladder above three stories cannot be rescued until a ladder truck from a neighboring community arrives. There is no plan to correct this serious problem any time soon.
Ann Arbor has many buildings over three stories and more are being approved by City Council. It is extremely irresponsible to build additional 10- and 12-story buildings downtown when people above the third floor cannot be rescued. We are one stupid student with a hot plate that overheats away from a tragedy.
While pursuing my revolt against Mayor Hieftje and the City Council block that supports his policies, I've become a frequent commenter on AnnArbor.com and this has led to two results.
First, many comments have been made suggesting I run for mayor against John Hieftje. I have decided not to run for mayor in 2012. I am sorry to disappoint my supporters, however family and work must come first for me for the next year. The banking business is still challenging these days and my young family needs my devotion.
And, with my decision not to run for mayor, AnnArbor.com has offered me an opportunity to write a regular community opinion column, giving me the opportunity to expand on my observations with more facts and background information.
This doesn't change the fact that we all need to lobby the mayor and city administrator to add more funding to the Ann Arbor Fire Department to hire more staff and replace or repair the city's ladder trucks. This year's fire budget calls for 5 more positions to be cut and that also must change so that we can again meet national fire standards for response times and other key metrics of fire safety performance.
Stephen Ranzini is president of Ann Arbor-based University Bank. He is a former community member of the AnnArbor.com editorial board.