Posted on
Tue, Jul 20, 2010 : 10 a.m.
Quantum Signal plans to add 47 jobs after acquisition of Saline's former Union School building
By Nathan Bomey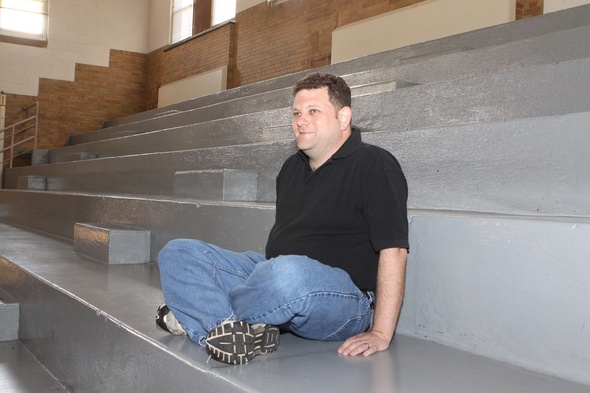 Alan Warren | For AnnArbor.com
Quantum Signal, whose imaging design and robotic technology have proven attractive to the U.S. military and video game companies, plans to add 47 jobs over five years in an expansion project tied to its move from Pittsfield Township to Saline.

The firm's robots will replace students and administrators in the halls of Saline's historic Union School, which Quantum Signal is acquiring for $425,000 in a deal the Saline Board of Education agreed to accept July 1.
"We'll run robots up and down the halls," cofounder and chief operating officer Mitch Rohde said, only half-jokingly.
Quantum Signal plans to move its operation from its 14,000-square-foot headquarters on Plaza Drive near the Ann Arbor Municipal Airport to the aged 43,000-square-foot school facility sometime this fall. The Michigan Economic Development Corp.'s Michigan Economic Growth Authority Board is expected to approve a $206,083 tax credit today to support Quantum Signal's expansion.
The growth is attributable to momentum in the 10-year-old University of Michigan spinoff company's various military technology projects.
"It's a great example of how it just takes a while sometimes for companies to really develop," said Ken Nisbet, executive director of U-M's Technology Transfer Office. "They continue to grow."
The company cannot reveal many details about its classified projects, but its top initiatives include a software system that allows vehicles to automatically read road signs, a system the firm will show off at the Society of Automotive Engineers Convergence Conference in October. The company also programs video games through its Reactor Zero division.

Rohde said the company plans to hire programmers, digital artists, image processors and other software specialists. The firm, which once had just 1,800 square feet at its Pittsfield office, now employs 35 workers, up from 20 three years ago.

Rohde declined to discuss revenue, but in 2009 the company was starting four Phase 2 government projects collectively worth $2.9 million.

"As the number of projects has grown, so too has our staffing," Rohde said.
Quantum Signal gets deluged with job applicants but continues to experience trouble finding qualified workers, Rohde said. That led the company to consider other locations, including the Washington D.C. region, with its proximity to the federal government, and the West Coast, with its extensive software talent.
But Rohde said the company's local heritage and the ability to find a unique space in a business friendly city played a key role in keeping the company in the Ann Arbor region.
The company's decision to purchase the Union School building came after a wide-ranging search.
Rohde said he toured many buildings in the Ann Arbor area - including Saline's former R&B building, which was sold to Sun Engineering, and the city's former Kelly's building, which was sold to an ownership group that plans to start a new restaurant there.
Quantum Signal's acquisition of the Union School building marks another sign of momentum for Saline's downtown. The company's employees will be within a short walk of the downtown's restaurants and shops.
The Union School facility, constructed in the 1930s but since renovated for various purposes, was a unique opportunity for Quantum Signal.
Rohde said his employees liked the quirky historic aspects of the old building, including:
-The nuclear bomb shelter.
-The '50's era gymnasium with hardwood floor and old bleachers. Rohde said the gym could serve as a perfect venue for its robotic tests in addition to lunchtime volleyball games. But he's adamant that the wooden floor be carefully preserved.
-The artistic graffiti that recent students sprayed to decorate some interior walls of the building.
-The lockers that still line the hallways.
-The chemistry room that can be converted into a vehicle testing laboratory.
Quantum Signal plans minimal changes to the building's exterior, though the company will tighten security throughout the facility due to the classified nature of its business. The company, which also gets the adjacent parking lot, plans to use the office and classroom space for various purposes.
"We don't really have a plan just yet for every room," Rohde said. "It's TBD."
Rohde said the firm also plans to renovate the building's HVAC system to save on energy costs, since the company won't need to use the entire building right away. The school district said it spent $150,000 to $160,000 a year to operate the building.
School officials are relocating alternative education functions and administrative offices to Liberty School on Ann Arbor-Saline Road.
Rohde is adamant that the building's historic character be maintained and seamlessly integrated into the new use. He dismissed the suggestion that the company should conduct significant renovations.
"We have no interest in that whatsoever. We like the historical" aspects of the building, he said. "My guys are unbelievably creative, and they want to be in a space that reflects that."
Contact AnnArbor.com's Nathan Bomey at (734) 623-2587 or nathanbomey@annarbor.com. You can also follow him on Twitter or subscribe to AnnArbor.com's newsletters.