Posted on
Sat, Feb 2, 2013 : 5:55 a.m.
Cooking for a Super Bowl party? We've got recipes!
By Jessica Webster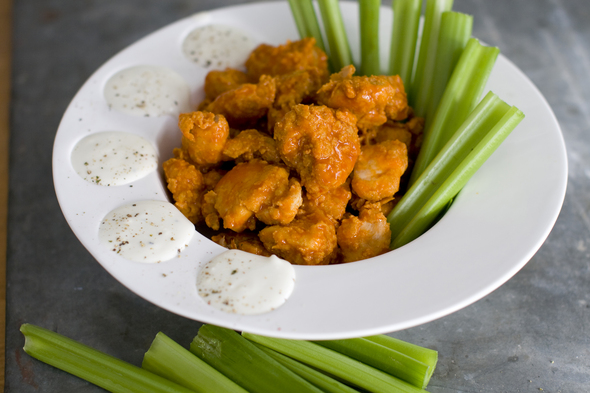 AP Photo | Matthew Mead
I might not know which teams are playing in the Super Bowl this year, but I am looking forward to an evening of football, commercials, and Super Bowl food. (Just kidding. I actually know that it's the San Francisco 49ers and the Baltimore bird-thingies.
Orioles?
No, wait. Ravens!)
What's the perfect Super Bowl food? I don't think there are any rules about what to serve when watching the game, but it seems to me it has to be something easily consumed on the couch, and it has to taste good with beer. It could be a good pizza, your favorite chili, quesadillas, chicken wings... the sky is the limit.
We've put together some links to a few of our favorite Super Bowl-friendly recipes, straight from the pages of AnnArbor.com.
Beefy Sliders with Pimento Cheese
Chili with the works - beer and cocoa powder add depth of flavor
Texas chili: no tomatoes, no beans, all flavor
Ancient Webster secret recipe revealed: chili con carne
Healthier take on Super Bowl grub: Buffalo tenders
Homemade corn chips for National Corn Chip Day
Guacamole: Fresh takes on a Super Bowl classic
Lemony pitcher-style margarita for the Super Bowl
Sweet, sticky, totally tender ribs for the game
Panini with Shrimp, Avocado & Mozzarella - grilled sandwich incorporates healthy fats
Crisp & Creamy Asiago-Arugula Pizza - crispy pie doesn't require much fuss
Cream cheese-stuffed jalapeno poppers
Nachos Grande recipe to celebrate birthday of Adam Richman, host of 'Man v. Food'
A slightly lighter take on classic blue cheese dip
Beet Chips with Tzadziki - a healthy alternative to greasy snack food
Pub-style cheddar-beer spread is a perfect nosh for the big game
Lighter take on game day classic: popcorn chicken
Buffalo celery sticks are a cool, crisp and spicy snack made with Michigan ingredients
A fast and virtuous dip fit to serve company
Pimento Cheese with Creme Fraiche and Bacon an easy crowd-pleasing
Spice up your burger with Argentine chimichurri sauce
Jessica Webster leads the Food & Grocery section for AnnArbor.com. Reach her at JessicaWebster@annarbor.com. You also can follow her on Twitter or subscribe to AnnArbor.com's email newsletters.