Posted on
Mon, May 30, 2011 : 8:11 a.m.
Red, White and Blueberry Smoothie, plus grilling links
By Peggy Lampman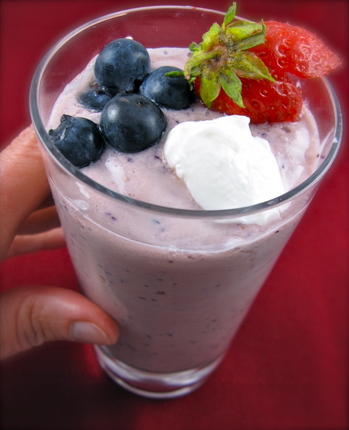 Peggy Lampman | Contributor

Peggy Lampman's Memorial Day dinnerFeed
It's a beautiful day! I'm going morel hunting. Here's a festive
smoothie
to also welcome in a celebrate the advent (hopefully) of warm weather. Stay safe!
(Meijer has 3 1-pint packages of blueberries for $5!)
Yield: 2 smoothies
Time to freeze banana: 2 hours
Active time: 10 minutes

Ingredients
6 large strawberries, hulled and washed, plus strawberries for garnish, if desired
1 ripe banana, frozen
1 1/2 cups blueberries, washed, plus blueberries for garnish, if desired
1 cup plain yogurt (Greek strained yogurt, such as Fage), plus dollops of yogurt for garnish, if desired
1/2 cup your favorite fruit juice (I used pomegranate)
Directions
In a blender, puree strawberries, banana and blueberries. Add yogurt and juice and blend until well combined. Garnish with fruit and yogurt, if desired, and serve.
Beef and Lamb or the Grill:
Marinated Beef Kebobs
Flat Iron Steak with Chimichurri Sauce
Perfectly Grilled Steak
Grilled Steak with Gorgonzola Butter
Go-Blue Cheese Burgers
Pomegranate Lamb and Grape Kebobs
Binghamton Speedies
Chicken and Turkey on the Grill
Grilled Chicken Fajita Bar
Grilled Barbecue Chicken Pizza
Turkey Burgers with Cracked Wheat and Spinach
Grilled Turkey Breast
Brined, Grilled Chicken Breasts with Blackberry Sauce
Grilled Balsamic Chicken Breasts over Baby Greens
Grilled Chicken Thighs with an Anchovy Crust
Grilled Duck Breast with Cherry Sauce
Watermelon-Glazed Chicken Kebobs
Pork on the Grill
Applewood Smoked Pork Tenderloin with Cherry Sauce
Smoked, Pulled Pork Barbecue Sliders with Hot Slaw
Barbecue Spare Ribs
Brined, Grilled Pork Chops
Fish on the Grill
Grilled Wild Salmon with Caper-Tarragon Sauce
Fish Tacos
Grilled Halibut, Red Onion and Orange Salad
Grilled Shrimp with Firecracker Sauce
Grilled Tuna With Wasabi Butter
Grilled Sea Bass in a Fresh Herb Blanket
Vegetables on the Grill
Portobella Mushroom Burgers
Grilled Vegetable Platter with Dill-Almond Pesto
Swiss Chard Bundles with Smoked Mozzarella
Grilled Insalata Tricolore
Grilled Lemony Endive Spears
Grilled Flatbread with Artichoke Hearts, Feta and Tomatoes
Grilled Tomato Mozzarella Pizza
Sausages, Hot Dogs and Such
Grilled Mediterranean Sausages
Great Lakes Cherry "Dog"
Looking for a specific recipe? Click here for dinnerFeed's recipe search engine; type the recipe or ingredient into the search box. I am a real-time food writer and photographer posting daily feeds on my website and in the Food & Drink section of Annarbor.com. You may also e-mail me at peggy@dinnerfeed.com.