Posted on
Wed, Oct 26, 2011 : 11:59 a.m.
2nd Ward candidates differ on public art, crosswalk law, city spending and transit
By Ryan J. Stanton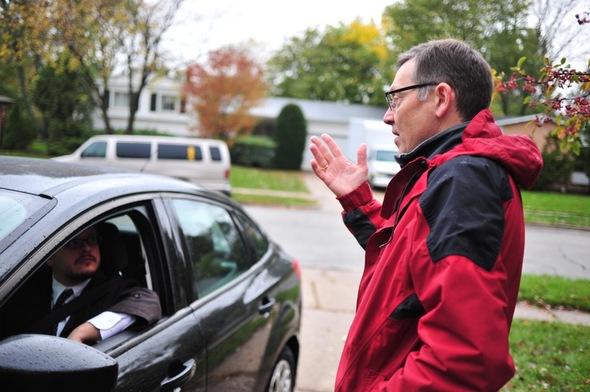 Ryan J. Stanton | AnnArbor.com
Ann Arbor City Council
candidates
Stephen Rapundalo
and
Jane Lumm
see a clear distinction between each other's platforms as they head toward the
Nov. 8 election
.
"As I tackle any and all issues, I'll try to approach it from the perspective of: Is this going to move us forward? Is this something that's good for the future of Ann Arbor?" said Rapundalo, the incumbent. "And I think Jane espouses quite a different philosophy."
Lumm says Rapundalo has his priorities in the wrong place and is distorting her record.
Rapundalo, a Democrat who has represented the 2nd Ward on council for the last six years, has done his best to characterize Lumm as a naysayer and says the city has spent the last 15 years cleaning up the mess made by Lumm and other council members from the '90s.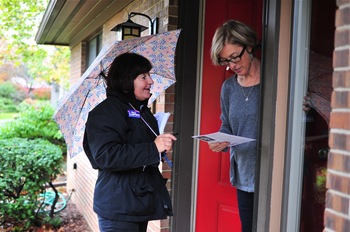 Ryan J. Stanton | AnnArbor.com
Lumm, who served as a Republican on council from 1993 to 1998, is running as an Independent. She's firing back at Rapundalo and rejects his characterization of her record.
"The list is long of the things he's said that I've done wrong," Lumm said. "This is on his website, it's in his literature, it's all over."
Lumm's surprise campaign this year has gained support from both Democrats and Republicans who share her concern that elected officials in Ann Arbor have lost touch with the community's values. She's campaigning on a promise of realigning the city's spending priorities on basic services like public safety, parks, streets and other basic infrastructure.
Lumm is critical of many of the programs and projects Rapundalo has supported, including spending on public art, the pedestrian safety ordinance, the proposed Fuller Road transit station, the new Ann Arbor Justice Center that houses police and courts, and the underground parking garage being built by the Downtown Development Authority.
Lumm said there's a time and place for everything, but she argues this is one of those difficult periods in Ann Arbor's history when visions of new transit centers — such as the Fuller Road Station project Rapundalo supports — and public art are maybe just "nice-to-haves."
"People see their streets and bridges deteriorating and crumbling, and police and fire levels severely cut. People want to recalibrate and don't think maybe it's the time for public art," Lumm said, going on to express concerns about other city spending.
"I am concerned about the city's willingness to take on financial risk at times when it isn't backed by a good business plan," Lumm said.
Rapundalo called his opponent a negative thinker.
"She takes a stance usually that is sort of negative and one of always saying 'no' or 'you're wrong' versus working in some constructive manner and being open to any and all ideas," Rapundalo said. "It's one thing to be principled — I've always prided myself on that — but I'm not inflexible, and I'll work with people even if I have a difference of opinion with them."
High stakes
If Rapundalo loses his seat to Lumm, it could mean the strong majority on the 11-member council is whittled from eight to seven — reducing the majority bloc's voting power.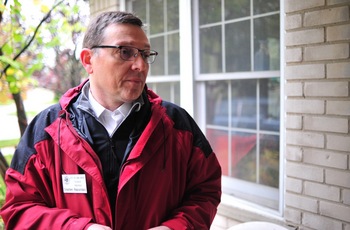 Ryan J. Stanton | AnnArbor.com
Rapundalo, one of Mayor
John Hieftje's
trusted Democratic allies, often aligns himself with the mayor and fellow Democratic council members and campaign supporters
Sandi Smith
,
Tony Derezinski
,
Christopher Taylor
,
Margie Teall
,
Marcia Higgins
and
Carsten Hohnke
.
Lumm's election to council likely would add her to the ranks of those minority council members — including Stephen Kunselman, Mike Anglin and Sabra Briere — who, despite being Democrats, are often seen as independent from the rest of council.
It's plausible there could be issues in the future where eight votes are required and Lumm might join Kunselman, Anglin and Briere in causing 7-4 outcomes.
Rapundalo fears there could be a throwback to the City Council of the '90s, which he called "quite a dysfunctional group" that "got nothing done."
"Really for me it's about continuing to have strong principled leadership that can move Ann Arbor forward," Rapundalo said. "We saw the council of the '90s ignore a lot of things."
Lumm is the first to admit she had a hard time getting any of her proposals through when she was on council, but she said she's proud of the council's track record from the '90s.
When she left the council in 1998, Lumm said the city's combined pension and retiree health care plans had a $10 million surplus and general obligation bonded debt was about $25 million. She pointed out the city now has hundreds of millions of dollars in debt and unfunded liabilities, which she argues is evidence of fiscal irresponsibility.
Public art and crosswalks
Going door-to-door in the 2nd Ward, both candidates have heard an earful from residents about various issues, and one of them is public art.
Lumm is critical of the fact that Ann Arbor has diverted more than $2.2 million to public art over the last four years — from areas of the city's budget like the water and sewer utilities, the streets millage, parks and solid waste. She said she would have supported cutting funding for public art in half in the last budget process, a measure Rapundalo helped block.
"I think this is just another example where she's being short-sighted. We're talking about a penny on every dollar," Rapundalo said, defending the city's Percent For Art Program, which sets aside 1 percent of the money spent on capital projects for public art.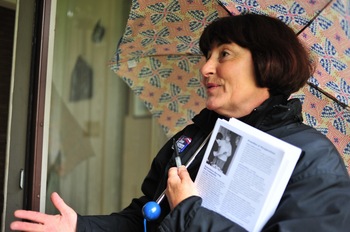 Ryan J. Stanton | AnnArbor.com
"I mean, that's not very much," he said. "And the way I look at public art, it's a very small way to enhance the vibrancy and the perception of a sense of community. It's a phenomenal economic development tool. That's been demonstrated many times over in a lot of communities."
Rapundalo also argued the money being set aside for public art isn't stopping any capital projects from getting done. He called it budget-neutral and said it has no impact on the city's general fund, which pays for basic services like police and fire protection.
Another issue on the minds of many voters is the pedestrian safety ordinance, and the two candidates offer different perspectives.
Rapundalo and the rest of council unanimously approved the ordinance, which goes one step beyond state law and requires motorists in Ann Arbor to stop not only for pedestrians in crosswalks, but also those approaching. Enforcement started last month.
"If this is a way where we can improve pedestrian safety, I'm all for that," Rapundalo said. "So yeah, I'm supportive of it."
But many residents continue to have concerns about the increased potential for rear-end accidents resulting from motorists stopping in busy traffic to let pedestrians cross, as well as the potential for pedestrians getting hit when one vehicle stops but others don't.
While going door-to-door last week, Lumm encountered a 2nd Ward resident who said she's planning to dress up as a "crushed pedestrian" for Halloween.
"I would move to suspend it until we get it right," Lumm said of the ordinance. "It was well intentioned, but I don't think it was well vetted. It's very confusing as written, and people are afraid that it is is causing more unsafe situations than safe."
Rapundalo told AnnArbor.com last week he remains a strong supporter of the ordinance, but he backtracked slightly this week and joined other council members in saying he thinks the city should take a closer look at the use of the word "approaching," which he said is confusing people. Still, he argues the new requirements aren't that big of a change.
"The only difference we have in our ordinance that wasn't already there in state law is about approaching the crosswalk," he said. "The police really were not enforcing that state law, so if nothing else, what's changed is now the police are enforcing the state law."
City spending and public safety
As long as Rapundalo has been on council, Lumm argues, the city has made little progress in addressing its structural budget problems — instead adopting "mindless across-the-board spending cuts" that disproportionately impact police and fire services.
She points out 74 positions in police and fire have been eliminated over the last six years as the council approved millions of dollars in cuts to public safety. She calculated a 23 percent reduction in police and fire staffing, about triple the amount seen in other departments.
Public safety should be the city's top priority, Lumm said, arguing the cuts have been too severe and have put residents and the health of downtown at risk.
Rapundalo, as chairman of the council's labor committee, has pushed for concessions from the police and fire unions to help avoid some of the layoffs. A new contract with the police officers union — including health care plan changes Rapundalo championed — is expected to save the city somewhere between $400,000 and $450,000 in the first year.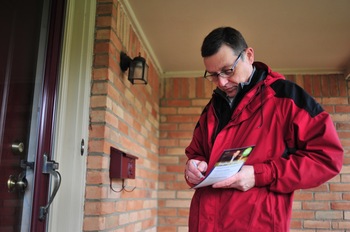 Ryan J. Stanton | AnnArbor.com
Rapundalo and the mayor recently announced they're working to halt future cuts to the police department.
"I don't disagree — I think public safety is important," Rapundalo said. "And now that we've got the contracts squared away, at least for the police rank and file, maybe now we can turn our attention to how do we sustain the ranks, if not be able to beef them up."
Rapundalo said he finds it interesting Lumm criticizes him for cuts to public safety when she proposed cuts to the police department when she was on council. He pointed to a time when Lumm brought forward a resolution that included a $100,000 cut to the police budget.
"It was in an indiscriminate sort of manner," he said. "To me, first of all, that's not a great budget approach. But secondly, that certainly doesn't tell me that that's somebody who's supportive of police, while at the same time she's approving these expensive, luxurious contracts that we've had to — particularly me — work hard to try to roll back."
That's one area where Lumm argues Rapundalo is distorting her record. She provided a copy of the May 28, 1997, meeting minutes where she brought forward a $1.2 million cost-cutting proposal that included the $100,000 hit to the police budget.
That was at a time when the department was adding 11 full-time employees, Lumm said, and her proposal was intended to avoid a tax increase and reduce over-hiring. She noted she also called for $35,000 in cuts to the mayor and council's budget, including less travel spending.
Like most things she tried to do on council, Lumm said, her proposals were voted down. After reviewing old records, she said she was reminded of how much opposition she faced.
"I drove them all crazy," she said. "In going back through these things, there was one e-mail where one council member said, 'Jane, you know we are never going to support anything that you bring forward.' I mean, there was that, but it never kept me from trying."
Lumm also said Rapundalo is wrong to imply she's responsible for lucrative labor contracts approved in the '90s.
"If anybody knows me, they know what I tried to do when I was on council," she said, adding she started as early as 1994 trying to push for changes in health care plans.
"So I tried to launch that. Again, there wasn't much of an appetite, but I tried," she said. "And then in subsequent years, every year I'd send out budget memos and messages to council and I would bring this up. I even did it through the end in '97 and '98."
Trains and transit
Another of the major differences between Lumm and Rapundalo is their stance on Fuller Road Station, a $121 million project that involves building a new transit center in front of the University of Michigan medical campus. Rapundalo is a staunch supporter of the project, which is expected to be a prime stop for a new federally funded high-speed rail corridor between Detroit and Chicago and a hub of activity for bus transit services in Ann Arbor.
Ryan J. Stanton | AnnArbor.com
"I view it as something that moves us forward," he said. "It's us having to think about what are the needs 5, 10, 20 years from now."
Lumm said she doesn't support the current proposal. The long-term vision could very well be in Ann Arbor's best interests, she said, but all that's included in the first phase is a parking structure with a projected $10 million funding commitment from the city.
Rapundalo said anyone who questions whether the city should be pushing forward with Fuller Road Station apparently isn't paying attention.
"Here the feds are dumping all this money into the state, the state's buying the tracks, they've got the trains and so forth, improvements are going to be made, we're the busiest stop along the way, and we're going to say, well, no?" he said. "I mean, it makes no sense."
Lumm said she thinks it's "insane" that the city is spending money to study advanced transit options like monorails and street cars to better move people throughout the city. She called it another example of the city taking its eye off the ball on meeting basic needs.
Lumm also speaks critically of the Ann Arbor Transportation Authority's plan to spend hundreds of millions of dollars on a countywide expansion of transit services over the next 30 years. She said there has to be a cheaper solution.
"AATA apparently serves two-thirds of Washtenaw County," she said. "That's a pretty significant chunk. I've got to believe there are ways we can run these routes more efficiently."
Rapundalo and Lumm also differ on issues of taxation. Rapundalo says he wants to explore revenue restructuring, including possibly through a city income tax or a Headlee override.
"We've got to have that dialogue," he said. "It's the other half of the equation. It becomes even more important in light of the state's discussions about repealing the personal property tax."
Lumm takes a different stance, arguing the city must get its costs under control before asking taxpayers for more money.
Both candidates are expected to attend a candidate forum at 7 p.m. tonight in the media center of Thurston Elementary School, 2300 Prairie St.
Ryan J. Stanton covers government and politics for AnnArbor.com. Reach him at ryanstanton@annarbor.com or 734-623-2529. You also can follow him on Twitter or subscribe to AnnArbor.com's e-mail newsletters.