Primary election results from across Washtenaw County
Posted on Tue, Aug 7, 2012 : 8:02 p.m.
Previous coverage:
This is where you'll find results and a roundup of coverage of the Tuesday, Aug. 7, primary election across Washtenaw County.
As of 1 a.m. Wednesday, a few precincts across the county still had to post final results. Polls closed at 8 p.m. Tuesday.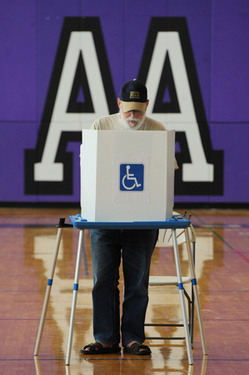 Full results can be found on the county's election page.
In Ann Arbor, Sumi Kailasapathy is the winner in Ward 1; Sally Hart Peterson has won in Ward 2; and Margie Teall won in Ward 4. In the 5th Ward, Chuck Warpehoski has won as well.
In addition, Carol Kuhnke and Jim Fink are leading the way in a four-way race for an open seat on Washtenaw County's 22nd Circuit Court bench.
Also, the Sylvan Township millage passed by a total of seven votes. In Superior Township, all three millages that were up passed as well.
Pete Hoekstra also has been nominated as the Republican candidate for the U.S. Senate, beating out three others vying for the nomination.
Ypsilanti Township Supervisor candidate Brenda Stumbo appears to be headed for a landslide win over John Hoops and Brenda Meadows.
Contested races involving more than one political party will be decided in the Nov. 6 general election.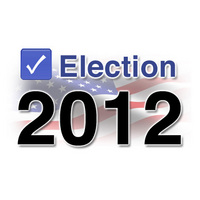 Ann Arbor City Council
Ward 1 (one seat):
Sumi Kailasapathy, D, 863
Eric Sturgis, D, 628
Ward 2 (one seat):
Sally Hart Petersen, D, 1160
Tony Derezinski, D, 938
Ward 4 (one seat):
John Eaton, D, 848
Margie Teall, D, 866
Ward 5 (one seat):
Chuck Warpehoski, D, 1709
Vivienne N. Armentrout, D, 1320
Stuart Berry, R

Ypsilanti City Council
Ward 1 (one seat):
Lois E. Allen Richardson, D, 292
Steve Pierce, D 189
Tyrone Bridges, D, 93
Ward 2 (one seat):
Ward 3 (one seat):
Ted Windish, D, 47
Peter J. Murdock, D, 440
Mike Eller, D, 242

Ann Arbor Township
Ann Arbor Township Clerk
Ann Arbor Township Treasurer
Ann Arbor Township Trustee
Kenneth Kohrs, R, 198
John E. Allison, D, 216
Claudia Sedmak, D, 217
Randolph S. Perry, R, 192

Augusta Township Supervisor
Pete Hafler, D, 310
William Tobler, D, 269
Richard Tsvetanoff, D, 68
Brian Shelby, R, 231
Kathleen M. Jackson, R, 163
Augusta Township Clerk
Kathy Giszczak, D, 343
Iva Bielec, D, 304
Kathleen McDonald, R, 193
Linda Adams, R, 176
Augusta Township Treasurer
Susan Burek, D, 312
Nevel Overton Slack, R, 307
Lynda H. Dew, D, 315
Augusta Township Trustee (four)
Judy Thornton, D, 375
Douglas Newsome, R, 261
Dwight Parris Bennett, R, 212
Laverne Kailimai, D, 307
Daniel K. Lula, R, 199
Michael J. King, R, 250
Joseph Keefe, D, 310
Dennis Chie, R, 242
Ira Todd, D, 329
H. Neil Johnson, D, 278
Cath Howard, D, 324
Augusta Township ballot proposal
Farmland and Open Space Land Preservation Millage: To permanently preserve farmland and open space throughout the Township by providing funding for the voluntary purchase of land or interest in land.
Yes: 448
No: 507

Bridgewater Township Supervisor
Bridgewater Township Clerk
Bridgewater Township Treasurer
Bridgewater Township Trustee
R. Geoffrey Oliver, R, 69
Wes Cowden, R, 77
David C. Faust, R, 107
Bridgewater Township Constable

Dexter Township Supervisor
Kathryn M. Bowring, R, 187
James L. Drolett, R, 401
Dexter Township Clerk

Harley B. Rider, R, 495



Dexter Township Treasurer

Libby Brushaber, R, 367
Mark A. Wojno, R, 208

Dexter Township Trustee (four)

Michael Howard, R, 363
John T. Emerick, R, 337
Bill Gajewski, R, 342
Carl J. Lesser, R, 426


Freedom Township Supervisor

Freedom Township Clerk

Freedom Township Treasurer

Kenny E. Siler,R, 67
Rudy T. Layher, R, 139

Freedom Township Trustee

Dennis E. Huehl, R, 162
Daniel L. Schaible, R, 168


Lima Township Supervisor

Craig A. Maier, R, 456
Kenneth B. Unterbrink, R, 79
Robert Spink, R, 31

Lima Township Clerk

Lima Township Treasurer

Nanette L. Havens, R, 453


Lodi Township Supervisor

Karen Edman, R, 71
Jeffrey Feldkamp, R, 220
Janann Godek, R, 392

Lodi Township Clerk

Lodi Township Treasurer

Michelle K. Foley, R, 596

Lodi Township Trustee

Byron Staebler, R, 472
William Lindemann, R, 522
Margaret Canham-Keeley, R, 486
Donald A Rentschler, R, 540


Lyndon Township Supervisor

Lyndon Township Clerk

Lyndon Township Treasurer

Lyndon Township Trustees

John H. Francis, R, 146
Robert Mester, D, 110


Manchester Township Supervisor

Leslie Kopka, R, 153
James Schiel, R, 30
Gene DeRossett, R, 435

Manchester Township Clerk

Manchester Township Treasurer

Manchester Township Trustee

Lyle A Widmayer, R, 411
Carl E. Macomber, R, 402
Pete Stumpo, R, 311

Manchester Township ballot proposal

Extra Voted Operating Proposal
Yes: 596
No: 290


Northfield Township Supervisor

Debra Mozurkewich, R, 305
Marilyn Handloser Engstrom, R, 529
Richard K. Rohrer, D, 270

Northfield Township Clerk

Michele K. Manning, R, 424
Deborah J. Anderson, R, 364

Northfield Township Treasurer

Robert Erickson, D, 268
Kathy Braun, R, 618

Northfield Township Trustee (four)

Wayne F. Dockett, R, 412
Jacqueline R. Otto, R, 373
Samuel J. Iaquinto, R, 327
Mark Stanalajczo, R, 330
Michael J. Magda, D, 179
Athena Trentin, D, 197
Lisa C. McCully, R, 334
Alan D. Smith, R, 295
Douglas R. Del Favero, D, 180
Jeffery Vega, R, 363
Janet M. Chick, R, 376
David E. Gibbons Jr., D, 189
Tracy S. Thomas, D, 236


Pittsfield Township Supervisor

Pittsfield Township Clerk

Pittsfield Township Treasurer

Patricia Tupacz Scribner, D, 919

Pittsfield Township Trustee

Gerald Krone, D, 755
Frank F. Lotfian, D, 740
Chol Yi, D, 765
Stephanie Hunt, D, 843

Pittsfield Township Park Commissioner
(five)

Karen A. Zera, D, 611
Cleveland Chandler, D, 460
Patricia Stanton-Kawalec, D, 521
Deborah Hoffman, D, 632
Theresa S. Tupacz, D, 576
Joan Coxton, D, 500
John R. Vidolich, D, 344


Salem Township Supervisor

Robert E. Heyl, R, 393
Gary Whittaker, R, 1069
Susan Bejin, R, 204

Salem Township Clerk

Carol Liogghio, R, 519
Del Wensley, R, 1092

Salem Township Treasurer

Paul J. Uherek, R, 437
Dale Converse, R, 1204

Salem Township Trustee (four)

Patrick Curley, R, 342
Doug Shepherd, R, 383
Wayne W. Wallazy, R, 613
John Daniel, R, 895
T.J. McLaughlin, R, 904
Maribeth Schmidt, R, 935
Dennis Draplin, R, 344
David Trent, R, 1088
Sandra L. Petroskey, R, 506


Saline Township Supervisor

Saline Township Clerk

Saline Township Treasurer

Saline Township Trustee

Robert Julius Marion, R, 103
Robert L. Prehn, R, 97


Scio Township Supervisor

E. Spaulding Clark, D, 837

Scio Township Clerk

Scio Township Treasurer

Scio Township Trustee

David S. Read, D, 697
Richard A DeLong, D, 709
Jack Knowles, D, 702
Christine Green, D, 793


Sharon Township Supervisor

Peter Psarouthakis, R, 223
Roger H. Kappler, R, 147
Corey Schmitt, R, 29

Sharon Township Clerk

Teri L. Aiuto, R, 202
Chelsea Mikel, R, 205

Sharon Township Treasurer

Brian Simons, R, 246
Kathryn A. Parrish, R, 146

Sharon Township Trustee


Superior Township Supervisor

William McFarlane, D, 601

Superior Township Clerk

David M. Phillips, D, 583

Superior Township Treasurer

Brenda L. McKinney, D, 603

Superior Township Trustee
(four)

Lisa Lewis, D, 484
Nancy E. Caviston, D, 461
Alex Williams, D, 429
Rodrick Green, D, 457

Superior Township Park Commissioner

Marlon E. Morris, D, 412
Mirada C. Jenkins, D, 423
Sandi Lopez, D, 428
Terry Lee Lansing, D, 396
Martha Kern-Boprie, D, 430
Janice Berry, D 453

Superior Township ballot proposals

Proposal 1: Renewal of fire millage
Yes: 930
No: 261

Proposal 2: Renewal of law enforcement millage

Yes: 915
No: 269

Proposal 3: Master plan and zoning ordinance defense millage

Yes: 705
No: 464


Sylvan Township Supervisor

Sylvan Township Clerk

Douglas M. Smith, R, 659
LuAnn S. Koch, R, 255

Sylvan Township Treasurer

Rodney J. Branham, R, 647
Arlene J. Grau, R, 261

Sylvan Township Trustee
(two)

Kurt P. Koseck, R, 634
Reuben A. Lesser, Jr., R, 237
Roy Schmidt, R, 622
Sandra J. Egeler, D

Sylvan Township ballot proposal

Proposal for new millage increase
Yes: 480
No: 473


Webster Township Supervisor

John V. Kingsley, Jr., R, 356

Webster Township Clerk

Webster Township Treasurer

Webster Township Trustee (four)

Charles L. Estleman, R, 210
Robert J. Mitzel, R, 187
Bradley Gibson, D, 149
Gary J. Koch, R, 295
Richard Kleinschmidt, R, 284
John H. Westman, R, 300


York Township Supervisor

Joan Alexander, D, 254
John W. Stanowski, R, 369
Joe Zurawski, R, 139
Chuck Tellas, R, 356

York Township Clerk

York Township Treasurer

Sally Benjamin Louis, R, 651

York Township Trustee
(four)

Jane A. Kartje, R, 417
Jill A. Hargrove, R, 464
Thomas L. Preston, R, 396
Brian F. Iott, R, 551
Dan C. Pichla, R, 505
Gary Zajac, D, 232

York Township ballot proposal

Tax limitation and levy proposal (public safety renewal)
Yes:636
No: 420


Ypsilanti Township Supervisor

Brenda L. Stumbo, D, 3467
John H. Hoops, D, 610
Brenda Meadows, D, 439

Ypsilanti Township Clerk
(one)

Karen Lovejoy Roe, D, 3025
Ruth Ann Jamnick, D, 1490

Ypsilanti Township Treasurer

Larry Doe, D, 2678
Larry D. Davis, D, 1737

Ypsilanti Township Trustee
(four)

Jean Hall Currie, D, 2963
Scott Martin, D, 2205
Stan Eldridge, D, 2480
Mike Martin, D, 2368
Maria Sheler-Edwards, D, 1473
Sylvia D. Spurlock, D, 1395
Carlton A. Fields, D, 1178
S.A. Trudy Swanson Winston, D, 1091

Ypsilanti Township Park Commissioner
(nine)

William M. Odom, D, 1688
Richard Roe, D, 2530
Carissa Collins Watson, D, 1938
Monica Ross-Williams, D, 2041
Gail Boyd-Palmer, D, 2030
Lonnie Scott, D, 2498
Keith P. Jason, D, 2208
Jimmie Maggard, D, 2038
Debbie Swanson, D, 2470
Jasmine Mackey, D, 2436
Evan Hayes, D, 2292


State & County Candidates


State Representative - District 52
(2-year term)

Mark Ouimet, R, 7410
Gretchen Driskell, D, 3338

State Representative - District 53 (2-year term)

Jeff Irwin, D, 5541
Thomas Patridge, D, 725
John J. Spisak, R, 1176

State Representative - District 54 (2-year term)

David Rutledge, D, 2555
Bill Emmerich, R, 713

State Representative - District 55 (2-year term)

Andrea Brown-Harrison, D, 1846
Owen Diaz, R, 2279
Adam Zemke, D, 3193

County Clerk/Register of Deeds (4-year term)

Lawrence Kestenbaum, D, 16001
Stanley F. Watson, R, 10395

County Water Resources Commissioner (4-year term)

Evan Pratt, D, 10611
Harry G. Bentz, D, 3931
Eric Scheie, R, 10347

County Prosecuting Attorney
(4-year term)

Brian L. Mackie, D, 16134

County Sheriff
(4-year term)

Jerry L. Clayton, D, 16258
Jeffrey R. Gallatin, R, 10517

County Treasurer
(4-year term)

Catherine McClary, D, 15844
Marlene Chockley, R, 10562

22nd Circuit Court Judge - Non-Incumbent (6-year term; two advance)

James A. Fink, 13208
Carol Kuhnke, 9493
Douglas G. McClure, 3689
Erane C. Washington, 5423

14A District Court Judge - Incumbent
(6-year term)

15th District Court Judge - Incumbent (6-year term)

County Probate Judge - Incumbent
(6-year term)

County Commissioner - District 1
(2-year term)

Rob Turner, R, 2638
Kent Martinez-Kratz, D, 1710

County Commissioner - District 2
(2-year term)

County Commissioner - District 3 (2-year term)

Alicia Ping, R, 3047
Wesley Prater, D, 1330

County Commissioner - District 4
(2-year term)

Rolland Sizemore, D
Richard Deitering, R

County Commissioner - District 6
(2-year term)

Ronnie D. Peterson, D
David H. Raaflaub, R

County Commissioner - District 7
(2-year term)

Christina Montague, D, 1158
Andy LaBarre, D, 2198
David Parker, R, 707

County Commissioner - District 8
(2-year term)

Yousef Rabhi, D, 1361
Joe Baublis, R, 256

County Commissioner - District 9
(2-year term)

Conan Michael Smith, D, 3938
John Floyd, R, 672