Posted on
Thu, Jun 20, 2013 : 4:07 p.m.
University of Michigan Hospitals and Health Centers report break-even year in 2013 and positive outlook
By Ben Freed
Note: This article has been updated with the result of the regents' vote on the proposed FY 2014 budget.
The University of Michigan Hospitals and Health Centers reported to the Board of Regents on Thursday that it finished a turbulent 2013 fiscal year by breaking even.
The system told the regents that it expected to close the year with a positive operating margin of $2.1 million or one-tenth of a percent.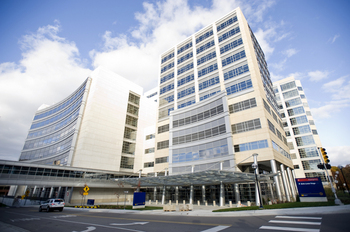 Joseph Tobianski | AnnArbor.com
The system's revenue totaled $2.374 billion in FY 2013, up 9.0 percent over the previous year and $69.1 million higher than the revenues forecasted at
last year's budget meting
.
Patient care activity grew by 4.1 percent during the year, and the type of patients admitted to the hospitals helped boost revenues.
"We saw a bit more favorable rate in commercially insured patients than we expected, and we've also seen a higher acuity patients than we expected," Health System chief financial officer Paul Castillo said.
He said partnerships with local hospitals including Trinity Health System hospitals and Chelsea Community Hospital allowed the hospital to send less acutely ill or injured patients to other hospitals in order to allocate resources to the patients with the most severe needs.
Expenses were also higher than expected, led by costs in the implementation of the MiChart program that were significantly higher than expected.
"We knew for five to eight years that we were building a new facility and that would push our operating margin down to less than normal, and then it would gradually climb back up again," Hospitals and Health Centers CEO Doug Strong said.
"What happened during this year was in addition to that, the investment in MiChart had a greater negative impact than we expected. It was kind of a double dip."
The double dip led to some warning signals earlier in the year that indicated the hospital system would have difficulty meeting the goals it set for itself at last year's regent's budget meeting.
"Improvement was always expected, just the slope was a little bit deeper than we expected and the improvement was delayed by a few more months than we thought," Strong said.
University vice president and Health System CEO Ora Pescovitz sent an email to employees in December warning that lower than expected revenues would lead to a significant shortfall in the system's budget if significant changes were not made to cut expenses.
Shortly before the email was sent, Moody's Investors Services downgraded the Hospital's bond rating to Aa3 from Aa2.
"It was a slight downgrade, but the reality is that we still have a strong credit rating," Castillo said.
"At the time Moody's was evaluating us in the fall of 2012 they were looking at the July, August and September numbers so they didn't really have the opportunity to see how we would finish the year, which ended up being stronger."
A major focus helping the turnaround was a focus on utilization of personnel resources, Castillo said. Across the health system, departments scrutinized how they were using overtime and temporary staffing to look for cost containment measures.
Strong and Castillo both said the performance of the health centers and hospitals improved dramatically in the second half of the fiscal year and that the improvement is expected to continue into the 2014 fiscal year.
In the budget presented to the regents, Strong anticipates a positive operating margin of $19.2 million or 0.8 percent for FY 2014. In a chart included in his budget presentation, the hospitals and health centers project improving that margin to 2.0 percent the following year.
The regents unanimously approved the FY 2014 budget for the University of Michigan Hospitals and Health Centers at their June 20 meeting.
"We're starting to see a return on the investments that we've been making with the new Mott Hospital and the MiChart implementation," Castillo said.
"We expect to continue to reap the benefits from those investments."
As early as next year, the hospital system expects to receive more than $10 million in grants from the federal government as part of an incentive program for hospitals to transfer to electronic medical record keeping systems.
Strong said that the final implementations of the MiChart program will occur in summer 2014.
"We're completing a multi-year cycle of major investment in IT infrastructure," he said. "That will allow us to deploy our dollars in places other than IT as we move forward."
Castillo said that with the end of the IT investment cycle, more money will be available for investment in bricks and mortar projects and other hospital equipment upgrades.
Two major brick and mortar projects scheduled to move forward in fiscal year 2013, a major renovation to the old Mott Children's Hospital and the renovation of a building in the North Campus Research Complex, have been deferred indefinitely.
Payroll expenditures for the hospitals increased by 7.1 percent in FY 2013 as staff was hired to fill the new buildings. An additional 5.9 percent, or a $71.5 million increase, is expected in FY 2014.
Faculty physicians that work within the UMHS are paid through the university's Medical School budget and also earn a share of the clinical revenues they bring in from billing insurance for the care they provide, Kara Gavin, lead public relations representative for UMHS told AnnArbor.com in an earlier interview.
The Hospitals and Health Centers budget includes the pay of some physician leaders and the salaries of 1,100 medical residents, as well as Medical School trainees.
Ben Freed covers business for AnnArbor.com. You can sign up here to receive Business Review updates every week. Get in touch with Ben at 734-623-2528 or email him at benfreed@annarbor.com. Follow him on twitter @BFreedinA2