Posted on
Sun, Jul 25, 2010 : 1 p.m.
Chickens, bees and budgets: Ypsilanti Mayor Paul Schreiber, challenger Pete Murdock discuss the issues
By Tom Perkins
During a recent mayoral meet and greet at the Ypsilanti Senior Center, Ypsilanti Mayor Paul Schreiber pointed out he was the first person ever interviewed by "Puppet Mark Maynard" on the local blogger's talk show, "Dreamland Tonight."
Schreiber conceded the badge of honor might not be what moved the seniors to put a check next to his name on the ballot.
"Maybe it might not excite a lot of people here," he said.
But the point, he says, is that he reaches out to all groups within city - be it the seniors who gathered that night or the community's younger artists who are more likely familiar with Maynard and his puppet alter-ego. In short, Schreiber says, he is a "consensus builder."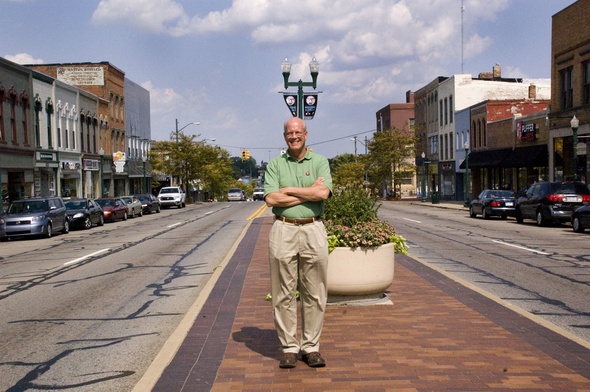 Tom Perkins | For AnnArbor.com
But his challenger, Council Member Pete Murdock, sees Schreiber's leadership style differently and says it's time for a change. He says Schreiber didn't show strong leadership during budget discussions over the last two years.
Murdock credited himself with certain initiatives that saved jobs and money in the city.
"We're a policy and legislative body, and it needs leadership to do those things," he said.
Murdock worked with City Manager Ed Koryzno in June to develop an amendment cutting the police force by 2.5 positions instead of five. He was also a proponent - as was Schreiber - of 5-percent wage reductions for the fire department instead of layoffs.
Murdock also pointed to an energy efficiency and conservation fund he proposed that will take savings from energy-reduction measures at city buildings and put them into a revolving fund for future improvements.
Schreiber acknowledged Murdock "has spearheaded some legislation," but called council "a team effort."
"I think I've been a part of the team," Schreiber said, while pointing to his recent initiatives to develop ordinances regulating owning chickens and bees in the city.
"Being mayor is more than just casting votes at the council table, and I think people can look at my record and know what they're going to get," he said. "People need to look at what happened in the '80s and draw their own conclusions as to what type of mayor Pete would make in the 21st century."
Murdock has long been involved in Ypsilanti politics, including several terms on council before serving as mayor from 1982 to 1989. Since he was defeated in the 1989 mayoral race by a Republican, he has been elected to council twice. He counts his experience as one of his assets.
Among his accomplishments in the last four years, Schreiber cites guiding the city budget process and transforming the city from an industrial one to a city based in arts, entertainment and education.
Schreiber also called the role of the mayor weak per the city charter, noting a large part of the role is to communicate and willingly work with those in the city and around the county to help move the city forward.
"We have respect like we haven't had since I became a resident here," Schreiber said. "We now have an exciting downtown, and it's growing and changing .… Our future is in the arts, entertainment and education, and the fact that Ypsilanti is being viewed in that light is a huge accomplishment. I think you need a mayor who is willing to embrace and encourage that."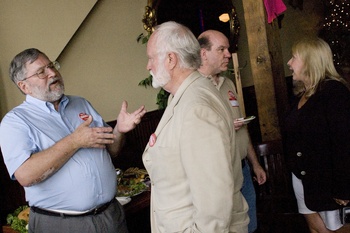 Tom Perkins | For AnnArbor.com
Murdock said he wants to make Ypsilanti a more attractive place for businesses by making it safe and clean. He pointed to agencies like SPARK East, the Chamber of Commerce and others affiliated with Eastern Michigan University and said coordinating their efforts should be a focus more than developing another entity to do so.
"Make Ypsilanti a clean, safe place to be - that's a focus we should have governmentally," he said. "That goes a long way to begin bringing people here, to live here, to start their business here."
Murdock said that was part of the reason he pushed to fund a business district beat officer, which will in part be funded by the Ypsilanti Downtown Development Authority.
To that end, Murdock said he has been pushing for a "blight court," which the City Council is currently discussing. Murdock heard about the idea at a Michigan Municipal League meeting around a year ago and said the concept is to develop an administrative court comprised of city officials who can more quickly address blight-related infractions as a civil case.
"We need to figure a way to accelerate that process so we can intervene before the properties become totally derelict and need to be torn down," Murdock said. "When they get to that point, we need to do that in a fairly quick manner so they don't impact the neighborhood."
Murdock also suggested continuing to employ the services of Habitat for Humanity and the Washtenaw County land bank, should it be established.
Schreiber has been a big proponent of the land bank, which is a county entity that could buy foreclosed homes to rehabilitate and sell or demolish. He served on the board of directors until it was dissolved and has advocated for it to be formed again.
Schreiber said the next four years will require the city to pay special attention to where it can find matching funds, such as using the county's undercover narcotics task force or its transportation arrangement with the Ann Arbor Transportation Authority.
Both candidates have expressed their full support of a millage that would provide a dedicated source of funding for public transportation in Ypsilanti, which Murdock first suggested during service negotiations with the AATA.

Murdock and Schreiber also both agreed the city needs to continue to work with surrounding communities, engage with the county and seek grants, like the $1 million recently obtained to help clean up Water Street.
"We have to spend our money judiciously and keep our city services," Schreiber said. "The only reason our service level is as good as it is is we have an excellent group of employees, especially our police department. You need to have a good city council, a good mayor and good city manager in order to be able to keep a team together."
Schreiber has pushed for updated zoning ordinances for Water Street and said giving city staff and developers an idea of what the city wants to see is key to attracting development. He also said he is feeling confident the redevelopment of downtown could help spur development on Water Street.
"I see it being more of an westward extension of downtown," he said. "I think, ironically enough, when it was originally proposed it was thought it would bootstrap downtown, but I think the opposite is going to happen."
Murdock maintains the zoning should be left as it is.
"I think you want to leave it as broad as possible so you can accommodate a variety of things, yet unknown, on that site instead of locking it into a certain development scheme," he said. "I don't believe that 'If you zone it, they will come.' It just doesn't make sense. In any event, I don't see people beating down the doors very soon."
The Water Street issue is particularly crucial because the city has four years of reserves to make payments on debt before those savings are depleted. Murdock said the best the city can do is hope for some development to ease the strain on the city funds.
"We have these resources and we have to set them aside for that debt because we are likely to need them," he said of the $10 million in reserves.
Schreiber said the city needs to keep working through legisIation that saves it money and communicating the problems it faces to the state level.
"I don't know if there isn't a municipality that doesn't have a doomsday scenarios in four years," he said.
Neither candidate will be in attendance for a facilitation session with developer Stewart Beal and his attorneys ordered by Judge Shelton for Aug. 10 because they will be on vacation. Schreiber voted for a plan presented by Beal to rehabilitate the Thompson Block property in April, while Murdock voted against it. The issue is now in litigation.
"I think it's clear city council should have accepted the plan in April," Schreiber said. "It separated safety versus development ... the judge is not taking the argument of Mr. Beal being in the right-of-way trumping his right of to keep his building up."
At the meeting with the senior citizens, Schreiber told the group each candidate has his strengths, and if Schreiber is re-elected, Murdock will remain on council. He said "the council table is big enough for both of us," and a vote for him keeps both in their positions.
Murdock called the assertion the "oddest campaigning" he has ever heard, and said if he wanted to be on council, he would have sought re-election when the time came.
"It's nonsense. The mayor is slightly different, and what I'm saying is I would provide leadership better than he would. I think I've been showing that over the last two years," he said.
Tom Perkins is a freelance writer for AnnArbor.com. Reach the news desk at news@annarbor.com or 734-623-2530.