Posted on
Sun, Feb 3, 2013 : 5:59 a.m.
Harbaughs through the years: A timeline of Ann Arbor's relationship with Super Bowl XLVII's first family
By Pete Cunningham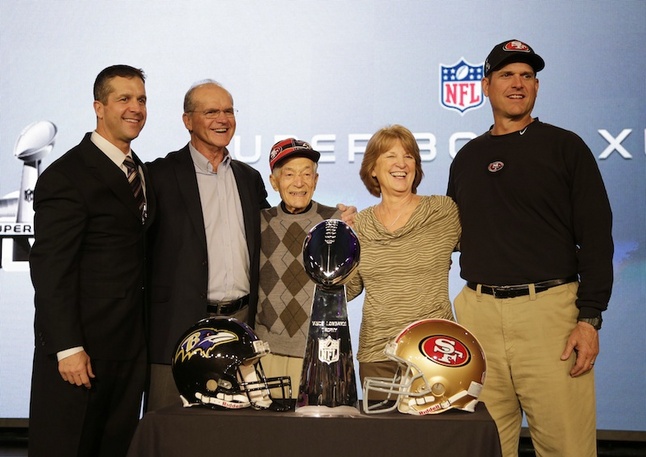 Associated Press
Editor's Note: This is the fourth and final article in a series of articles about the Harbaughs' time in Ann Arbor.
Related Stories:
On Sunday, brothers John and Jim Harbaugh will face off on football's biggest stage in Super Bowl XLVII in New Orleans, with John coaching the Baltimore Ravens and Jim the San Francisco 49ers.
Long before the brothers' respective rises to prominence in the NFL coaching ranks, they were running around the practice field at the University of Michigan while their father, Jack Harbaugh, coached the Wolverines' defensive backs.
Ann Arbor News archive
The Harbaughs have been connected to the area since 1973 and for Jim in particular -- who returned to quarterback the football team his father once coached and was long rumored as a coaching candidate -- that connection is one often referenced.
Here's a look at the Harbaughs' Ann Arbor connections through the years:
Welcome to the neighborhood
The Harbaughs arrived in Ann Arbor in 1973 by way of Iowa City, Iowa where Jack was an assistant coach for the University of Iowa football team. His boss at Iowa was none other than the predecessor of legendary Michigan football coach Bo Schembechler, Bump Elliott, who was athletic director at Iowa from 1970-91.
Jack told the Ann Arbor News in 1973 that Elliott gave him a glowing review of the area before coming to town. Jack also said he was excited at the prospect of John and Jim, 11 and 10 at the time, having the same football coaches at Pioneer High School as Bob Elliott.
Ann Arbor News file photo
Harbaugh said, "I can honestly say that Bob is the most coachable, the most dedicated individual I've ever coached."
Harbaugh worked under then-defensive coordinator and eventual Schembechler successor Gary Moeller with the goal of never giving up anything "over 25 yards on defense."
Jack coached at Michigan from 1973-79 with the Wolverines winning at least a share of five Big Ten championships while he was on staff and making it to the Rose Bowl in 1976, 1977 and 1978 and finishing ranked No. 3 in the country in 1976.
It was those trips to Pasadena with his father that Jim would later say made him want to lead Michigan to a Rose Bowl one day.
Four defensive backs earned All-America honors under Jack's direction, including Pioneer alumnus Don Dufek in 1975. Dufek recalls Jack as a coach who made football fun.
"He came into work every day having fun and making it really fun for you," Dufek said.
Dufek also recalled two kids running around the field all the time that obviously had a knack for football. Little did he know those kids, John and Jim, would one day be coaching against each other in the Super Bowl.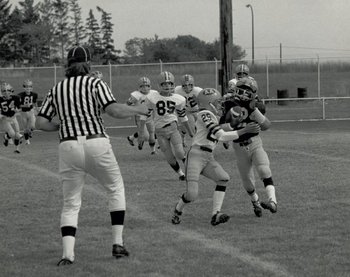 Photo courtesy of David Thayer
"(John and Jim) they'd come down to see their dad and they were I think about 11 or 12 years old, so they were just at the age where they were old enough to be able to understand football and so they'd come down and they were like two little rug rats here having fun, so it was fun. …they'd be rumbling around like kids do," Dufek said.
Of course Jim and John didn't spend their entire childhoods at the Michigan practice field. They had their own football teams to play for.
In 1974 that team was the Ann Arbor Junior Packers of the Ann Arbor Junior Football league.
A former Packers teammate of the Harbaughs, David Thayer -- now a psychologist in Kalamazoo -- remembers the two being serious about their football and that they "knew their stuff," when it came to the gridiron, even at a young age.
"They were very intense and very competitive right from the start," Thayer told MLive.com's David Drew. "If we ran around the entire practice field, they were vying to be in the front of the line. It was pretty incredible right from the start."
Both would also play at Tappan Junior High School (later Tappan Middle School). Most remember Jim as the confident and competitive one of the two from their early days.
But John was no slouch. John's Tappan football teammate Lloyd Rowry, who also played with both John and Jim at Pioneer, recalls John as a fierce defender.
"John would stick his head down and he'd hurt you, I guarantee you that John would stick you," Rowry said.
Jim would go on to far surpass his older brother on the field, starring at quarterback for Pioneer and Palo Alto high schools, becoming an All-America at Michigan and a first-round NFL draft choice by the Chicago Bears before playing for 14 years in the NFL and coming within a dropped pass in the end zone of going to the Super Bowl as a player.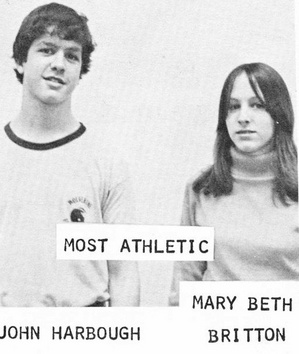 But John can always say he was voted the "most athletic" his ninth grade year at Tappan in 1977, a distinction Jim did not receive when he was a ninth grader at Tappan in 1979.
High school teammates
After Tappan, the Harbaugh brothers would both move on to Pioneer High School. John began high school in the fall of 1977 as a tenth grader -- high school was from grades 10-12 then -- and would graduate from there in 1980.
Jim would only spend one year at Pioneer as Jack accepted a job as defensive coordinator at Stanford University after the 1979 season. Jim was head coach at Stanford from 2007-10, prior to accepting his job with the 49ers.
The one year the brothers spent in high school together, they weren't expected to be teammates. Jim was designated the backup JV quarterback prior to the season while John was expected to be a starting defensive back on the varsity squad.
Jim quickly won the starting JV spot, but that's still two steps below starting on varsity, which is where John was.
John injured his knee and was out the first six weeks, according to an old Ann Arbor News report, and by the time he returned, Jim had arrived. Jim was moved up to varsity after the team started 0-2 and scored just three points combined in the two contests. Jim came in in relief as Pioneer was getting blown out in the fourth game of the season and never left.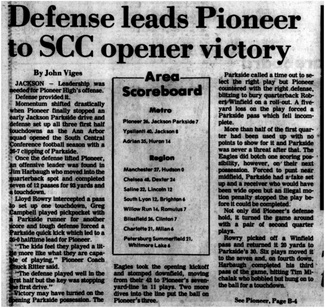 "We may make some changes. We're going to find out who the kids are that want to play and get some of the others out of there. Some are just not doing the job," former Pioneer coach Chuck Ritter told the Ann Arbor News after that fourth game.
Jim started the next game and Pioneer won. He was Ritter's guy the rest of the way and the Pioneers went 3-2 in the games he started.
After the season John Viges of the Ann Arbor News lamented that the season could have been a good one if not for injuries to key players like John Harbaugh.
Ritter looked forward to two more years with Jim as his starting quarterback
"He's going to be a good one," Ritter said of Jim.
Ritter was correct, but Jim wouldn't be "a good one" at Pioneer as the family moved to Palo Alto when Jack accepted the Stanford job. Pioneer finished 8-1 and ranked No. 7 in the state by the Associated Press in 1981, its only loss coming to Ypsilanti by a score of 3-0.
What might have been of that team if the Harbaughs hadn't left for California?
Ann Arbor would get its Jim Harbaugh fix eventually though.
Returning home
After finishing his high school career Palo Alto High School, Jim Harbaugh returned to Ann Arbor as a quarterback for the Michigan football team and by 1984 was named starter as a sophomore.
Ann Arbor News file photo
Harbaugh broke his arm in the fifth game of the season against Michigan State and the worst season in the Bo Schembechler-era, 6-6, was the result. His two healthy seasons would be two of Bo's best.
In 1985 Harbaugh led the nation in passing efficiency and Michigan went 10-1-1 and finished ranked No. 2 in the nation.
Michigan won its first nine games of the 1986 season before losing to Minnesota prior to its regular season finale against Ohio State in Columbus.
Harbaugh guaranteed victory over Ohio State just two days after Minnesota had ruined the Wolverines' national championship aspirations.
"I guarantee we will beat Ohio State and be in Pasadena New Year's Day," Harbaugh said to reporters. "People might not give us a snowball's chance in hell to beat them in Columbus. But we're going to."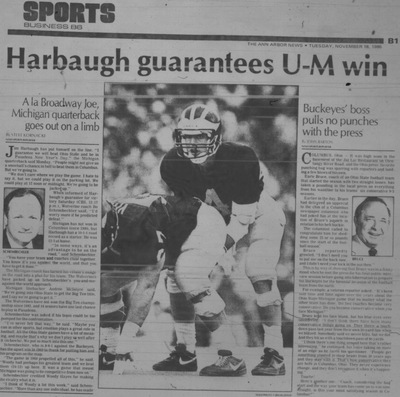 Ann Arbor News archive
When Schembechler was asked if he was worried about his quarterback making the prediction he famously replied, "I'd worry more if he predicted defeat."
"Very few people during Bo's era would have broken ranks and spoke out like that. Harbaugh was very distinctive that way. I can think of very, very, very few other players that would do that," recalls Geoff Larcom, who was an assistant sports editor at the Ann Arbor News from 1982-85 and sports editor from 1988-2000 and worked in a similar capacity for the Detroit News in between. "He was a beacon of brazen confidence. A lot of other kids may have thought that way, but never would speak out like that.
"Harbaugh was one fearless cat."
Harbaugh was a goat in Ann Arbor at the time of the guarantee, but it became the most famous part of his Ann Arbor legend after he delivered the following week with the Wolverines beating the Buckeyes, 26-24.
Misfortune for the Harbaugh family earlier in the week made for a poetic moment after the game as Jim looked up into the stands and saw Jack and John in the stands celebrating.
Neither had employment responsibilities to attend to after Jack had been fired from his job as head coach of Western Michigan earlier in the week. John, one of Jack's assistants at the time, was out of a job as well.
"I was thrilled for Jim," John told Ann Arbor News reporter Steve Kornacki after the win over Ohio State. "Ever since Jim was 10 years old he said he was going to take Michigan to the Rose Bowl."
"As I ran off, I saw the smilling faces of my dad, mom and family. That's something I'll never forget," Jim told reporters after the game.
Jim would be named All-America, finish third in the Heisman voting that year and leave Ann Arbor as Michigan's all-time leader in passing yards (5,449), completed passes (387) completion percentage (62.4) and efficiency rating (145.6) among other things.
NFL playing career/charity golf
Booth Newspapers file photo
Jim Harbaugh was selected with the 14th overall pick by the Chicago Bears in the first round of the NFL Draft in 1987. He went on to a 14-year NFL career, including a brief stint on the practice squad/offseason roster of the Detroit Lions near the end.
In 1995 Harbaugh led the Indianapolis Colts to the AFC Championship game and was a dropped pass away from making the Super Bowl as a player.
During his pro career and after, Harbaugh hosted an annual celebrity golf outing in Ann Arbor to support local charities.
"He was one of the first people around to stage charity golf tournaments, to lend his name to charity golf tournaments after he was drafted by the (Chicago) Bears," Larcom said. "I think Harbaugh was one of the first to do that in Ann Arbor."
"I always thought that was pretty cool that Jim was the first to do that."
Such efforts have since been carried on by Charles Woodson, Brian Griese, Steve Hutchinson and several other former Michigan players.
Not a Michigan man?
MLive Media Group archive
After years of being the golden boy in the eyes of the Michigan faithful and thought to be a candidate to succeed then Michigan football coach Lloyd Carr after a promising start to his college coaching career, Jim Harbaugh earned himself some enemies at his alma matter.
Harbaugh called out the academic practices of the athletic department when promoting the academic environment of Stanford.
"Michigan is a good school and I got a good education there, but the athletic department has ways to get borderline guys in, and when they're in, they steer them to courses in sports communications. They're adulated when they're playing, but when they get out, the people who adulated them won't hire them," Harbaugh told a San Francisco Chronicle reporter prior to the 2007 season, his first as head coach at Stanford.
Michigan's all-time leading rusher Mike Hart and Carr himself, among others, chastised Harbaugh for the comments. Hart said Harbaugh was "not a Michigan man," at Big Ten media days, and Carr called the comments "elitist" "arrogant" and "self serving."
If they were self serving, they certainly didn't serve Harbaugh well when Carr retired following that season. Many believe it's those comments that kept him from being considered a serious candidate for the Michigan job after Carr's retirement.
A seven month Ann Arbor News investigation couldn't prove whether the comments were self serving, arrogant or elitist, but it did in many ways find them to be one thing: accurate.
When Rich Rodriguez flailed at Michigan as Harbaugh thrived at Stanford, Michigan fans didn't care what he'd said before, they wanted Harbaugh as their coach and they wanted him now.
But it was too late.
The NFL mountaintop
After Rodriguez was fired in 2011, it was a foregone conclusion to some that Jim Harbaugh would take over as head football coach at Michigan. Michigan athletic director Dave Brandon spent most of the press conference announcing Rodriguez's firing discussing Harbaugh.
But Brandon mostly discussed how he thought Jim Harbaugh wanted to coach in the NFL, despite how much Michigan fans might want him to coach in what was once his home town.
"I personally believe Jim Harbaugh is heading to the NFL," Brandon said at the time. "But that's my opinion, as opposed to any qualified judgment."
"I have talked to Jim Harbaugh," Brandon added. "I will continue to talk to Jim Harbaugh. He's a Michigan man."
Michigan reportedly offered Harbaugh $5 million to become its next head coach, but he respectfully declined. Turns out, Brandon's opinion was correct.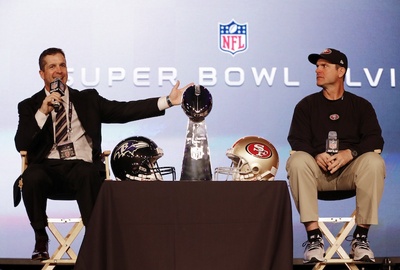 Associated Press
Harbaugh accepted a five-year, $25 million contract with the 49ers, but not without a nod to his alma matter.
"It's with great humility that I tell you I had some options at the college level and pro teams. Two I'd like to highlight, Stanford and Michigan, both of which I consider my universities. They have great leaders and will hire great coaches," Harbaugh said at his introductory press conference with the 49ers.
And with that the Harbaugh back to Michigan dream died, but the dominoes do not stop falling there.
When Brady Hoke was hired at Michigan one of the first members added to his staff, and arguably the most vital, was defensive coordinator Greg Mattison.
Before coming to Michigan, Mattison was defensive coordinator for the Baltimore Ravens for three years under head coach, John Harbaugh.
"We completely respect the decision Greg made to join the Michigan football program. He has loved Michigan since working there earlier in his career," John Harbaugh said in a statement when Mattison was hired at Michigan.
"We will miss him because he's a great coach, but also an even better person. The students there are the lucky ones. Not only will he teach them football to the highest level, he will influence them to be the best persons they can be. Greg is one of the good people you are fortunate to meet in your life. We are disappointed that he will not be coaching our defense, but we know that he is following a true love by returning to the Wolverines."
-- Kyle Austin, Ben Freed and Melanie Maxwell contributed to this report.
Pete Cunningham covers sports for AnnArbor.com. He can be reached at petercunningham@annarbor.com. Follow him on Twitter @petcunningham.