Posted on
Wed, Nov 9, 2011 : 9:49 a.m.
Get to know Drake Johnson, Michigan's newest running back commitment
By Pete Cunningham
So who is this Drake Johnson character?
The latest Michigan football running back commit played his entire high school career in the shadow of Michigan Stadium at Pioneer High School. Because he's just a two-star recruit, he's a relative unknown on the national scene.
Well, he's been on AnnArbor.com's radar for quite some time. We've been following his exploits since his first game-winning touchdown in 2009.
So, allow us to introduce you to the talented Mr. Johnson:
Related story: Playing for Michigan a dream come true for Ann Arbor native Drake Johnson
Related story: How Drake Johnson's commitment affects Michigan football team's recruiting, courtship of Bri'onte Dunn

Welcome to varsity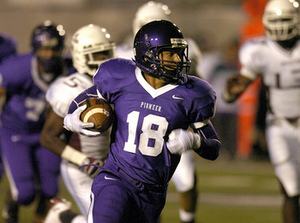 As a sophomore,
Johnson scored the game-winnning touchdown in his very first varsity game, played against the Devin Gardner-led Inkster Vikings
in the Big Day Prep Showdown at Eastern Michigan's Rynearson Stadium.
Trailing, 32-28, Johnson scored a 15-yard touchdown run with 35 seconds remaining. He finished with 13 rushes for 102 yards and two touchdowns.
Johnson wore No. 18 in that game, and for the year, because he had been called up to be a quarterback, which he played in middle school and ninth grade.
"If I'm going to be a quarterback, might as well be like Peyton Manning," he said of the number choice.
Johnson made the switch to tailback because of an injury to teammate Jeron Clayton and has been there ever since.
Johnson wasn't the only future Wolverine to shine in that game. Gardner was 9-of-13 passing for 114 yards and two touchdowns and ran for 111 yards and a score. Pioneer's Ricardo Miller, now a backup tight end for Michigan, had three catches for 44 yards and placekicker Jeremy Ross, a walk-on at Michigan, was 5-for-5 on extra points.
Johnson finished his sophomore season with 759 rushing yards, 10 touchdowns and was a first team Class A All-Washtenaw County selection.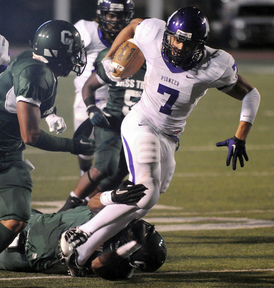 Lucky 7
Officially no longer a quarterback, Johnson switched to No. 7 before his junior season. As he put it, "I wanted a lucky number, ya know, lucky seven."
After being a complementary piece in Pioneer's spread attack as a sophomore, Johnson became Mr. Everything for the Pioneers as a junior.
That was clear from the first game of the year when Pioneer took on Detroit Cass Tech at the Big Day Prep Showdown.
Though Cass Tech won the game, 44-42, Johnson was star of the night. He scored five touchdowns in almost every way imaginable -- a 71-yard punt return, a 41-yard interception return, a 19-yard run and receptions of 18 and 26 yards -- and threw for another while racking up 325 all-purpose yards.
Said then-coach Jeremy Gold of the performance against Cass Tech: "I've never witnessed anything like that. ... I was talking with some friends who have been around ball for a while, seen players like Tyrone Wheatley, no one can recall a performance like that out of Drake Johnson Saturday night."
Johnson would be named to the Division 1-2 Associated Press All-State team after amassing 850 rushing yards and 10 touchdowns on 137 attempts and catching 17 passes for 312 yards and four touchdowns on the season.
Senior Power

And onto this year...where do we even begin?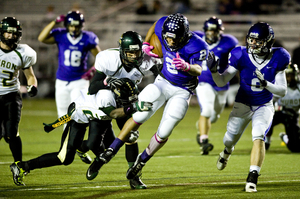 Joseph Tobianski | AnnArbor.com file photo
Let's start with yet another number change. Now that he finally had seniority in the locker room, Johnson switched to No. 2 because ... he grew up a Michigan fan in Ann Arbor. Do we really have to explain why?
Under the direction of new coach Paul Test, Pioneer became a traditional single-back running team, and when its starting quarterback went down with a torn ACL in Week 2, the offense was thrown on the shoulders of Johnson.
Johnson has proved up to the task, rushing for 2,757 yards and 37 touchdowns on 327 carries this season and has caught a touchdown pass. He has rushed for more than 200 yards for seven consecutive weeks and scored at least three touchdowns in eight consecutive games.
With his 348 yards against Temperance Bedford last week, Johnson surpassed the Washtenaw County record for yards in a season, 2,501, set by Milan's Ron Spears in 2007.
It was Johnson's third game of more than 300 yards this season. He rushed for 394 and six touchdowns in a 52-49 win over Skyline in Week 5 and 395 and five touchdowns in Week 6 against Bedford.
He is currently 133 yards shy of the state record for yards in a season.

He's really, really fast
Johnson is a two-time defending Division 1 state champion in the 110-meter hurdles and placed third as a freshman.
To win his first state title in 2010, Johnson beat out his older brother, Carter Johnson, who took third.
In 2011, Johnson had his sights set on the state-record, but settled for another-first place medal. He said the heat got to him, which exhibited itself later in the day when he was tripped up during the 300 hurdles.

Video highlights

Pete Cunningham covers sports for AnnArbor.com. He can be reached at petercunningham@annarbor.com or by phone at 734-623-2561. Follow him on Twitter @petcunningham.