Posted on
Sun, Jan 1, 2012 : 12:40 p.m.
Top 5 Michigan basketball stories of 2011
By Jim Knight
The Michigan basketball program experienced a great deal of gain and loss during the past year.
From the highs of a surprising return to the NCAA Tournament, to the lows of a plane crash tragedy and the passing of a former star, there's been no shortage of notable events recently.
The top five Michigan basketball stories of 2011, chosen by the AnnArbor.com sports staff:
5. Robert 'Tractor' Traylor
dies at age 34
Robert Traylor's teammates from his time with Michigan in 1995-98 remembered him fondly after they heard of his death in May from a heart attack.
"What I remember the most is his bigger-than-life presence," Ryan DeKuiper said. "A big heart and a big passion for enjoying the game and those are the things. He didn't have to treat me well. I was a walk-on, and he treated me very well, with a lot of respect."
Traylor was one of the more memorable players for the Michigan basketball team in the 1990s, even though records from those seasons were deleted from the university's record books in the wake of the Ed Martin booster scandal.
He averaged 13.3 points and 8.2 rebounds in three seasons at Michigan, and he was the MVP of the 1997 National Invitation Tournament and the MVP of the 1998 Big Ten tournament. He went on to a seven-year NBA career, averaging 4.8 points and 3.7 rebounds a game before playing in other leagues. He was playing for Vaqueros de Bayamon in Puerto Rico when his body was found in his San Juan apartment.
His heart trouble led to the end of his NBA career.
On April 19, 2005, Traylor was a member of the Cleveland Cavaliers. He scored a career-high 22 points, grabbed 10 rebounds and blocked two shots in 19 minutes of action in a 100-86 victory against the Boston Celtics.
He played the next night and scored three points. And then Traylor never played in the NBA again.
He failed a physical the next season with the New Jersey Nets and a year later had surgery on his aortic valve in his heart.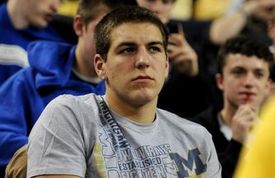 4. Top recruit Mitch McGary
commits to Michigan
Mitch McGary, considered the country's top power forward recruit, said it simply on a national television broadcast on Nov. 3.
"I'm going to Ann Arbor, Michigan, to become a Wolverine," he said.
With that, John Beilein's program beat out Duke and Florida -- the other finalists in the McGary sweepstakes -- and landed the Wolverines' highest-rated recruit since Pioneer High School's Lavell Blanchard.
A native of Chesteron, Ind. (Michigan senior guard Zack Novak's hometown), McGary transferred to Brewster Academy prior to the 2010-11 basketball season.
A left-handed, 6-foot-10, 260-pound big man with the ability to run the floor, dominate the glass and knock down the open jump shot, McGary became one of the country's hottest prospects in the summer.
"The lefty is a man in the lane and the other guys know it," ESPN senior basketball recruiting analyst Dave Telep wrote of McGary's performance in the NBA Top 100 camp in June. "He's a feared competitor who owns touch and has a passion for punking people at the rim. You play in rotations at camp but McGary begged to get double-shifted by his coaches.
"You want this guy on your team."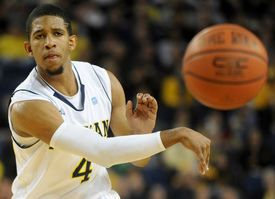 3. Darius Morris leaves
Michigan for NBA
Darius Morris' solid sophomore season -- 15 points, 4.0 rebounds, 6.7 assists per game -- led Michigan to the NCAA tournament. It also led Morris to the NBA. He declared his intention to leave Michigan on May 4, and he was drafted in the second round on June 23 by the Los Angeles Lakers.
"Darius is home, too," Beilein said of Morris, a Los Angeles native. "He's very comfortable there. He will attack this opportunity. That's his mindset, and it always is. When he's given an opportunity, he goes after it with everything he has, and I expect him to do no different."
Morris scored 11 points in his preseason debut with the Lakers, but didn't see any action in the Lakers' first four games.
2. Michigan recruit Austin Hatch injured, loses parents in plane crash
Austin Hatch, a member of the 2013 Michigan basketball recruiting class, is back in Fort Wayne, but he's not playing for the Canterbury School team. He continues to recover from injuries he sustained in a June 24 plane crash near Charlevoix that killed his father, Stephen, and step-mother, Kim.
Austin Hatch spent three months in the Munson Medical Center in Traverse City before going home. Normally, college coaches aren't allowed to talk about recruits, but the NCAA did allow Beilein to release a short statement about Austin Hatch on June 28.
"Austin needs as much support right now as possible and he continues to be in our thoughts and prayers during this difficult time," Beilein said.
It was the second plane crash Austin Hatch survived. Stephen Hatch was the pilot of a single-prop 1990 Beechcraft-Bonanza that crashed near Bluffton, Ind., on Sept. 1, 2003 on a flight from Boyne City to Fort Wayne. Stephen Hatch and Austin Hatch survived, but his wife, Julie; daughter, Lindsay; and son, Ian, died.

Sports Year in Review
STORIES: U-M football | U-M basketball | High schools | 'Other' sports
PHOTOS: U-M football | College sports | High school sports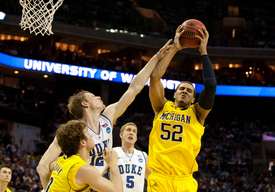 1. Michigan returns to
NCAA Tournament
On Jan. 22, the Michigan basketball team was off to a 1-6 start in the Big Ten Conference and was 1-7 in its previous eight games.
The Wolverines went on to win nine of their next 13 games and were selected for an NCAA Tournament berth. Once in the tournament, Michigan thumped Tennessee, 75-45, before losing in the second round to No. 3 Duke, 73-71. They finished 21-14 and entered the 2011-12 season full of confidence.
"It gives you a lot of faith and belief in what teamwork can do," Beilein said on March 20, after the loss to Duke. "What great young men can do if they are all on the same page, what you can do as a coaching staff if we all work off each other's strengths."
Michigan reached the second round with a lineup without a single senior. Sophomore guard Darius Morris averaged 6.7 assists and 15 points a game. Redshirt freshman forward Jordan Morgan started every game and averaged 9.2 points and 5.4 rebounds. Freshman guard Tim Hardaway Jr. averaged 13.9 points and 3.8 rebounds.
"We do like this foundation right now," Beilein said in March. "We think it has a higher ceiling than we're at, as long as we continue to grow."
Michigan is off to an 11-2 start in the 2011-12 season.