Posted on
Sun, Jan 1, 2012 : 12:39 p.m.
Top 10 high school sports stories of 2011
By Pete Cunningham
There were 49 individual and six team state titles won by Washtenaw County athletes in 2011, but that certainly wasn't all that happened.
There was tragedy, controversy, Major League pay days, worst-to-first resurgences and everything in between.
Here are the top 10 high school sports stories of the year, chosen by the AnnArbor.com sports staff: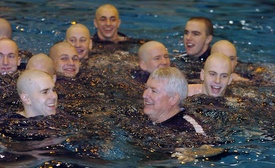 10. Out with the old: Firings and retiring
We can't possibly bring in the New Year without recounting the "out with the old" of the high school sports world, where there was plenty of high profile turnover in 2011. Whitmore Lake cross country coach Larry Bostwick was ousted for soliciting teen sex online. That made the controversy surrounding the firing of Dexter football coach Tom Barbieri -- who was fired for on-field performance, and filed a grievance with the teacher's union -- seem tame.
Some local legends were afforded more gracious exits in retirement. Denny and Liz Hill stepped down as coaches of the Pioneer girls swim team, which won 16 state titles since Denny started the program in 1973 . After 19 winning seasons in 25 years as coach of the Milan football team, Steve Robb called it a career, as did 23-year Chelsea athletic director, Wayne Welton.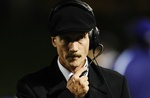 9. In with the new: Hires
There were some high-profile hires in 2011, as well, most recently at Saline where Joe Palka left one of the best football programs in Ohio to lead the Hornets. Palka's soon-to-be competition in the Southeastern Conference hired new coaches earlier in 2011. Skyline hired former NFL player Rod Jones as its coach and Pioneer re-hired Paul Test, who subsequently led the Pioneers to conference and district championships.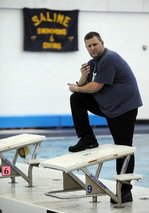 8. State champions
A staggering 49 individual championships and six team titles were won by Washtenaw County athletes over the past calendar year, including 16 individual and four team titles during this past fall season.
The rest of the championships were won during the latter part of the 2010-11 school year. The team titles were won last winter by the Father Gabriel Richard boys bowling team and the Saline boys swimming team -- which also won eight individual events. At the Division 2 boys swimming championships, Dexter won two relays and had an individual champion in Stephen Sobczak.
During the spring, Greenhills sophomore Henry Do won the Division 4 individual golf title and the Pioneer girls tennis team won the Division 1 No. 4 doubles flight. Dexter pole vaulter Andrew Herring and Pioneer hurdler Drake Johnson won state titles at the Division 1 track state championships, while Chelsea hurdler Mason Borders and distance runner August Pappas won titles at the Division 2 championships.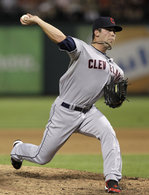 7. Pioneer graduate Zach Putnam gets Major League call-up
For years, Zach Putnam dominated on Ann Arbor baseball diamonds -- at Pioneer and the University of Michigan. In September, Putnam got a Major League call-up from the Cleveland Indians.
Things started off about as badly as they could. Putnam gave up a home run to the first batter he faced, Adrian Beltre of the Texas Rangers. Putnam eventually got his legs underneath him, and finished his season in front of family and friends at Comerica Park against his hometown Detroit Tigers.
"This time here had its ups and downs, but the underlying idea is it's awesome to be here," Putnam said. "Any chance I get to contribute and help this team is an awesome moment for me."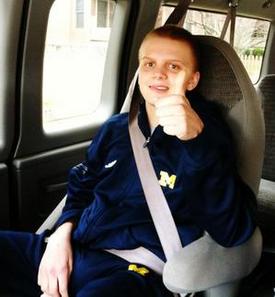 6. Chelsea High School cross country runners hit by car
On the morning of Sept. 2, the Chelsea High School boys cross country team was running on Freer Road when two runners were struck by a vehicle. While one runner was released from the hospital later that day, freshman Kersch Ray would lay in a coma for 10 days after suffering two broken legs and a closed head injury.
Ray was unable to speak until Oct. 24 and was not released from the hospital until Nov. 11. Ray's condition continues to improve, but it will be a long road to recovery.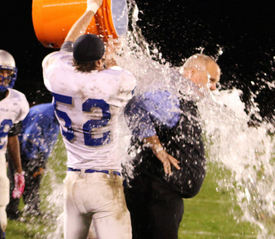 5. Lincoln football goes from winless to playoffs
Football team looking for an easy win? Schedule the Lincoln Railsplitters. That's been the case for the greater part of the program's history, but that changed in 2011 when Lincoln went from winless to its first ever playoff appearance. Of the 44 winless teams in Michigan in 2010, Lincoln was one of just three to make the playoffs in 2011.
The magical run ended in a 28-21 first-round playoff loss to Wyandotte Roosevelt, in which the Railsplitters led for most of the game against their highly ranked counterpart before falling 2 yards shy of the end zone on the game's final play.
"I'm very proud of this team and what they've accomplished," said Lincoln coach Chris Westfall ,who sees his team as more than just a flash in the pan. "Our program is headed in the right direction and I think its set up for sustainable success."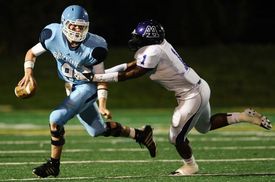 4. Skyline quarterback Andrew Copp breaks state passing record
Skyline quarterback Andrew Copp did his part to ignite the budding cross-town rivalry with Pioneer by throwing for a state record 557 yards in a 52-49 shootout on Sept. 24.
Copp threw for seven touchdowns, but would have traded all the gaudy stats for a win as his team fell short of the win to the playoff-bound Pioneers.
"It's heartbreaking right now," Copp said after the loss.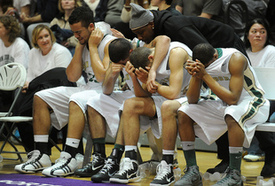 3. Top-ranked Huron basketball team ousted from state playoffs
The Huron boys basketball team spent the greater part of the 2010-11 season atop the Class A state rankings. When the River Rats avenged their 2010 state finals loss in a rematch with Kalamazoo Central early in the season, it seemed there was no one that could stop them.
That is until Detroit Catholic Central came to town and ousted Huron in the first round of a regional tournament.
Making the sting of the early playoff loss even greater was the fact that Kalamazoo Central would go on to repeat as state champions. Senior captain A.J. Mathew would reflect on the loss in a blog post for AnnArbor.com:
"The night of the loss was painful, one of the most painful nights my teammates and I have experienced in awhile. It was abrupt and unexpected. The sting lingered on. The MHSAA tournament continued and everyone constantly talked about who was losing and winning, but I could not pay much attention. It hurt too much to see others doing what we dreamed of."
2. Pioneer tailback Drake Johnson runs wild, earns scholarship to Michigan
What a year it was for Pioneer running back Drake Johnson. After rushing for 2,800 yards and scoring 38 touchdowns while leading Pioneer to a 9-3 record, Johnson was a unanimous selection for the Associated Press Division 1-2 all-state team and earned a scholarship from Michigan.
Despite his spectacular season, Johnson didn't receive many scholarship offers. That made the realization of a life-long dream to play at Michigan more special. Michigan running backs coach Fred Jackson called with the scholarship offer early on the morning of Nov. 8:
"When he told me, I was like, 'I'm not sure I quite caught you,' I'm not really a good morning person, sometimes I hear stuff that's not there," Johnson said of his early-morning daze. "When I realized it was real, I was like, 'Yes, everything had finally paid off.'"

Sports Year in Review
STORIES: U-M football | U-M basketball | High schools | 'Other' sports
PHOTOS: U-M football | College sports | High school sports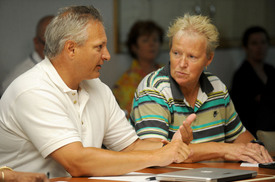 1. Community in uproar over Ann Arbor Public Schools proposed sports cuts
When the three athletic directors at Skyline, Huron and Pioneer high schools were given the unenviable task of cutting $475,000 from their combined budgets, no matter what they decided was bound to cause an uproar among the community.
It did.
Among the casualties of the initial proposed cuts were freshman sports teams and several varsity programs, such as boys and girls lacrosse. That didn't sit so well with the community and the athletic directors were ordered back to the drawing board.
While the mobilization of booster clubs and support groups led to less drastic cuts than originally proposed, ever-shrinking school budgets begs the question of what 2012 might bring.