Posted on
Sun, Jan 1, 2012 : 12:40 p.m.
Top 5 Michigan football stories of 2011
By Jim Knight
In a year that started with Michigan firing its football coach and ended with a date in a BCS bowl game, there was no shortage of stories to tell.
So many stories, in fact, that a tell-all, best-selling book about the program was part of the ongoing drama.
The top five Michigan football stories of 2011, chosen by the AnnArbor.com sports staff: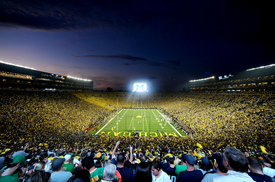 Melanie Maxwell | AnnArbor.com
5. The first night game
at Michigan Stadium
The first night game in the 84-season history of Michigan Stadium was a spectacle even before the Notre Dame and Michigan game started.
ESPN's "College GameDay" set up shop at Ingalls Mall, Desmond Howard was honored as Michigan's first "Michigan football legend, the Wolverines wore Adidas-designed "legacy" uniforms and a record 114,804 people packed Michigan Stadium.
The game lived up to the hype as Denard Robinson threw two touchdown passes in the final 64 seconds, leading the Wolverines to a come-from-behind 35-31 victory.
AnnArbor.com beat writer Kyle Meinke captured the scene in his column from that night:
Robinson found receiver Jeremy Gallon for a 64-yard gain with 8 seconds left, then hooked up with (Roy) Roundtree for the 16-yard winner on the next play.

Pandemonium. The joint still was packed 10 minutes after the game, when the Big House, notorious for its tame atmosphere despite gaudy crowds, was rocking and shaking and pulsating with fervor for its team.

"We called the play and it worked," Robinson said. "Every time you see this game, both teams have to fight to the end. It's never over until you see zeroes on the clock."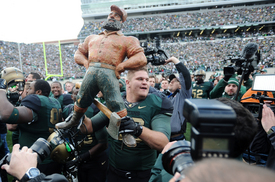 Melanie Maxwell | AnnArbor.com
4. Michigan loses to Michigan State for the fourth consecutive season
Michigan's first loss of the season hurt, emotionally and physically. The Wolverines went to East Lansing with a 6-0 record, but lost, 28-14, for the fourth consecutive season to Michigan State.
The Spartans were tagged with 13 penalties — including six personal fouls. The lasting memory will be of William Gholston twisting the head of Denard Robinson while he was on the bottom of a pile.
Afterward, Michigan coaches and players said Michigan State played like the tougher team.
"I think they were definitely more physical," Michigan safety Jordan Kovacs said. "They pounded us. They beat us up."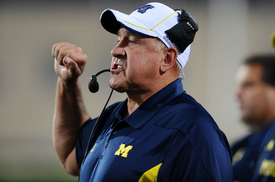 3. Greg Mattison overhauls defense; Wolverines finish 17th in the nation
Think about what Greg Mattison inherited when he accepted the job as Michigan's defensive coordinator. He took on a defense that allowed opponents 35.2 points and 450.7 yards a game in 2010.
Now, with Michigan in a BCS bowl game, the Wolverines finished as the No. 17 defense in the nation, allowing 17.2 points and 317.6 yards per game. The improvement is so striking, it caught Mattison by surprise.
"I felt there's no way we're going to be that (good)," Mattison said earlier this month. "There's no way. I don't mean that in a negative (way) toward what happened before. I just know when you measure the way we measure things, you have to make sure that doesn't happen."
Mattison was comfortably in charge of the Baltimore Ravens defense when his good friend Brady Hoke was hired at Michigan. Mattison, who was an assistant at Michigan from 1982-86, decided to join Hoke and brought 31 years of experience to the Wolverines.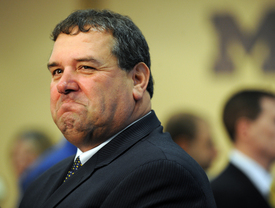 File photo
2. Michigan fires Rich Rodriguez, hires Brady Hoke
Heard any good rumors? That seemed to be a theme for a few weeks in January. First, a 52-14 loss to Mississippi State in the Gator Bowl made the firing of Michigan football coach Rich Rodriguez appear imminent.
Still Michigan athletic director Dave Brandon stuck to his plan of reviewing the program with Rodriguez. That happened in a three-plus hour discussion on Jan. 4, and some media outlets reported that Rodriguez was fired. That didn't actually happen until the next day.
Once it was done, Brandon had kind words for Rodriguez.
"I know he's frustrated, because he would have loved to continue," Brandon said. "I think when you consider — as he would put it — the drama that he has dealt with since the day he got on this campus, I think he's handled himself in an amazingly controlled and measured way."
Then round two of rumors started. Who would coach Michigan? Jim Harbaugh and Les Miles were popular names, and former Michigan assistant Brady Hoke was mentioned frequently, too. Hoke was named the 19th coach in Michigan football history six days after Rodriguez was fired.
Hoke accepted Brandon's offer "immediately," and he was introduced to media and the university on Jan. 12 with a press conference that had a pep rally feel.

Sports Year in Review
STORIES: U-M football | U-M basketball | High schools | 'Other' sports
PHOTOS: U-M football | College sports | High school sports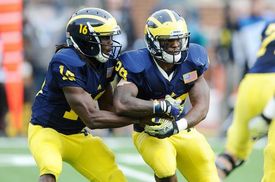 1. Michigan beats Ohio State, goes 10-2 and earns a Sugar Bowl bid
Brady Hoke and Michigan nearly accomplished everything on their 2011 check list as the Wolverines went 10-2 and earned a BCS bowl bid to the Sugar Bowl to face Virginia Tech.
Among the key points for Michigan:
Start strong: The Wolverines won their first six games.
Improve the defense: Michigan put together a top-20 defense and in one three-game stretch allowed just 10 points.
Build an offense that was more than quarterback Denard Robinson: Michigan averaged 34.2 points a game as Robinson (1,163) and Fitz Toussaint (1,011) both rushed for more than 1,000 yards.
Win the big games: Three out of four isn't bad. Michigan beat Notre Dame, lost to Michigan State and finished the regular season with victories against Nebraska and Ohio State.
The 40-34 victory against the Buckeyes ended a seven-year losing streak and concluded talk of "Ohio" that Hoke started in his introductory press conference.
From Kyle Meinke's column that day:
"It couldn't feel any better," said center David Molk, a captain who had been outscored 100-24 by Ohio State in three previous seasons. "I mean, going through what we've gone through? This is my third coach, third offensive coordinator, third offensive line coach, third strength coach."

Then, the center's voice rising: "It's been a lot, and it's been a roller-coaster that, for some reason, never seemed like it would ever get good. But, you know what? We kept fighting."