Posted on
Sun, Jan 1, 2012 : 12:39 p.m.
Top 5 'other' sports stories of 2011
By Jim Knight
While Michigan football and men's basketball dominated the sports headlines, there were other stories that captured an audience.
Ron English, the former Michigan defensive coordinator, used a familiar formula of a tough defense and a dedicated running game to spark life into the Eastern Michigan football program.
There was more. A Masters golfer. A former backup goalie playing the hockey of his life. And an intriguing county rivalry in women's basketball. Here are the top five "other" sports stories of 2011: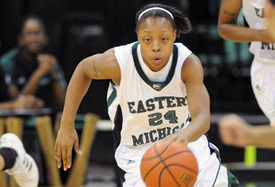 5. Eastern women's basketball
team tops Michigan again
Eastern Michigan women's basketball coach AnnMarie Gilbert called it "a signature win." Michigan coach Kevin Borseth called it "The Tavelyn James Show."
The Washtenaw County showdown came at the Convocation Center on Dec. 11 and Eastern beat Michigan for the third consecutive time. James, a senior guard, scored 38 points on 10-of-21 shooting as Eastern won, 77-64.
"We're very confident for some reason when we play this Michigan basketball team," Eastern coach AnnMarie Gilbert said. "We felt like we caught them at the right time last year, and this year — even though they were 9-1 — we felt like we were in their heads, like they were coming in here with more to lose than we had."
Eastern also beat Michigan, 67-59, on March 17 in the first round of the Women's National Invitation Tournament.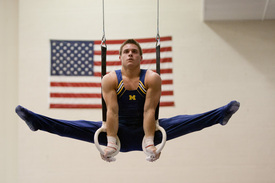 Courtesy of Michigan athletics
4. Two Michigan gymnasts win
NCAA all-around titles
Sam Mikulak stood on the podium as an NCAA all-around champion, full of excitement knowing his career was just beginning. Kylee Botterman stood on the podium as an NCAA all-around champion, full of mixed emotions knowing her career had just ended.
As University of Michigan athletes claimed both the men's and women's individual gymnastics all-around titles on April 15 in Columbus and Cleveland, respectively, the two people who won them couldn't be further apart.
Botterman, a senior, gave up chasing the Olympics when she entered high school, realizing that for her, a college scholarship was more important than reaching the highest level in her sport. She graduated and was married this summer.
Mikulak, a freshman, always focused on the Olympics, although he figured 2016 was the more likely goal. Then he won the NCAA title, earned an automatic invitation to the summer's Visa Championships and suddenly the 2012 London Games weren't completely out of reach.
For one night, those two Michigan careers intertwined hours apart from each other in Ohio, the senior ending it all and the freshman just getting started.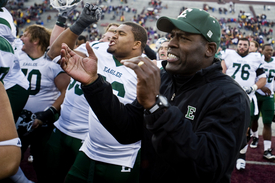 Joseph Tobianski | AnnArbor.com
3. Eastern Michigan football
team goes 6-6
Ron English preached patience for two seasons as he rebuilt the Eastern Michigan football program. The Eagles went 2-22 in those years. It paid off this season as Eastern went 6-6 overall, 4-4 in the Mid-American Conference, their first six-victory season since 1995.
They fell just short of being a bowl-eligible team when they lost, 18-12, to Northern Illinois on Nov. 25.
Eastern did it with defense, English's specialty. The Eagles allowed just 350.33 yards per game, an improvement of more than 100 yards a game over the 2010 team. Eastern finished third in the MAC in total defense.
English was named MAC Coach of the Year.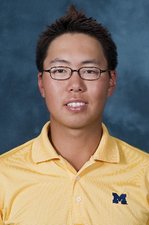 2. Lion Kim plays in the Masters
Michigan senior golfer Lion Kim walked off the 18th green at Augusta National in April a confident golfer. He shot 76-72 and missed the cut by just three shots. He played two rounds with Jose Maria Olazabal and Davis Love III and finished ahead of both longtime pros.
"For him to play against two Hall of Fame golfers and beat both of them, hopefully proves to (Kim) that he can play on this level," then Michigan golf coach Andrew Sapp said. "He still has a lot of work to do and a lot of it is gaining more and more experience at this level. But I am convinced he can make it on the PGA Tour after this week."
Kim qualified for the Masters when he won the U.S. Amateur Public Links championship in 2010
Kim finished his collegiate career at Michigan in June by finishing third at the NCAA championships.
"I enjoyed college, I enjoyed playing college golf and I enjoyed being around all my coaches and teammates at Michigan," he said. "But now I'm ready to move on and hopefully be playing golf for a long, long time."

Sports Year in Review
STORIES: U-M football | U-M basketball | High schools | 'Other' sports
PHOTOS: U-M football | College sports | High school sports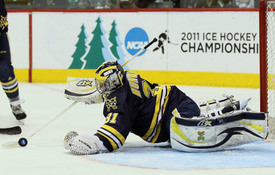 Getty Images
1. Michigan hockey team
reaches Frozen Four
On Feb. 5, the Michigan hockey team was in third place in the CCHA and had lost three consecutive games.
On April 9, Michigan took the ice against Minnesota-Duluth in the final of the NCAA Frozen Four. The Wolverines lost, 3-2 in overtime, bringing an end to a remarkable run to the title game.
Michigan rode the hot goaltending of senior Shawn Hunwick, a former third-stringer, and went 12-1 from Feb. 11 to April 7. The Wolverines reached the final by knocking off No. 1-ranked North Dakota, 2-0, in the Frozen Four semifinal.
"I think everything was in line for the fairytale story, and unfortunately we came up short," Hunwick said. "Every guy in this room that's returning is going to have a bitter taste in their mouth all summer long. Losing in overtime in the national championship game, you should be pretty easily motivated."