Posted on
Wed, May 18, 2011 : 4:26 p.m.
Michigan football coach Brady Hoke is no fan of the early signing period for college football recruits
By Michael Rothstein
CHICAGO — In a college football world where the majority of Big Ten coaches would be in favor of an early signing period, Michigan coach Brady Hoke is an exception.
He wants prospective recruits to take their time before making a decision. So even as Michigan has brought in 11 commitments for the Class of 2012, Hoke has no problem waiting on recruits.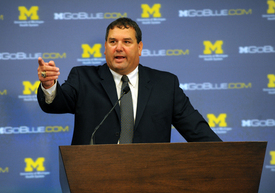 That philosophy is counter to the way many recruits now handle the process, verbally committing to a school before their seniors seasons and sometimes before their junior year.
Michigan even received a commitment from quarterback Shane Morris for the Class of 2012 — before he started his junior season.
"It's just rushing," Hoke said Wednesday at the Big Ten spring meetings. "We want kids to enjoy high school and want them to play for their high school teams. The whole process is getting pushed more. And if you don't push the process, you may lose out on some guys. So we're all doing it.
"How much a fan of it, I can't tell you if I'm a real fan of it. I always worry about a kid getting distracted and not being focused on what is important, which is his teammates at the high school where he is playing."
BIG TEN MEETINGS COVERAGE
AnnArbor.com sports reporter Michael Rothstein covered the three-day Big Ten Conference spring meetings in Chicago. Here is a compilation of his reports:
In college basketball, some players are offered scholarships as early as eighth grade.
Thus far, college football has largely stayed away from that practice, although USC did offer a scholarship to seventh-grader David Sills Jr. in 2009.
And in football more than basketball, a verbal commitment usually means merely this: a team has a good chance to sign the player.
More and more the past decade, players offer verbal commitments only to back out before signing day.
"In this day and age, some kids change their mind in the process," Hoke said. "You can say they are early commits, but at the same time, you have to stay on top of them just like everyone else."
Michael Rothstein covers University of Michigan basketball for AnnArbor.com. He can be reached at (734) 623-2558, by email at michaelrothstein@annarbor.com or follow along on Twitter @mikerothstein