Posted on
Thu, Jun 21, 2012 : 5:57 a.m.
2011 Michigan football moments to remember: Fourth and forever, the longest 1:12 and one symbolic chant
By Nick Baumgardner
This is the second of a three-part series: Day 1
Sometimes one yard seems like 100.
Other times, the length of a field can be covered in a matter of seconds.
The Michigan football team experienced both of those feelings in 2011, and also sat witness to one rather loud, rather lengthy chant that proved, once and for all, that everyone inside Michigan Stadium was reading from the same page.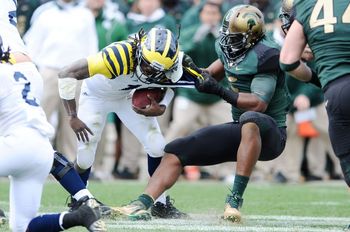 Melanie Maxwell | AnnArbor.com
'I thought they would run the football'
When: Oct. 15, 2011

Where: The south red zone, Spartan Stadium; East Lansing, Mich.

What: For most of the afternoon, Michigan State had its way with Michigan. The Spartans were more physical, more crisp and were seemingly in control of the game's momentum from start to finish.
Still, Michigan sat 9 yards away from quieting the capacity crowd in East Lansing. Nine yards shy of tying the football game and, possibly, avoiding a four-game losing streak to MSU.
Fourth and inches. Down by seven. Six minutes, 24 seconds to go from the opponent's 9-yard-line.
What went wrong?
Just about everything.
"I thought they would run the football," MSU coach Mark Dantonio said of Michigan's critical fourth-down decision after the game.
Moments earlier, Michigan was faced with a similar situation on the same drive. Fourth and short, with time running out. Michigan offensive coordinator Al Borges opted for a quarterback keeper with Denard Robinson, and the result was a first down.
This time, there would be no sneak and there'd certainly be no first down.
Robinson climbed under center inches shy of the marker. But rather than lunging forward, Borges had his quarterback play-fake -- and the rest? Well, it got ugly.
The quarterback's play-action was slow and deliberate, and Michigan State's pass rush was not. The Spartans' Johnny Adams turned Robinson into a tackling sled -- pushing him back 10 yards for a sack and blowing the sound system at Spartan Stadium in the process.
One drive later, Robinson tossed a pick-six, and the game was over. But, in reality, the 28-14 loss was over the minute Michigan sent the critical play-action pass call into the huddle with 6:24 to play.
"(Maybe) you sneak it or run the power play, (there's) multiple things you could do," Brady Hoke said afterward. "But we've been very successful, really, in the last two years (with) that same play."
Michigan gambled plenty -- and won, more often than not -- in 2011. But this time was an exception.
As a result, Paul Bunyan's stay in East Lansing is now long enough to earn a full four-year college degree.
Notable: This game really did have it all. So much so that the actual football game seemed like a footnote to the circus surrounding it.
Michigan State wore alternate uniforms, Michigan tried to -- awkwardly -- one-up the Spartans with a last-minute jersey switch.
Mark Dantonio was quoted on the field saying "times have changed," regarding the rivalry between the two schools. And Brady Hoke's closing statement that day was rather simple and quite appropriate, saying "we all need to feel this one for awhile."
There was one massive punch from the hand of William Gholston to the throat of Taylor Lewan and multiple outcries of dirty play from Wolverine fans toward Spartan backers.
In 2012, the same fireworks should be expected.
Gholston and Lewan, two potential first-round draft choices, will battle again. Dantonio and Hoke will surely have something to say and who knows what kind of uniforms both sides will wear.
Saturday, Oct. 20 in Ann Arbor.
I'd buy tickets if I were you.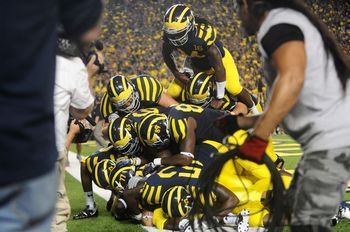 Melanie Maxwell I AnnArbor.com
What just happened? Twice?
When: Sept. 10, 2011

Where: Under the lights, at Michigan Stadium

What: So, you say you've seen everything, eh?
Well, if you paid close attention during the final 1:12 of Michigan's thrilling 35-31 comeback, jaw-dropping, head-scratching, adjective-exhausting win over Notre Dame, then you have.
Because everything, literally, happened. The only problem for me, though, was trying to keep up.
First some background. During football games, the way colleague Kyle Meinke and I handle in-game coverage is simple. Kyle files a column and I file a game story the minute the clock strikes 0:00.
Only that night, at around midnight, it wasn't so simple.
When Denard Robinson found Vincent Smith on a look-back pass to the flat that ended in a 21-yard touchdown with 1:12 to go, the stadium exploded and my job just got easier. The headline would read, "Michigan scores 21 unanswered points in 4th quarter, beats Notre Dame, 28-24."
Right?
But as I was writing that exact story, Tommy Rees had other ideas. He took Notre Dame 61 yards in less than a minute. The only portion of that drive I saw? The last few steps of Theo Riddick's 29-yard touchdown catch. And the only reason I looked up from my computer screen was because 114,000 people were groaning pretty loudly.
"Michigan almost completes comeback, but falls short after ... "
Wait, what?
Minutes after scrapping everything and starting over again, I hear another massive roar from my seat inside the press box. This time it's not a groan, it's much louder. I look up just in time to see Jeremy Gallon finish off a 64-yard catch and run.
After helplessly tossing my hands up and fighting the urge to throw my laptop in the trash, I managed to settle in long enough to watch Roy Roundtree's game-winning catch in the corner of the end zone.
Everyone probably has their own unique memory of the 2011 Michigan-Notre Dame game. Mine will forever be linked with the delete key, a lot of Diet Coke and the three game stories I wrote in less than two minutes.
Can't wait to do it again this fall, under the lights, in South Bend.
Notable: In a day full of craziness, perhaps the most bizarre play came on the first snap of the fourth quarter.
Robinson set things up with a 77-yard pass to Junior Hemingway. You remember? The one where he managed to stay upright for a few seconds despite a 300-pound defensive lineman ripping at his ankles?
After the big pass play put Michigan deep into Irish territory, the Wolverines went for the score with a handoff to fullback Stephen Hopkins. Hopkins was blasted at the goal line, and promptly fumbled.
Luck of the Irish? Not so much. The ball bounces perfectly back toward Robinson, who scoops it up in stride and saunters into the end zone to begin the comeback.
No big deal.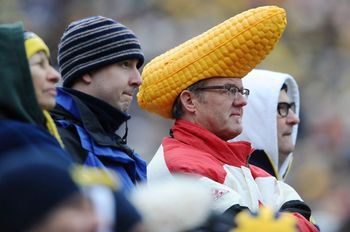 'Beat Ohio ... '
When: Nov. 19, 2011

Where: Michigan Stadium

What: Actions often speak louder than words. But on this day, they both registered the same impact.
There weren't a ton of memorable moments from Michigan's 45-17 romp over Nebraska. The Cornhuskers turned the ball over a ton, and Michigan capitalized basically every time.
The performance was so dominating that with 5:54 to play in the game, 113,718 people collectively turned the page.
Michigan had the ball and Devin Gardner had just subbed in for Denard Robinson. But no one seemed to care.
"Beat Ohio ...," they chanted.
Nebraska actually got the ball back, and embarked on an 11-play drive that took the Cornhuskers all the way inside the Michigan 10.
Again, no one cared.
"Beat Ohio."
The closer the game inched toward completion, the louder the chant got. And once the blowout was finally over, the collective cry only intensified.
In the student section, in the nosebleeds and in the stairwell inside the stadium.
"Beat Ohio."
The game with Ohio State -- or in Brady Hoke's word, "Ohio" -- wasn't for seven days. But a week earlier inside Michigan Stadium, seven years of abuse and anticipation seemed to culminate into two words.
"Beat Ohio."
A week later, Hoke became the first Michigan coach to win 10 games in his debut season since Fielding H. Yost accomplished the feat in 1901.
Oh, and Michigan finally beat "Ohio."
Notable: Earlier in the season, fans were evacuated from the stadium and a game against Western Michigan was eventually called due to a lightning storm.
That was strange. Against Nebraska in late November, things got even more weird -- as the game begun during the midst of a power outage.
Michigan Stadium lost power shortly before hosting the Cornhuskers' first visit to Ann Arbor since 1962.
Not to worry, though. Fans still managed to pull off the Lloyd Carr "card stunt" shortly before four fighter jets flew over the stadium.
Hints for Friday's installment: Sugar time and 2,926 days of pain erased.
Nick Baumgardner covers Michigan sports for AnnArbor.com. He can be reached at 734-623-2514, by email at nickbaumgardner@annarbor.com and followed on Twitter @nickbaumgardner.