Posted on
Fri, Dec 31, 2010 : 6:30 p.m.
The mega guide to the Gator Bowl: Michigan vs. Mississippi State
By Jim Knight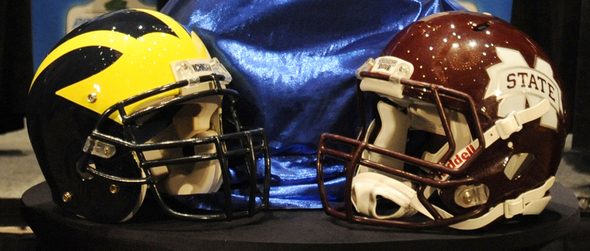 Melanie Maxwell | AnnArbor.com
WHO: Michigan (7-5, 3-5 Big Ten) vs. No. 21 Mississippi State (8-4, 4-4 SEC).
WHERE: EverBank Field, Jacksonville, Fla.
WHEN: 1:30 p.m. Saturday.
ODDS: Mississippi State is favored by 4 1/2 points, according to sportsbook.com.
SERIES RECORD: First meeting.
BROADCAST INFORMATION: TV: ESPN2; Radio: Michigan Sports Network (local affiliates), Sirius Ch. 122, XM Ch. 143.
MICHIGAN: Team Stats | Team Rankings | Roster
MISSISSIPPI STATE: Team Stats | Team Rankings | Roster
RUNDOWN: Two teams, two coaches in the news all week at the Gator Bowl. Dan Mullen is 13-11 in two seasons at Mississippi State and was rewarded with a $10.6 million, four-year contract this week.
"I want to be at Mississippi State, and Mississippi State wants me," Mullen said. "So everybody ends up happy."
And Michigan and Rich Rodriguez? Depending on which rumor you follow, Rodriguez may already be headed to Maryland. Or at least out of a job and replaced by former Michigan quarterback and current Stanford head coach Jim Harbaugh. Or Brady Hoke. Or somebody else.
Michigan athletic director Dave Brandon said - several times - that he'll evaluate Rodriguez and his program (15-21 in three seasons) after the Gator Bowl.
On the field, the talk from both teams centers on Michigan quarterback Denard Robinson.
AnnArbor.com has been previewing the game all week. Here's a look back at everything Michigan vs. Mississippi State-related that can be found on our site.
FRIDAY • Pete Bigelow writes that Tate Forcier's future with Michigan football team is 'undetermined' • Wide receiver Martavious Odoms is back, and that pleases Rodriguez. Rich Rezler has more on Odoms and other topics in a notebook from the Gator Bowl press conference • Rezler talked to Michigan fans at the downtown Gator Bowl parade and they were happy to be back at a bowl game • Bigelow and Michael Rothstein analyze the matchup in a video report • A slideshow from AnnArbor.com photographer Melanie Maxwell captures the scene from the Michigan and Mississippi State press conference Friday morning • Finally, Maxwell put together the following slideshow from the Michigan alumni association pep rally and the Gator Bowl parade:
THURSDAY • Backup quarterback Tate Forcier was ruled ineligible to play in the Gator Bowl • Rodriguez's uncertain future concerns the Michigan football players • Players on Michigan's defense aim to help put Wolverines "back on the map." • Pete Bigelow on hiring football coaches: You don't necessarily need to hire a big name • Michigan equipment manager Jon Falk talks about what's needed for a bowl week in a video from MGoBlue.com
WEDNESDAY • Mississippi State's game plan is simple - stop Denard Robinson
TUESDAY • Michigan fans embrace chance to watch the Wolverines in a bowl game • Michigan quarterback Denard Robinson says he's 100 percent healthy • Pete Bigelow played host to a Gator Bowl live chat. You can catch up on the conversation
MONDAY • The Michigan football team arrived in Jacksonville on Monday and MGoBlue.com provided a video.
EARLIER • Pete Bigelow says the Gator Bowl is a chance for Denard Robinson to prove he's more than a running quarterback • Former Michigan star Desmond Howard says Rich Rodriguez needs an impressive Gator Bowl showing • Pete Bigelow says four bowl games against SEC teams puts Big Tens' reputation on the line • Mississippi State players say you can never let up if you're going to stop Denard Robinson • Don't know much about Mississippi State? Rich Rezler has you covered with everything you need to know, including why the cowbells are so darn important
OTHER COVERAGE • ESPN's Gator Bowl preview • Gator Bowl preview at Rivals.com • Jackson Clarion Ledger: Dan Mullen is now the face of Mississippi State athletics • Jackson Clarion Ledger: More Mississippi State coverage
TAKE THE POLL
MORE FOOTBALL! Citrus Bowl Michigan State faces Alabama at 1 p.m. Saturday in the Citrus Bowl. MLive.com has complete coverage of the Spartans, including: • Michigan State is a maturing team under coach Mark Dantonio, Greg Johnson writes • Quarterbacks Kirk Cousins and Greg McElroy respect each other • Alabama coach Nick Saban does his best not to fire up Michigan State