Posted on
Wed, Oct 19, 2011 : 5:58 a.m.
What went wrong? Brady Hoke lists 7 things that led to Michigan's first loss of season
By Kyle Meinke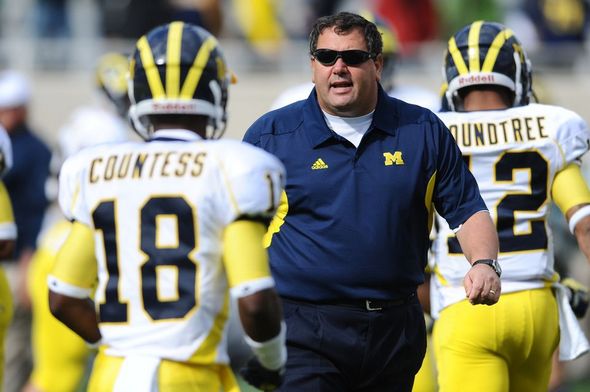 Melanie Maxwell | AnnArbor.com
Brady Hoke
likes to give himself a night to soak in a game before moving on to film and prep work for the next matchup on Sunday.
Not this time.
The confluence of a bitter loss to a rival and the looming off week had the Michigan football coach lamenting his team's 28-14 loss to Michigan State a little longer than normal.
And he has a lot of laments.
Hoke cited seven things that went wrong in his team's first loss of the year:
1. Fourth-and-1 futility
If Hoke could have just one play back, it'd surely be the failed fourth-and-1 pass play that came late in the fourth quarter with Michigan trailing by seven points.
THURSDAY LIVE CHAT
The Michigan football team might be off this week, but we're not. Come back to AnnArbor.com at noon Thursday for a live chat with Kyle Meinke. He'll recap the Wolverines' loss to Michigan State, discuss news that emerged this week and preview the … um, well … rest of the season.
Instead of running the ball, offensive coordinator
Al Borges
elected to use play-action and target tight end
Kevin Koger
over the middle. It blew up when Michigan State's
Johnny Adams
came unblocked on a corner blitz and slammed Robinson to the ground from the blind side.
"That's part of their defense, bringing those corners, especially when you get into two tight ends," Hoke said. "A lot of people will do that, to the weak side. He was accounted for, if we execute."
The play has been widely criticized, considering the wind into which Robinson would have thrown and the junior's struggles in the passing game (he completed only 9 of 24 attempts).
Hoke backed the play call, though.
"No," he said, when asked if he wished Borges would have selected a run there. "I liked the play. If we execute the play, Koger's in the end zone.
"That play's been very successful for us."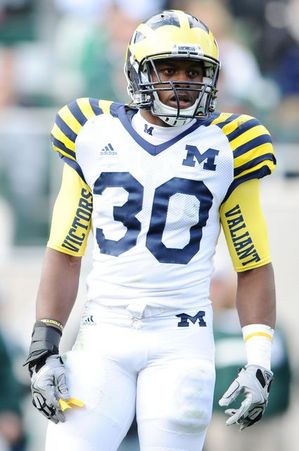 Melanie Maxwell | AnnArbor.com
2. Tackling
The Wolverines' tacking had been solid all year, by and large, and was a big reason for their stunning improvement on defense.
Against Michigan State, especially in the second half, that faded.
"I don't think we tackled worth a darn," Hoke said.
Perhaps most surprising of all was two of Michigan's surest tacklers, safeties Thomas Gordon and Jordan Kovacs, had two of the biggest whiffs. They played key roles in the Spartans' only offensive scores of the second half.
Gordon missed MSU running back Edwin Baker, which led to a 25-yard gain that set up the Spartans' go-ahead score -- a reception by Keyshawn Martin, who got into the end zone thanks to a missed tackle by cornerback J.T. Floyd.
Later, Kovacs missed a tackle of Martin to set up the final offensive score.
"You see a guy try to block a guy instead of trying to tackle a guy, and wrap your daggone arms and put your face though him, like you're supposed to tackle," Hoke said.

3. Perimeter defense
Baker had great success bouncing outside against Michigan's defense.
The Wolverines had a similar problem the previous week against Northwestern, but were able to adjust by going bigger to fight off receiver blocks. Against MSU, they had no such answer.
"I don't think we played the perimeter of our defense worth a darn," Hoke said.
Up the middle, Michigan was not outstanding, but at least serviceable. Hoke singled out defensive linemen Mike Martin and Will Heininger as the team's best performers on defense.
Edge containment, though, was faulty. The linebackers had a terrible day trying to chase down Baker, and some of the angles of pursuit were poor.
Michigan State finished with 212 rushing yards, most of which came on the outside. The Wolverines had been allowing 134.2 yards per game.
"I know during fall camp, you always get a lot of that (edge containment) stuff in," Hoke said. "Then, as the season starts, you get away from that a little bit because of the game plans and seeing the opponent's plays. This will be a good week to get back to that."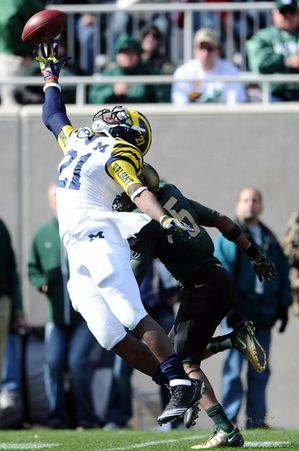 Melanie Maxwell | AnnArbor.com
4. Route running
Robinson absorbs the blame for the fits in the passing game because he's the quarterback, but Hoke said it hasn't been all his fault.
"Our route running started to hurt us," Hoke said. "We were breaking them off too soon."
Hoke has said several times this year the passing game's woes are due partly to the receivers not running precise routes.
They have struggled to remain active in the passing game, and only Jeremy Gallon has exceeded expectations. Roy Roundtree, last year's leading receiver with 72 catches for 935 yards, has only 12 receptions for 193 yards this year.
No Michigan receiver has caught more than five passes in a game. Roundtree led the corps with four against MSU.
That's paltry production from the position group, and allowed the Spartans to crowd the box and send risky blitzes because Michigan couldn't make them pay vertically.
"I think we ran for a grand total of 82 yards, and part of that was they were stacking the box a little bit," Hoke said. "They played zero-coverage on Roy Roundtree and (he took it) for a touchdown on a slant.
"If we had run a couple slant routes more pure or better, we may have had another one."

5. Trench play
Hoke and players have hit on this one hard since Michigan was badly and consistently beat off the ball on both sides of the line of scrimmage.
On offense, that meant Michigan allowed seven sacks (after allowing two in the previous six games) and ran for a season-low 82 yards. On defense, that meant Michigan State ran for 213 yards.
The issues up front partly were an attitude problem, Hoke said.
"I don't think we engaged with an aggression at the line of scrimmage like we should have," he said.
The other part, of course, came down to failed technique and fundamentals.
"This week, Tuesday and Thursday, I can assure you we can work on block protection and chop blocks and all those things and make an emphasis," Hoke said on Monday. "At the same time, there were times where it was played decently, but I didn't feel the flow from our inside."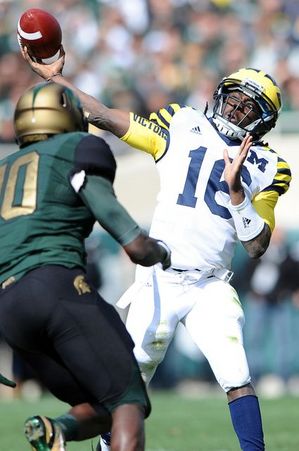 Melanie Maxwell | AnnArbor.com
6. Passing game
Hoke has consistently defended Robinson as his quarterback, and reiterated there is not a quarterback controversy, despite the woes in the passing game.
However, it was telling when Hoke said Saturday he lifted Robinson for stretches in favor of backup Devin Gardner -- sometimes with Robinson at another position, sometimes off the field completely -- because the latter was more accurate.
"Part of what pushed (Gardner's snap count) over a little more was the wind," Hoke said. "It was a windy day. I think Devin, at times, can throw the ball a little more accurately."
Robinson is completing 53.9 percent of his passes this season, tied with Western Kentucky's Kawaun Jakes for 99th in the country. He was at a 62.5-percent clip last year.
When asked this week if Robinson has improved or regressed as a passer, Hoke responded: "I think he's fine. I don't have a problem with him."

7. Coaching
As Hoke dissected his team's first loss, he certainly didn't absolve himself or his staff of blame.
In fact, it was the first thing he mentioned when he met with the media Monday.
"Well I don't think I prepared them well enough to go into a physical football game," Hoke said. "You get punched in the mouth, you come back and punch back -- not literally -- come back and keep fighting. You don't lose the composure and fundamentals and techniques."
Yet, Michigan did lose its composure and techniques. Koger called them "game-spasms," which he defined as things that are repeated often in practices, but uncharacteristically fall away in a game.
That was particularly true up front and on defense against Michigan State, and largely comes back to coaching and preparation.
The staff also had a hard time adjusting to the Spartans' daring blitz packages and Michigan State's anticipation of the snap counts.
It's mailbag time! Got a question/comment on Michigan's start or loss to Michigan State? Email football writer Kyle Meinke at kylemeinke@annarbor.com to be included in Thursday's column. Please include first name and city of residence.
Kyle Meinke covers Michigan football for AnnArbor.com. He can be reached at 734-623-2588, by email at kylemeinke@annarbor.com and followed on Twitter @kmeinke.